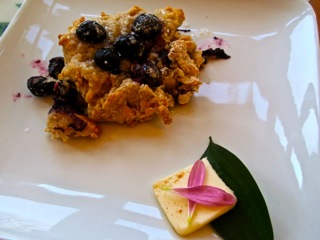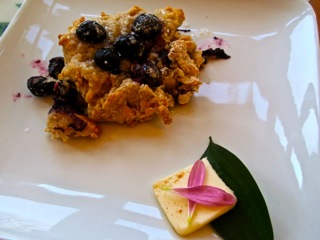 Blueberry Scones
Preheat Oven to 400 degrees.
To make the scones you will need:
2 cups of Flour
1 tablespoon of Baking Powder
1/2 teaspoon of Slat
2 tablespoon of Sugar
5 tablespoons of Butter, cold and diced small
3/4 cup of half and half cream
1 cup fresh Blueberries
Add a little lemon zest and cinnamon to the batter
Sift together cry ingredients. Using knife of fork or pastry blender, cut in butter to coat. Mixture should look like coarse crumbs. Make a well in center and pour in the half and half cream. Fold to incorporate, do not overwork. Fold blueberries in to batter. Do not mash or bruise berries. It is important not to overwork the dough at each stage.
Form into desired shape  and place onto an un-greased cookie sheet. Bake 15 to 20 minutes until beautiful and brown. Let them cool slightly before applying the glaze.
To make the lemon glaze you will need:
the zest of 1 lemon
1/2 cup fresh squeezed lemons juice
2 cups confectioners' sugar
1 tablespoon unsalted butter (melted)
This recipe for glaze makes a lot. Half the recipe may be sufficient. Apply to the scones. The more you let the glaze sink into the scone, the softer it will be.
Enjoy!