31 students suspended from Pioneer after senior scavenger hunt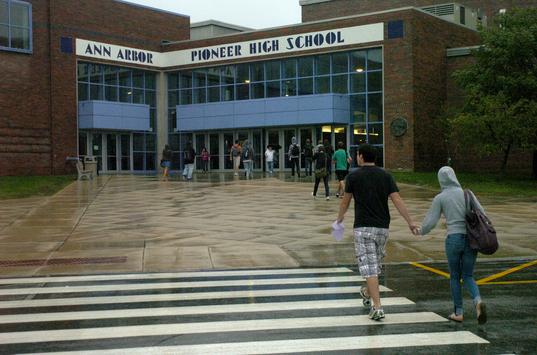 Shadi Ahmadmehrabi and Nick Margolis
May 13, 2011
Thirty-one students were suspended from Pioneer High School this week for acts that took place during the annual senior scavenger hunt. It was rumored that over 100 students were suspended from the senior class, however, principals from Pion
eer, Huron, and Skyline have agreed to punish 31 students with one-week suspensions, community service, a ban from the All Night All Senior Party, and a charge for damages.
The acts were part of the annual senior scavenger hunt which took place on the night of May 6, Senior Skip Day. Students formed teams and were assigned tasks to be performed throughout Ann Arbor. Among the tasks on the list were: cutting down nets on Huron High School's tennis courts, defecating the fields at Skyline High, spray painting "P" on the field and turf, and streaking the security cameras in Pioneer High's parking lot.
Many athletes were among the suspended students, leaving some sport teams without key players. The senior class president and vice president were also suspended, leaving some to question who will give the commencement speech at graduation. The students who were suspended are allowed to walk across the stage during graduation and will not face criminal charges. The students who were suspended were generally good students who had not been suspended before. This is the main reason behind the administration's decision to not press criminal charges.
The administration at Pioneer had acquired the list of teams participating in the scavenger hunt, causing many students who had not committed the acts themselves but were involved in driving or taking pictures for proof of the acts to also be suspended. Out of the 31 students suspended, 21 were not directly involved in the vandalism but were punished due to trespassing.