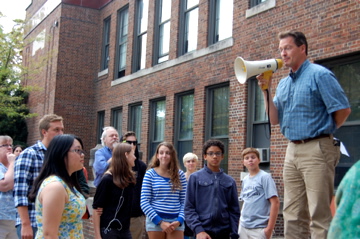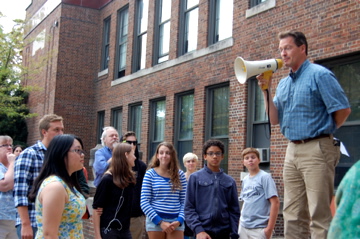 Although the all-school picture at Community was scheduled for Tuesday, the rain postponed the photo until today. In the middle of sixth block, students poured out of classrooms and onto the front lawn. Freshman got a taste of the chaos that ensues during the picture, while seniors shared a moment of reflection as they smiled for the last time. Little did they know that Community had won the Volunteer of the Year award from the National Area Preservation (NAP) of Ann Arbor.
Steve Coron, CHS art teacher, takes the photo every year. An experienced photographer, he knows this how to get the perfect shot.
"It's tradition that you stand on the third rung of a 10 foot ladder, approximately 53 feet from the center of the flagpole, which gives you the best vantage point to take the image," said Coron.
Despite desperate calls from Judith, students continually reached up and sat on each others shoulders. Fingers mangled to make graduation class signs like one-three, one-four, one-five. Peeking around the tall people in the front, shorter students craned around for a space for their face to be seen.
A spectacle to any driver just trying to get down Division, five hundred peers clustered together, trying to fit into what will eventually be on the cover of every planner for the 2013-2014 school year.
After the picture was taken with a "1-2-3" and a "3-2-1" by  Coron, he motioned for all the students to turn around and face the school. There, unseen by those closest to the camera, was Marci Tuzinsky with David Borneman, the NAP manager for Ann Arbor. With a bullhorn, Borneman proclaimed the good news.
"[I] came today to recognize and officially announce that you guys are NAP Volunteer of the Year. Every year we usually choose one person, but this year we chose one party, which was you guys," said Borneman.
His assistant, Christine Chessler, was also here with him during the announcement.
"This is the first time that we have awarded it to a big group. [Community High] have done great work the past few years," said Chessler.
Borneman also said that there will be a mayoral proclamation on October 29th about Community's new award.