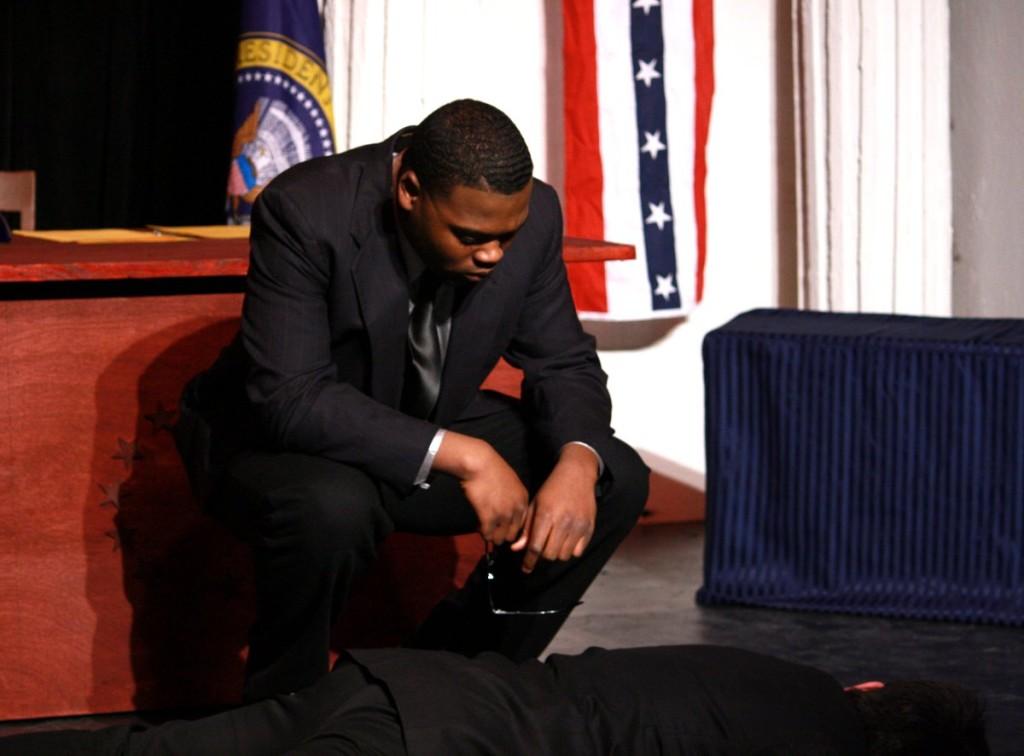 Sophia Camp
At 7:30 p.m. on March 21, the curtain rose on Community Ensemble Theater's mid-year production of "Julius Caesar" by Shakespeare. As with previous productions, CET worked to bring Shakespeare's words into a modern context. Although the text of the play was not changed and actors mentioned Rome multiple times, touches to the set such as a pair of graffiti-sprayed columns and multiple American flags helped to bring the setting into a more modern light. Video clips of news briefs delivered by actors were played every few scenes, explaining the events of the play as though they were taking place in contemporary American politics. Between clips, the modernization aspect was taken a step farther with a string of comments posted to a Twitter feed.
The production was ambitious, to say the least; the configuration of the entire Craft Theater was changed, with a second stage erected against the wall opposite the windows. A set of the White House dominated the stage, complete with a balcony, patriotic flags and an opening where actors could come and go. Scene changes were quick and efficient, sound effects were tastefully chosen, and at times a faint underscore of music added a new dimension of feeling to the scenes. The lighting also functioned to accentuate different moments, with a variety of colors playing across the balcony and stage. And the center of the action, the actors themselves, certainly did not disappoint. Performances varied from comic-relief to emotional, but each one was riveting in its own unique way. For avid readers of Shakespeare or people just looking to fill a Friday night, strongly consider CET's latest production.
Julius Caesar will be showing on March 22 at 7:30 p.m., with a final 2 p.m. performance on Sunday, March 24. Tickets are available at www.showtix4u.com or by contacting Quinn Strassel at strassel@aaps.k12.mi.us.