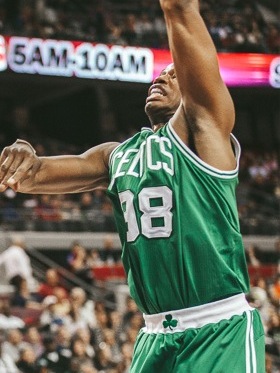 Rumors of gay players in the National Football League have been a hot topic for the past few months, but on April 29, Jason Collins shocked the world by announcing he was gay in a story written himself and posted on the Sports Illustrated website. Collins is the first male professional athlete in one of America's major team sports to come out while still playing. Via social media and phone calls Collins has received an abundance of support. From the former greats Earvin "Magic" Johnson and Shaquille O'Neal, current players John Wall and Pau Gasol, and Doc Rivers who coached Collins at the beginning of the 2012 -2013 season the NBA's response to Collins announcement appears to be overwhelmingly accepting. Collins also received phone calls from Barack Obama and Bill Clinton who praised him for his display of bravery and leadership.
The upswell of support was not without its share of pushback. Chris Broussard, a football analyst for ESPN choose to stray from the X's and O's on Monday night just hours after Collins came out. Broussard called Collins sexual preference an "open rebellion to God." Broussard states his religion as the reason for his opposition to homosexuality. Collins has also been called a f****t and issued multiple death threats on twitter. NFL player Asante Samuel felt it was inappropriate for Collins to proclaim his sexuality saying that straight athletes don't go around saying they are straight. Mike Wallace who is also an NFL player shared similar feelings, tweeting how with all the beautiful women in this world why would a guy want to "mess around" with another guy.
Is the NBA ready to welcome gay players? Only time will tell. Lakers guard Kobe Bryant applauded Collins for coming out, but just two years ago Bryant was fined $100,000 for uttering a gay slur at a referee. Former NBA player, Tim Hardaway, a well established homophobe since he made the comment "I hate gay people" called Collins on Monday to congratulate him. The NBA has fined other players including Amar'e Stoudemire and Joakim Noah for using gay slurs showing clearly that as an organization they do not support or condone bigotry.  But just because an organization is for equality it doesn't mean all its members are on board.
Collins is currently a free agent after spending the 2012-2013 season playing for both the Boston Celtics and the Washington Wizards. His choice to announce he was gay before locking up a contract is a decision not all would consider smart. In his article published in the May 6 issue of Sports Illustrated Collins said " the recent Boston Marathon bombing reinforced the notion that I shouldn't wait for the circumstances of my coming out to be perfect," and they're not. Collins decision to come out will likely affect where he ends up next year. A players sexuality shouldn't affect who he plays for or how much he get paid but Collins sexual orientation makes him a potential liability and when it comes down to it the NBA is a business.
The never ending controversy with gay athletes is that they will make other players feel uncomfortable. Team chemistry is everything in sports, and teams bond in the locker room. Will Collins future teammates be able to take a shower without worrying he is trying to sneak a peak? What about in practice or games? Is Jason Collins notoriously hard bodied defense just an excuse for him to cop a feel? Lakers player Antawn Jamison spoke to those concerns in an interview with TMZ. He was not expressing his own personal views but speculating about general player opinions. Jamison said there would definitely be players in the league who wouldn't feel comfortable in a locker room situation with Collins.
The fact of the matter is whether or not the NBA or America for that matter is ready for a gay player it is no longer a choice for us to make. Jason Collins is here, has been here and has no plans of leaving. Collins is committed to continuing his NBA career. A journeyman who is known for hard fouls and shot creating picks Collins is healthy and training harder than ever. Where Collins will land next season remains to be seen, but he will forever be known as the man who started the movement to make it okay to be gay in the NBA.