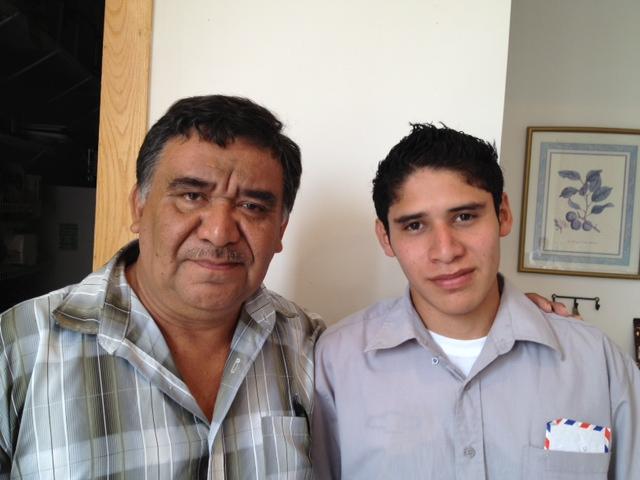 Originally Published Oct. 1, 2013:
Sandy Iran Canales Munoz and his son are going to drive a school bus three thousand miles. The human capacity of the bus is 72 people. But that is not the kind of cargo Munoz and his son, Winston Isaac Canales Berrios are going to carry. The side of the bus which reads "Freeport School District," will transport a mattress; a 1000 pound differential for a bus; a washer; multiple walkers and crutches; hiking boots; a lamp; drums; a weedwacker; a computer; a wheelchair; cardboard boxes full of random things; a ladder; a violin; and countless other items. Many of these objects are donations from people in the U.S.
Munoz purchased the bus in Kankakee, Illinois from a company called "Midwest Transit" for 8,000 dollars. The 19,798 pound bus will depart from Ann Arbor, Mich., and end in Munoz and Berrios' home town of Catarina, Nicaragua. Munoz, 53, and his son, 20, both currently live in Nicaragua.
The main purpose of the trip is not to transport the objects on the bus. This part of his journey is more of a side operation. The primary reason of their trip is for Munoz to acquire another bus for his transport business, which takes things from one city to another.
Getting permission to come to to United States is not an easy task. Two years ago, Munoz requested that two of his other sons receive visas in order to come to the U.S., but the U.S. Embassy denied it. However for this trip, it was different. Munoz received two invitations to come to the U.S. from two American citizens. As a result, the U.S. Embassy gave him and his son permission to come to the United States.
 Munoz always drives the same route. In the first leg of their expedition, they travel through the U.S. After that, they drive through México which takes three days. The road in México is a lonely one – the houses are far apart. Once they reach Guatemala, they drive on a freeway that contains many slopes. At the border of El Salvador, they pay a small fee of 17 dollars. When talking about Honduras, Munoz said, "Ahí es un dolor de cabeza porque por todo se paga." (Translation: "There it's a headache because you have to pay for everything."). Finally, at the Nicaraguan border, officials inspect the bus, and they make Munoz and Berrios pay for things such as taxes on the goods he is bringing in. In total, the journey takes ten days.
This is not the first time Munoz has driven from the United States to Central America. He has done this twenty times before. Even so, he describes his journey as "peligroso," which means "dangerous." His travels are not always easy. Two years ago, he was driving a truck in México, for he had been unable to find a bus that was for sale. An armed criminal group called "Cepa" stopped him on the road and demanded that he give them one hundred dollars. Munoz paid them the money, which resolved the dangerous encounter.
On previous trips, when traveling in the U.S., Munoz has slept on his bus on a mattress that he brings with him. When he is in México, he stays in hotels. However in Guatemala, El Salvador, and Honduras, he sleeps in the bus on the mattress.
When he reaches his final destination, he often paints the bus. It goes from a uniform yellow school bus to a multicolored wonder. He sometimes builds shelves on the inside of the bus, as to improve its insides.
Despite the possible dangers the trip brings, Munoz says that he enjoys the trip. "Es una aventura, una experiencia…" he said. (Translation: It is an adventure, an experience).
Update:
Sandy Iran Canales Munoz and Winston Isaac Canales Berrios departed Michigan on September 21. The father and son made it safely through the United States, but in Guatemala, something tragic happened. They were robbed. Everything was taken from them including the school bus and their clothes. Since the bus was stolen, they received rides with the police, and people from the United States to their home country.
Berrios and Munoz are in Nicaragua now, but their specific whereabouts in the country are unknown.
Nicaragua is a poor, third world country. The objects that they were bringing to Nicaragua were going to help the people there.
If you are interested in donating to help what has happened, please visit nicaraguaproject.org.
The story will be updated as more information becomes available.