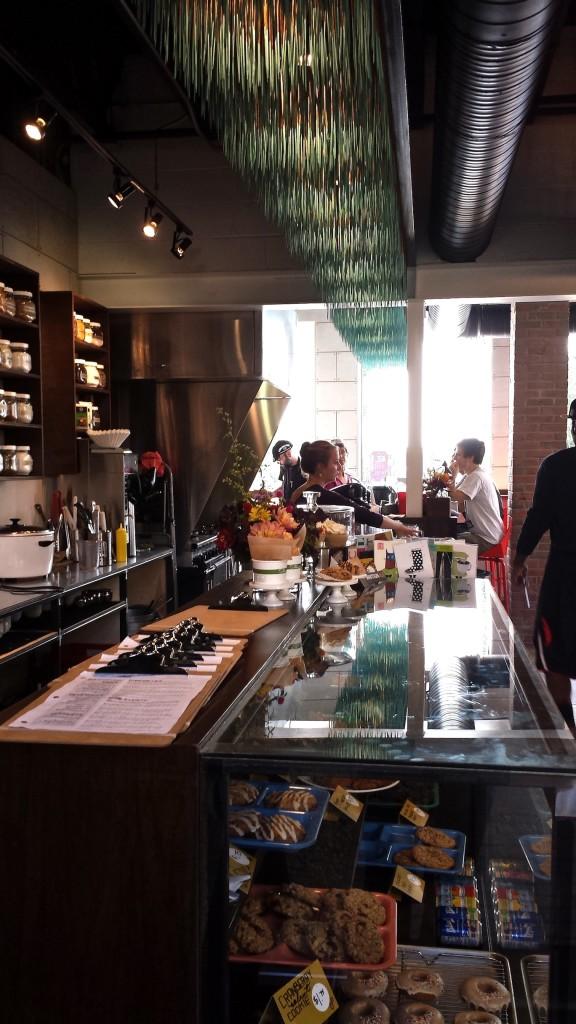 From hobby to career, Phillis Engelbert, co-owner of The Lunch Room, has done what some people can only dream of doing. With the help of her business partner and co-owner, Joel Panozzo, she managed to build a restaurant business from ground up. Unlike many of the restaurants around the Ann Arbor area, The Lunch Room, located around the Kerrytown courtyard, serves only vegan food. The idea of serving vegan food stems from Englebert and Panozzo's own personal eating habits.
Even though the restaurant is all vegan food, Engelbert encourages non vegans to come a try their food, "Everything is vegan, but we have done pizza, burritos, all kinds of sandwiches, and pastas. So we focus on foods that are filling, familiar, and tasty. They just happen to be vegan," said Engelbert. One of their Lunch Room classics and their first menu item is the BBQ tofu slider, it is The Lunch Room's take on a BBQ burger except the burger is replaced with flash baked tofu slices, vegan BBQ sauce, oat-wheat slider buns, and the whole meal is vegan.
As for the name of the restaurant, Engelbert and Panozzo wanted a name that was basic, accessible, and something people could relate to."We really liked the five compartment cafeteria trays. So we were trying to think of words that were synonymous with cafeteria and cafeteria trays and we came up with The Lunch Room…it is also something sort of basic and mainstream that could attract anybody," Engelbert said.
Like many things in life, starting a business or restaurant is complex and time consuming, but the key is to start small. Engelbert said that at the beginning they mainly held dinner parties and had a few pop-up dinners at a variety of retail places, which led to a food cart at Mark's Carts. Once they had enough money they decided to open a restaurant, "We were ready for a bigger challenge, we wanted to be able to expand our menu and to be open year around and to have seating..," Engelbert said.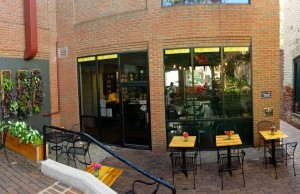 From then on, everything was about getting the restaurant up and running, "It was a little overwhelming, it was a lot of work. It is kind of expensive opening a restaurant, everything takes a little longer than would you think, but we also have a lot of support from our friends. A lot of people pitched in and helped. It was also an exciting process. We prefer the actual restaurant operation process to the go about process," Engelbert said.
As the building process began to settle down, one thing Engelbert and Panozzo had to start thinking about was the look of the restaurant. Engelbert and Panozzo hired a husband and wife team who own a firm called Synecdoche. Once they settled on the look for the restaurant, the Synecdoche team went to work and designed tables and chair especially for The Lunch Room. In addition the team wanted to have a unique art piece in the restaurant. They designed this piece that required 25,000 skewers to be stained, painted, and mounted in soffits. "Each had to be dipped individually and dripped dry. So it's a lot of hours. Then they machine drilled all the holes in the pieces of wood and they had volunteers insert each skewer one at a time over the course of a week into all the holes with little dabs of glue at the end of each of them," Engelbert said, "It certainly is an added dimension to the space."
After months of working on building the restaurant, tweaking the menu, and decorating, The Lunch Room was ready to open their doors. Like Teriyaki Time, another local restaurant around Community High School that has a special price for CHS students, The Lunch Room offers a 10% discount to CHS staff and a lunch special for CHS students. In addition from 2:30-5pm students can get an after school snack, either the Pretzel Tots with nacho cheese or sugar coated pie fries with jam for five dollars.
In the future Engelbert would love to see more vegans and non vegans come to The Lunch Room, " I would like to just keep raising the bar, to have the food keep getting better and better, to have our audience keep growing, to become more popular among non-vegans and vegan…I would like to grow our out of town reach, to become a Midwest destination for people who are really interested in great vegan food."
For more information about The Lunch Room and day to day updates click here and for their facebook page click here.