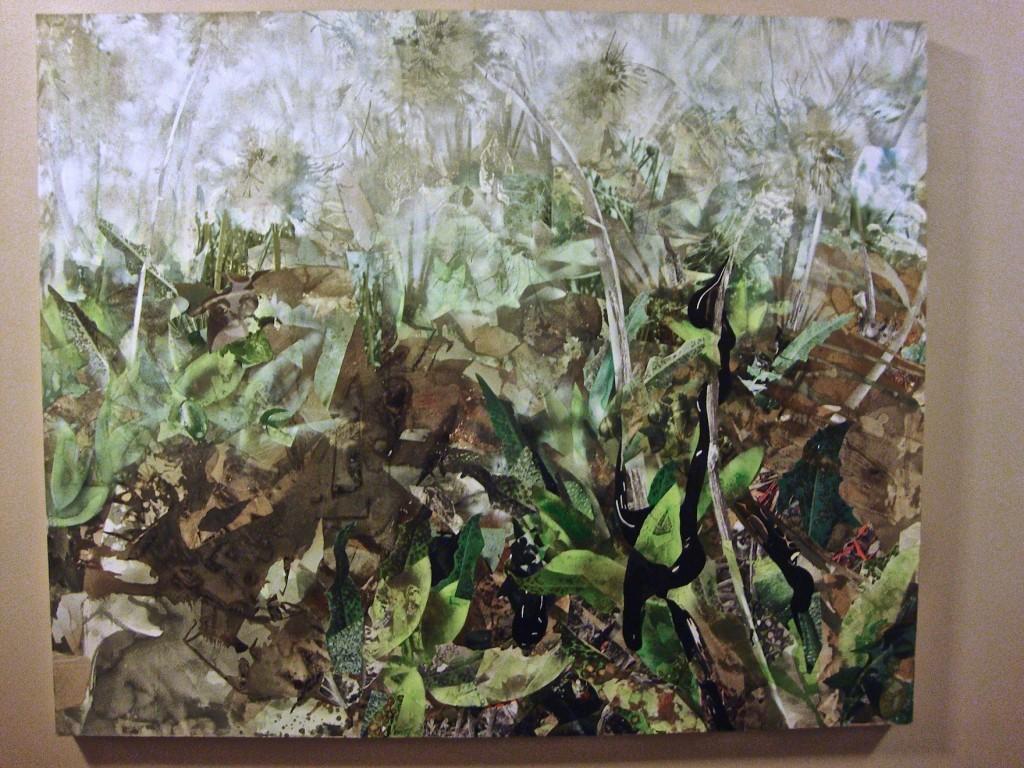 On the fourth floor of the U of M's Rackham Building, an elegant staircase leads to a hallway lined with paintings created by artists who primarily work with botanical and biological subject matter. The exhibit, "Biology and Art in the Creative Mind", includes four of artist Katie St. Clair's recent paintings. In them, she brings bits of photographs and paint alive in her vibrant landscapes.
One of these paintings, "Silt," St. Clair describes as "An image of dandelions with their fresh green leaves, except they don't have their yellow tops on. Their tops are already turning to seed so the tops are all white. The dandelion flowers almost look like they could be butts and become kind of a haze on top of the image," said St. Clair. A shiny black substance oozes down at the bottom right. "It feels like oil or tar or something not of the natural environment and it forces the landscape into a new dimension, developing the story in a different way," she said.
A full time bike commuter, St. Clair uses ideas and photographs from what she sees while biking in her art. "I'm constantly bringing new information from what I see at the roadside into my studio," she said. This is a crucial part of her artistic process. As a result, her paintings are often of natural landscapes as they meet those of human creation.
In her studio, she prints her photographs and then begins to weave them with paint, building layers of collage. "I use collage as I would use paint stroke, to cover up information and image that information in a new way," she said. Sometimes she uses a sander to pull covered up images to the surface. This is a process she has been developing for year. "It's a puzzle in a way, a kaleidoscope of fractured images and the puzzle is, is it working, is it not working, why is it not working, what could make it work better and this processing of trying to figure out the puzzle," she said.
Last spring, after a week of working on "Silt" in her studio, she stopped. It wasn't working. At the time "Silt" was a painting of skunk cabbages. Skunk cabbages are the first plants to come up in the spring because they melt the snow around them. "They literally produce enough heat in their nastiness to make a home for themselves, which I thought was fantastic," said St. Clair. "I started with this very fresh color of spring and later matched summers dandelion leaves with it which is what gave me the effect of then having decaying tops with fresh new leave of the bottom."
Always open to finding new images of inspiration, St. Clair looked for what could make "Silt" more interesting during the several months she was not working on it in the studio. "As time passed the imagery that became available became more interesting. As the painting evolves time is very important. If the seasons had played in a different way it might not have been dandelions."
It is not unusual for her to find solutions outside her studio. "When I leave the studio, my head's just racing, trying to figure out the problem, trying to solve the puzzle so everything I see along the way could be a possible solution. Sometimes it even happens in my dreams. I'll wake up in the middle of the night with the solution. When my brain calms don't and stops trying to figure out the solution, the answers are all there," she said.
Katie St. Clair is one of the University of Michigan's only 19 MFA (Masters of Fine Arts) art students. In addition to being shown at the University of Michigan's Rackham Building until Dec. 13, her art is also currently being shown at the Annual All Media Exhibition at the Ann Arbor Art Center until Nov. 17.