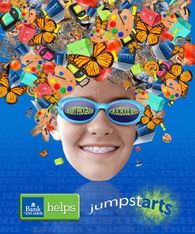 Though the "JumpstARTS" program, the Bank of Ann Arbor is giving $3,000 to the top three winners in each of the elementary, middle and high school categories. Community High School is currently in fifth place. Vote ends Nov. 8.
To VOTE:
1)Like Bank of Ann Arbor on Facebook
2)Click on VOTE on Bank of Ann Arbor's page
3)Vote by selecting an elementary, middle and high school of your choice and then press submit
4) Vote again once every day until Nov. 8
"If we got that three-thousand I'd be very happy," said Community High School art teacher ElenaFlores, "We could use that money for art supplies and improving the arts program." Flores finds herself spending her own money so that her classes can continue to improve and learn new artistic skills, as art supplies purchased with money supplied by the school at the beginning of the year run out . Last year several parents donated art supplies to the school, but this year Flores said that only two parents have responded to the request for donations.