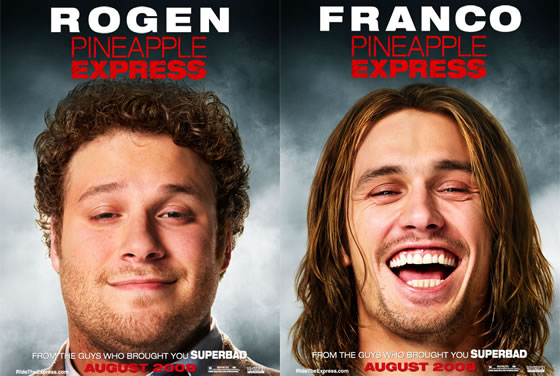 Director David Gordon tells the exuberant tale of two friends in his 2008 movie: "Pineapple Express". The movie stars famous actors James Franco and Seth Rogen, ideal actors for the scintillating comedy. The movie is set behind the marijuana drug trade and distribution in the Los Angeles area. It offers up a story filled to the brim with love, hate and 117 minutes of unadulterated entertainment.
James Franco plays the character Saul Silver, a marijuana dealer who is seemingly always under the influence of the drug. Actor Seth Rogen plays Dale Denton – an ordinary middle aged man who finds the escape from his everyday life by smoking pot. The two find themselves in over their heads when Dale winds up witnessing Ted Jones – the notorious CEO of the largest drug organization in Los Angeles – in the act of murder. In a state of shock, Dale unconsciously drives off to Saul's apartment, but not before Ted sees him leave. The two find themselves on the run, encountering corrupt cops, traitorous friends and other obstacles along on their way.
Friendship is a recurring theme throughout the movie. At the beginning, Dale is judgmental of Saul because he is a drug dealer and is hesitant to let Saul in his circle of friendship. At one point toward the beginning of the film Saul calls Dale and himself "best friends" but is answered by an ambiguous response from Dale. Later in the film, Dale has an outburst and roughly accuses Saul for getting them into the scenario that they are in. The film reaches its climax when Dale and Saul reunite for good and fight against Ted Jones and his party. When the story comes to its resolution, the two stoners are calling each other "BFF's" (Best Friends Forever). The hidden heartwarming tale of friendship throughout the movie tells a fairy tale story, capable of reaching into every viewer.
Pinapple Express taps into a comical peril like no other. David Gordon has created a gut-busting comedy, up to par with any Will Ferrell or Adam Sandler classic. The movie is rated R due to profane language, drug use, sexual references and violence. I wouldn't recommend the film as a family movie on account of the R rating, but it is a fun film to watch with friends or even alone. Pineapple Express is creative, intense, and ridiculous – a comedy well worth watching.