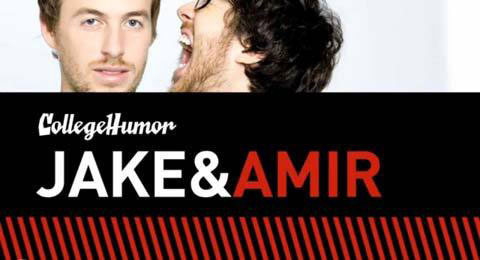 Jake Hurwitz and Amir Blumenfeld have sat across each for years. Since 2006 to be exact, when they began working for CollegeHumor. They spend most of their time filming and editing videos for their online comedy show called Jake and Amir. But before their current job as comedians, Jake and Amir were just like any average high school student, unsure, unconfident, and unassertive. Both had a vague plan for a career, aware they wanted to go into comedy and writing but had no idea how to. "…I did not know I was going to be able to do it until I found CollegeHumor," said Hurwitz. The company offered the the opportunity to combine their love of writing and comedy into one. The perfect job.
Their series started when the two joined in a small growing company called CollegeHumor. The company was just starting off and had only been in business for six or seven years. The two met while working in the company and quickly became friends – a friendship that will later lead to the birth of hit YouTube series. The two spent a year making each other laugh and playing different characters and personalities until Jake suggested the idea of starting a web series – filming themselves and then posting it on the internet. Blumenfeld bought the domain name for "Jake and Amir" and production started. "…we went back and forth divvying up responsibility until the website was made," said Blumenfeld.
As time progressed, CollegeHumor grew and so did the Jake and Amir audience. Their first videos – filmed with a shaky camcorder were receiving a meer several thousands views from a small regular audience. But they continued to produce, and in 2012 would produce an episode called "Blender" that would receive over a million views and 12,000 likes on YouTube. They built into a weekly schedule of uploading and established a loyal fanbase of returning viewers.
In 2013, from Nov.14 to Nov. 22, Jake, Amir and Streeter Seidell – a coworker and famous comedian of CollegeHumor – took a trip throughout the Midwestern and Western United States hitting up a different city every day. This trip included Ann Arbor, where Blumenfeld and Hurwitx enjoyed eating at Zingerman's Deli. This was so far the biggest trip in their comedic careers so far. Through all the fame , the production of the series hasn't changed; they insist on personally writing, editing and acting all of their videos, employing the same recipe they used to make their first episodes. The Jake and Amir show plans on continuing production and pumping out free comedy for the world to enjoy.