The Bell Tower Birds: A Local Conservation Success Story
As the world rapidly changes, organisms must scramble to adapt to their new, human-created environments. The Peregrine Falcon has found a creative solution to adaptation. Peregrines once nested atop cliffs, but in recent years, they have been making their nests more and more frequently on tall buildings in cities. Among these cities is Ann Arbor — since 2006, a pair of Peregrine Falcons regularly perch on the Bell Tower on the University of Michigan campus.
Peregrine Falcons are slightly larger than crows, and are found throughout most of the world. In the mid-20th century, however, they experienced a pesticide-driven population crash, along with many other birds of prey. "As I remember, the east of the Mississippi population [of Peregrine Falcons] just plummeted," recalled Deaver Armstrong, the City Ornithologist of Ann Arbor. Armstrong, who works for the Ann Arbor Natural Area Preservation, has seen Peregrines all over the world. Humans panicked upon the disappearance of the Peregrines. "They wanted to reintroduce them back in the 1980s," she explained. Conservationists began to intervene in order to help with nesting, and according to Armstrong, "the easiest way" to reintroduce the falcons was to place the nests atop buildings. Armstrong speculates that the Peregrines born on the buildings began to think of buildings as the ideal nest site, and searched out buildings when making nests of their own. Now many major cities have at least one pair of Peregrines. Though Peregrines are traditionally migrants, Ann Arbor's falcons stay on campus the entire year.
City of Ann Arbor Ornithologist Deaver Armstrong, who has seen Peregrine Falcons all over the world, reminisces on some of her best experiences with the birds.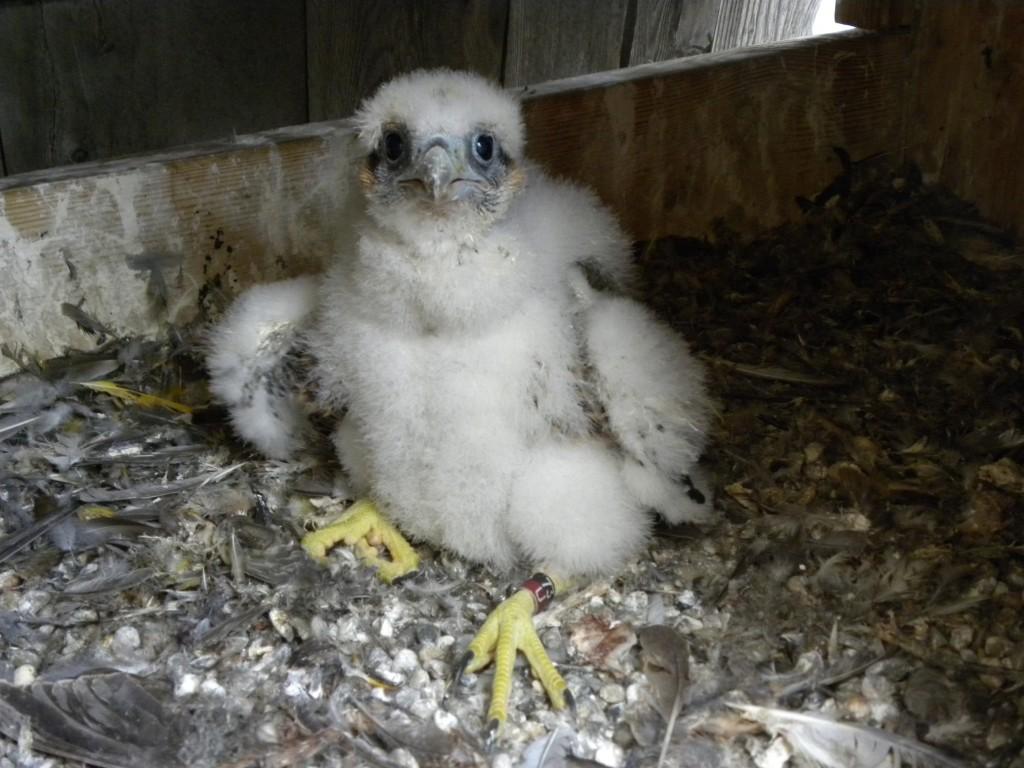 The "Bell Tower Peregrines" first arrived in Ann Arbor in 2006, and attempted to nest there. "I got sort of involved when the bird was first located on the Bell Tower," said Armstrong. "We were able to approach [U-M President] Mary Sue Coleman and tell [her] … about the Peregrines." Armstrong, along with the Washtenaw Audubon Society (a local ornithology group), learned that the university was planning renovations on the Bell Tower — renovations that would not be possible if the Peregrines were nesting. "They had to go up to the Bell Tower, and what they learned was that the birds were not nesting successfully," said Armstrong. The falcons had been laying their eggs at a corner in close proximity to a gutter: "The eggs would roll down the gutters and not be viable."
At this point, the Michigan Department of Natural Resources (DNR) took over to intervene with the Peregrine nests. DNR set up nesting platforms to encourage the Peregrines to nest in other locations. When the first chicks finally hatched in 2011, on the University of Michigan Hospital, DNR began monitoring the nests and chicks. Christine Becher, the Southeast Michigan Peregrine Falcon Nesting Coordinator, explained the process of monitoring falcons. "I keep a watchful eye on the nesting Peregrine Falcons in the greater Southeast Michigan DNR region, coordinate the banding … make sure they're safe, protected, and that we can band them whenever we can," explained Becher.
As Peregrines grow more numerous in Michigan, more nests are being monitored. Four new nests were found this year (one each in Dearborn, Detroit, Saginaw, and Warren), all atop large buildings. This brings the count of monitored Peregrine nests in Southeast Michigan to sixteen.
The monitoring of falcon nests runs from the beginning of April, when nesting season begins, to the end of September, when all the chicks have migrated. First, Becher determines if the falcons are actively nesting. "Once I determine that they are nesting, I make sure that the site is secure for the bird," she said. "I try to determine how many eggs [are laid], and the date of the hatch." Once the chicks are about three weeks old, they are banded. The bands put on the chicks legs are used to track the chicks; each band contains color and number codes that identify individual birds. Becher intervenes when a chick attempts to fly before it has sufficient flight skills, and is prematurely "grounded." Uninjured birds are placed back in the nest; injured birds may be rehabilitated before being returned to their parents. "Sometimes what happens is, when the bird is learning how to fly, they prematurely get grounded," Becher explained. "They'll be strengthening those flight muscles, and when there's a warm updraft, they become airborne when they're really not capable of good flight." Becher works on keeping the falcons safe until late August or early September, when the young Peregrines migrate after learning "everything they need to know to be a Peregrine," and leave their nonmigratory parents.
Since falcons have their own distinct personalities, each responds very differently to human intervention. "The male at Ann Arbor, he doesn't take very well to disturbance," said Becher. The Ann Arbor female tends to be a bit more tolerant of humans. The Ann Arbor Peregrines always keep a watchful eye when Becher and others monitor the chicks.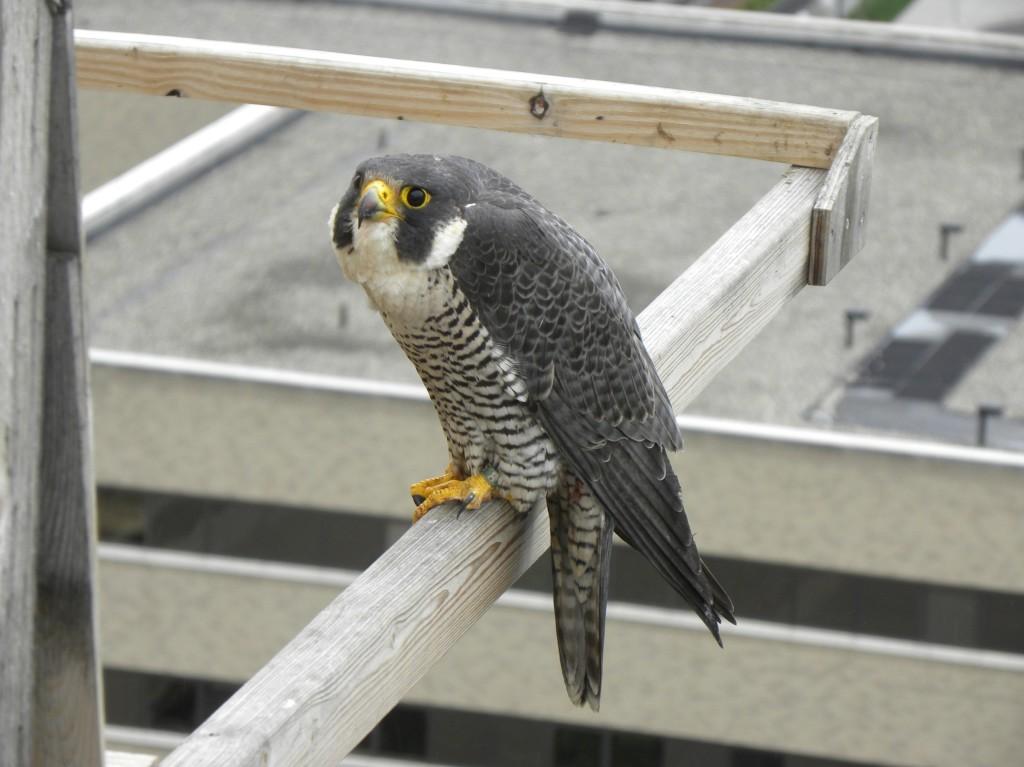 In a world frequently experiencing conservation tragedies, Peregrine Falcons have come to symbolize conservation success. The Ann Arbor Peregrines have prospered in the last few years. Four chicks fledged in 2012 (all named after former Michigan Wolverines football coaches). 2013 marked the third consecutive successful nesting season — four chicks hatched, three of whom survived. Armstrong suggests supporting organizations that promote responsible pesticide use as a way of benefitting the falcons.
Becher feels that having Peregrines in cities is advantageous to both the birds and conservation. "People love seeing the birds," said Becher. "They're so fun to watch, and people realize they're an endangered species, so a lot of people who never probably took an interest or noticed birds … they take notice of the birds … and for some people, that's all it's taken. They've never noticed birds before, now they're starting to birdwatch. It opens their eyes to conservation, and what can be done to protect all birds. I think it's beneficial for people and the birds alike."
Armstrong has enjoyed watching the success of the Peregrines as a birder, but is also considering using Peregrines as a method of raising conservation awareness. "Generally speaking, the public is not aware of most birds," explained Armstrong. "Here we have this charismatic fauna, the Peregrine Falcon — it's a bird of strength and speed, and all that good stuff — locally," she said. "I think it could be a poster bird … I think if people are more aware, that might generate interest [in conservation]."
The Peregrines can be seen at the Bell Tower or in nearby locations at any time of the year. Among these nearby locations is Community High School itself — the Peregrines have flown over before, so don't forget to keep your eyes up.
About the Contributor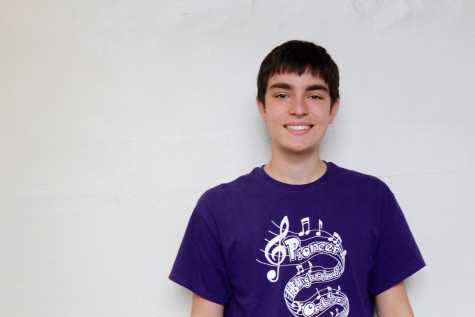 Matty Hack, Editor-in-Chief
Matty is a CHS senior and this is his third year on the Communicator Staff. He is a co-editor-in-chief and can often be found correcting pedantic punctuation errors. Matty also enjoys birds, playing violin and piano, science and petting his cats. He is pro-Oxford comma.