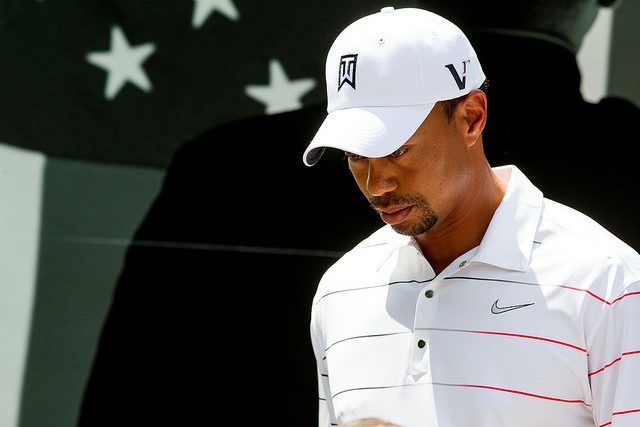 Tiger Woods. If this was 2008, these two words would have struck fear into the hearts of fellow golfers. Tiger was a god, a god with one mission: to break Jack Nicklaus' record of 18 majors, something he seemed destined to do. He stepped on the throats of fellow golfers and took no prisoners on the way to winning. Every tournament he played in he expected, and we expected, him to win. If he had the lead going into sunday, he was going to win. And if he didn't? He was probably going to win anyways.
Tiger's last major victory was the '08 U.S. Open, which will go down in history as one of the greatest weeks of golf the world has ever seen. Tiger played 72 holes of golf on a torn ACL and a broken Tibia, and when he made a putt on the 72nd hole that only Tiger could make, he had to play 18 more. And it wasn't until the 91st hole that Tiger finally won. It was his 14th major, and it just added more to an already enormous legacy.
Then came knee surgery. And right when he was getting back into form from that, the cheating scandal that I'm sure everyone in the world knows about came out. Tiger lost his family, his swing coach, his caddy and his sponsors. He was, and still is, a shell of his former self.
He is back to the number one player in the world. He still wins tournaments. He won five last year, best on Tour. But this is not the same golfer of last decade. He is rarely in contention going into the weekend. And if he is, like he was last week after a phenomenal Saturday round, he fades on Sunday. He hits shots that old Tiger would never hit. Most of all, he hasn't won a major since that fateful week in 2008.
Some say that he is broken physically, which is true. Tiger's health has been in decline for the past couple years, and I really hope that he recovers. When Tiger wins, golf wins. Tiger is the only reason a lot of people watch golf, and I'm sure the PGA Tour would love it if Tiger would, for example, win the Masters this year. I can't wait.