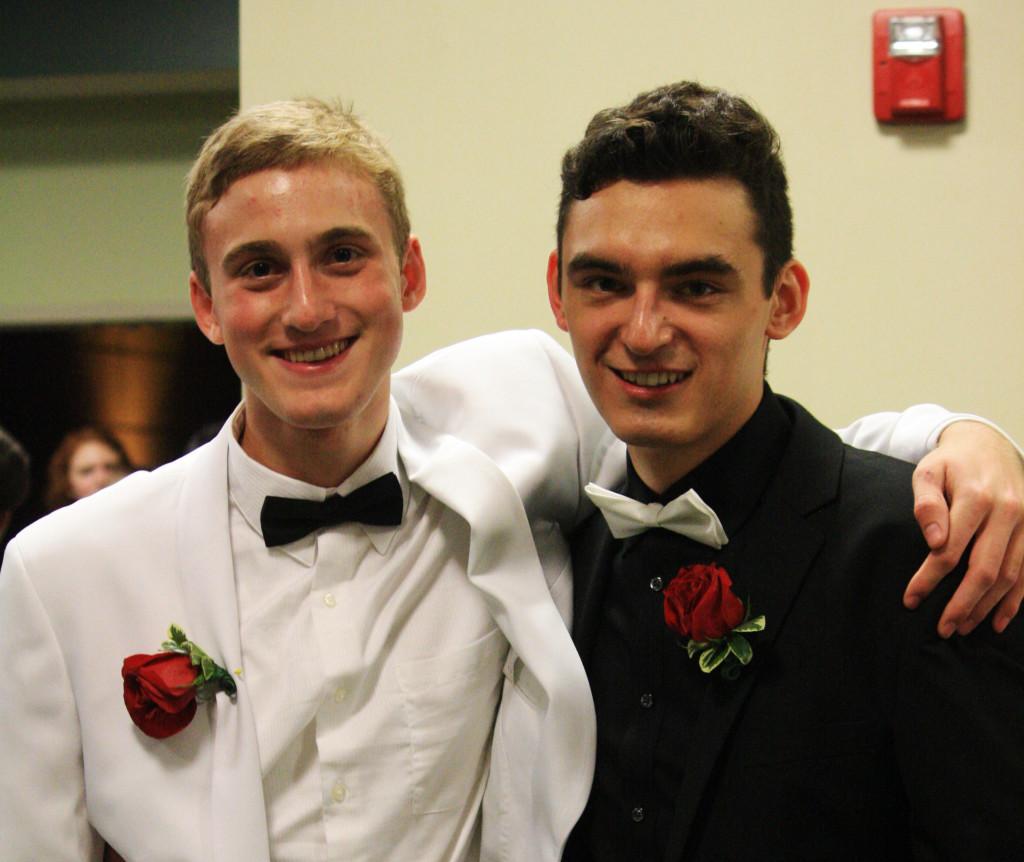 Sophia Camp
Yesterday night, Community High School (CHS) hosted its annual Junior/Senior Prom at the Student Ballroom on the campus of Eastern Michigan University. The theme was Renaissance and the lobby was equipped with an inflatable archery stand and live jazz from CHS students.
The ballroom was dimly lit with tables around the perimeter. Heels and suit jackets were sprawled out around the room, suspenders and bowties were loosened, and hair was let down as the dancing commenced.
A striking thing about that night was the sense of camaraderie. Although a lot of students arrived in groups, people danced and mingled throughout groups which made the social boundaries fluid and friendly, not much unlike the social atmosphere at CHS during school.
At one point, a small circle congregated which included Dean Jen Hein as she joined in the dancing. Fun loving art teacher Steve Coron, as well as the kindhearted counselor and teacher Diane Grant were the beginning of what you could call a pseudo-conga line. Staff and students held onto each others' shoulders and formed a chain which encompassed most everyone on the dance floor.
Dressed in their coordinated suits – a black suit with a white bowtie and a white suit with a black bowtie – CHS students Rene Reuter and Matthew Ferraro had a pre-prom dinner at the Palm Palace. While waiting for their check, they received a hospitable surprise. "The waiter came over with our bill and he also had a plate of cheesecake," Ferraro explained. "He laid it on the table and he said that somebody had paid for it for us and … it was really sweet to think that somebody would do that."
Matthew Ferraro (left), Rene Reuter (right)Sweaty and smiling after prom, Chris Hoban, a junior at Community elaborated on the atmosphere of that night. "At first if you're not just a social person it can be awkward, but once it's been going on for a while … you get into it and it's a lot of fun."
Chris HobanDianne Dudley, teacher at CHS, along with Chris Hicks, secretary for CHS, organized this year's prom. Packing up various things after the dance ended, Dudley said, "[I was] really relieved … to see so many people dancing right away and having fun and laughing and connecting."
"Sometimes prom can sound so scary to people … but once you get there, it's so fun," Dudley went on to say. "You know … that emotion of like, 'I don't know what to expect', but once you get here you're like, 'Oh my gosh, I can do this. I can do this every year.'"
Senior Christina Chang, reclining in an armchair as prom ended had this to say, "I would give Community High School prom a four out of five stars on Yelp: would do again but my feet hurt."
Christina ChangThese photos and more were featured on mlive.com and can be seen in a new tab by clicking here.