3v3 Basketball Tournament Kicks Off, First Round (Video)

Highlight video by Fernando Rojo
Round one has commenced and the bright sun has led to wonderful 3v3 games.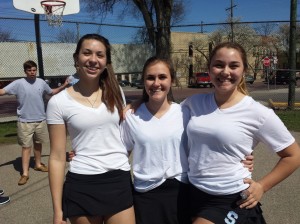 Day One held two opening games: Big Mike vs. MOB, and Dream Team vs. Mari and the Sophomores. In game one, MOB fell to Big Mike in a crushing 7-1 defeat. Colin Stroud led his team by playing solid defense. Hannah Tschirhart, sophomore, scored MOB's lone point in the devastating loss.
In the second game, Mari and the Sophomores fell to the Dream Team. Jack Belden, freshman, hit a last second shot for the Dream Team. Belden also lead all scorers with seven points in the thrilling 10-8 victory.
Day Two: Hali Hoop Squad squared off against the Sexy Mofos. Hali's Hoop Squad won 7-1. Sam Rickman made his presence felt on the court with his lockdown defense against the Sexy Mofos.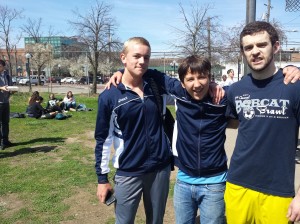 In the second game of the day, Merrick Squad beat Boys R' Us 7-1. Seniors Nate Porter and Jack McConnell dominated for Merrick Squad. McConnell owned the post, though he missed a shot in the video above.
The Sex Pistols, led by Junior Alex Wood, duked it out against the Dean Jens.
Day Three: Dream Team played its second game against Team Nick Midds; D2B played Big Mike; Sportsboize =P played Hali Squad to end the day.
Team Nick Midds defeated Dream Team with a strong effort from Chase Dudley, who flexed his muscles on both ends of the court.
Sportsboize =P defeated Hali's Hoop Squad, 7-2. Junior Jack Kozics had a strong showing on the defensive side of the ball. He had pair of blocks and a steal.
In the final game, D2B defeated Big Mike 7-3. The all-senior squad was lead by senior Fernando Rojo, the most agile player with spork in-hand.
Stay tuned for continuous coverage of the tournament.