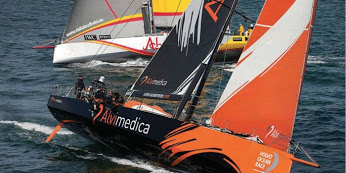 Sander Van Der Borch
Every four years the best sailors from around the world come together to participate in one of sailing's greatest adventures, the Volvo Ocean Race. As the world turns their eyes towards Alicante Spain for the star, the lack of an American team will come as a shock.
U.S. Sailors have found sanctuary in the Alvimedica program, a Turkish team sponsored by the Alvimedica company, which is a manufacturer of medical supplies. Of the ten man crew, five are from the U.S., including the team's skipper, Charlie Enright. The team prides itself on being the youngest team competing in the race, which many see as a disadvantage, but the team's overall charisma and courage has shown that they are not to be taken lightly.
For many on the crew, this is their first Volvo Ocean Race, including the man in charge, Enright. Enright is a Rhode Island native who has already accumulated thousands of offshore miles and inshore racing results, including a Transatlantic and Rolex Fastnet Race in 2011. Before dedicating his full time to the Volvo Ocean Race campaign, Charlie was working at North Sails, the largest sail manufacturer in the world, and managing multiple sailing campaigns for All American Ocean Racing, a program who failed to meet their goal of an all American boat.
The race literally pushes man and machine to breaking points. Last year all teams had a major malfunction with their boats. The problems ranged from wenches being ripped from decks to masts being broken in half. The Volvo 70s (boat name) went so fast that they were tearing themselves apart, and the crew had to fight to slow them down in order to keep moving forward. This year, there is a new and better design in the Volvo 65, which is five feet shorter but just as fast.
The new One Design Volvo 65 has leveled the playing field as all boats are exactly the same. The race will be determined by skill, eliminating the advantage of wealthier teams. The boats will allow the Volvo Ocean Race to return to its roots of the best sailors coming together to overcome the most challenging course in the sailing world.