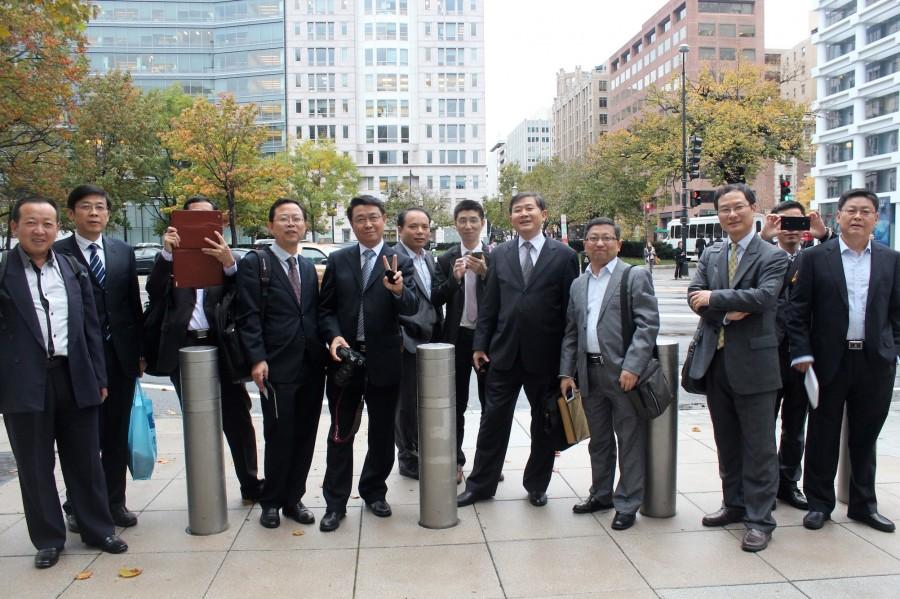 While wandering around Washington D.C., we decided to photograph strangers who were dressed up in "coats" or suits and professional attire. Our intention was to try to capture a correlation between how the fashion (specifically "coats" or suits and professional attire) of different professions compare.  Pictures that don't show a person's face are intentional, due to the fact that some weren't comfortable with completely revealing their identity; for the last picture, we were told that they could not give us their specific job title.
Seth Adam Meinero: Attorney
Yuta, Bridget, Amelia and Jules: Federal Government Contractors
Michael: Lobbyist
Anonymous: Transportation Planner
Partap Verma: Attorney
Shannon: Privacy Officer
Manzoor Shah: IT Database Engineer
Richard G. Kidd: Senior Executive Federal Government
Anonymous: Director for African Affairs (International Policy)
Susan Kelly: President of Microsearch Cooperation
Justin: Administrative Specialist for the Senate Sargent at Arms
Dan Golden: Lawyer with the DC Council
Mike Crittenden: Congressional Correspondent for the Wall Street Journal
W. Douglas Tynan: Director of Integrated Health Care
Bob Greene: Lawyer
Mark Berman: Lawyer
Duke McLarty: Attorney for the Federal Housing Administration
Shavonda Allen and Teri Ryan: IT Project Managers
Julie: Executive at AARP
Jenny Merzlock: Graduate Student and Research Project Coordinator
Leana: Operations Assistant at Maritime Logistics
Brian C. Heilman: Investment Manager
Rich Daly: Sales Manager for a Software Development Firm
Nick Catania: Investment Advisor
Eduardo Estrada: Extended Term Consultant, World Bank
Group Visiting from China: Statistics
Anonymous: Human Resources Specialists
All photos by Anurima Kumar.
Additional reporting by Elonah Kirk.