Elginne Johnson's Experience with Racism
Elginne Johnson remembers handing over her tied-together silver roller skates to a police officer when she was about nine years old. She and some friends had been skating on a sidewalk just around the corner from her house. "This lady got annoyed, and she would shoo us off, and we'd tell her, 'this is public property,'" Johnson said. "She came out [of her house] a couple of times, to tell us to stop the noise, and then she called the police." Johnson doesn't remember what the lady looked like, but she remembers she had a "little shrill voice."
The woman was white, the police officer was white, but Johnson and her friends were black. She believes the woman's actions were racially driven.
In the end, Johnson's dad obtained her roller skates.
Johnson, born in 1930, grew up in Beaufort, South Carolina. The school system at that time was segregated. "I just knew there were places we couldn't go," she explained. "And I knew that we had to go upstairs in the movies. But I wasn't upset because I was eight or nine years old, and everybody, all my friends were in the same position. So at that time I just accepted that that's the way it's supposed to be."
The people that lived next door to Johnson's family, the Cooks, were white and poor. Johnson's brother shot marbles with their kid; the moms talked over the wire fence that ran between their houses; and due to their neighbor's lack of education, Johnson's mom would read Ms. Cook her mail.
But when the white family spotted Johnson's family on the street, the Cooks would move to the other side of the road to avoid conversation. "We used to laugh about it. 'Ms. Cook crossed the street today,'" Johnson recalled.
Growing up during the Great Depression, Johnson said that her Grandma lived in an area where she could grow food, and she would bring them her harvested produce. "We just didn't have money like the kids do now. When somebody gave you a dime, you thought you'd died and gone to heaven," Johnson explained. She remembers getting five chocolate kisses for a penny.
Beaufort was Johnson's home until she was 16. At that age, she went off to college at Hampton University in Virginia, where she was a chemistry-biology major. After school, she moved to Boston and was a Medical Technician at the Massachusetts General Hospital, where she worked in Pathology. She came to Ann Arbor in 1953, with her husband, Claude Johnson, after he came back from being in the war in Korea. The two then lived in student housing at the University of Michigan.
Johnson said of her husband's time in the war, "I was very scared. [He] was in an infantry division. And he was gone for 16 months. And we had only been married for 10 days before he left." During that time, the couple exchanged letters three or four times a week.
Before the house that Johnson currently lives in existed, it was just a lot that was for sale. The Johnsons weren't able to buy the lot because of their skin color. But they found a way to work around the problem. "The builder bought the lot, and then he sold it to us. And he built the house," she said. But when they began living in that house, it didn't go unnoticed. "When we moved into that house, our neighbor on the right side was very upset. Because she said that we were going to bring the property values down," Johnson explained.
Even though Johnson is in her eighties, she said, "I'm surprised I'm so old. You know it got here before I was ready for it."
About the Contributor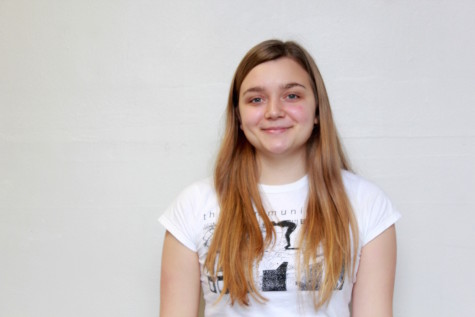 Sophia Werthmann, Editor-in-Chief
This will be Sophia's third year on staff. Her favorite things include 80 degree weather, acting, playing piano and bulletproof coffee (coffee, coconut oil, butter).