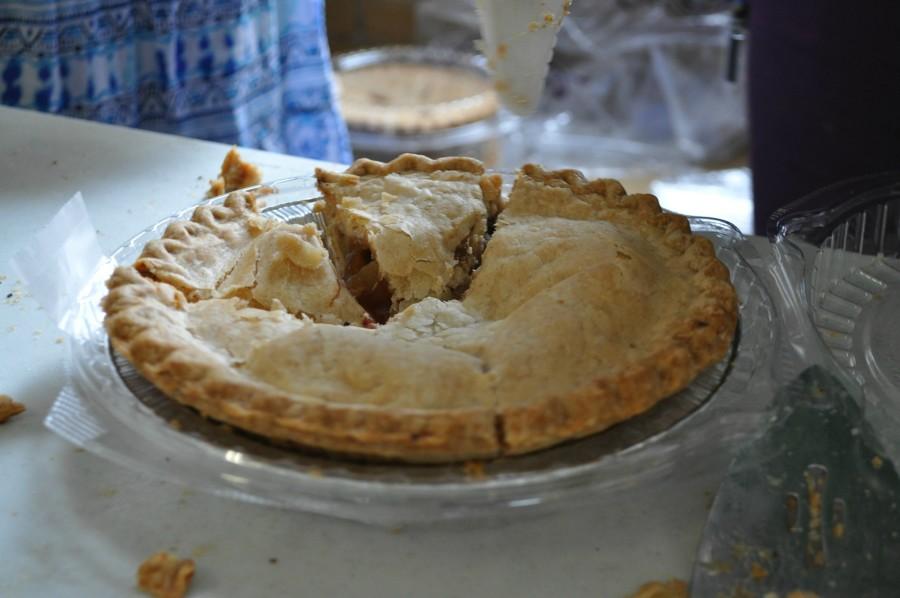 On Friday, March 13, Community High School's Math Department took charge of the annual Pi day. Where math teachers, like CHS math teacher Anne Thomas, offered pi (3.14) extra credit points to their students for every pie their students brought in that morning. This year the math department received some help from the Ann Arbor Education Foundation, a nonprofit organization that raise money so that they can give it to students. The foundation helped bring some pie serving utensils, brought some pie and helped serve the pies to the students.
The pies were set up with the apple pies on the closest table, the berry pies on the middle table and the other types of pie — including, but not limited to key lime and chocolate — on the last. Students were lined up on the second floor and started forming lines minutes before their last class ended. Soon after lunch started, a long line of students formed that wrapped around the halls as the students were waiting for their pies. The excitement filled the second floor.
Craig Levin, a CHS math teacher, has been leading and organizing pi day for at last ten years and this year was no different. "It's usually very crowded but we were so efficient today. It's just quarter till and we are just cleaning up," Levin said. "We had a line wrapped up around the corner today, and that was bigger than I remember it being. But it was fast. People got there pie and got out."
Although this year there wasn't a pie in the face contest like last year, Levin loves how much the students get enthusiastic about pi(e). "I love how everybody is excited for pi," Levin said. "Like how often do you get to eat (math) pie day? Never. So once a year is kind of nice."
With a whooping 54 total pies brought in not only was this year bigger than years past, but this pi day was special for this year the official pi day is on 3/14/15 (3.1415). Sadly for math enthusiast like Levin they had to wait one more day. "[This] Pi day, is the epic pi day (3/14/15). There won't be another good one in another 100 years. So we are gonna have to wait," Levin said.