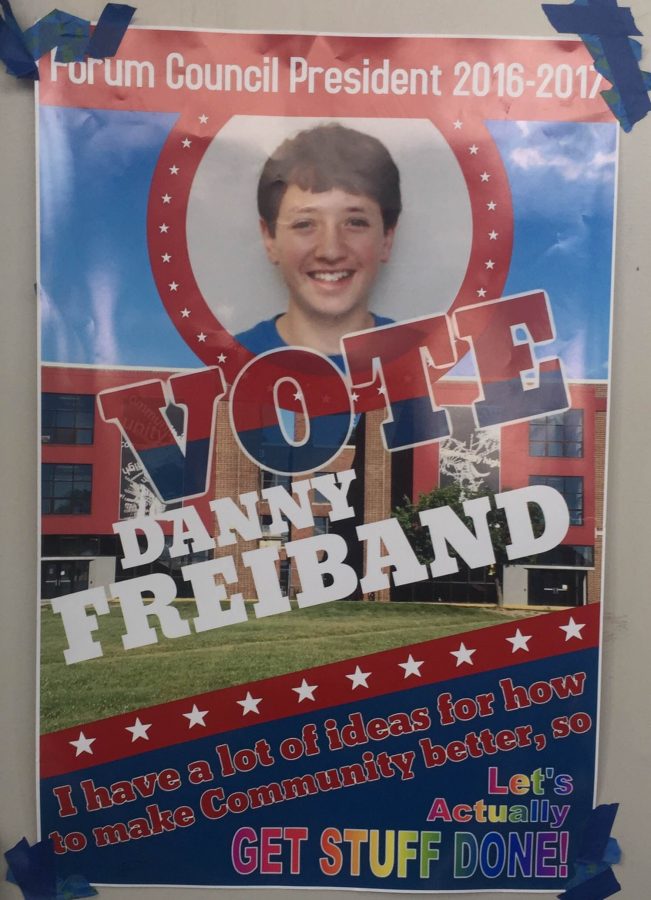 It's fall 2016, the time of the elections. Campaigns and posters are invading the hallways and each candidate is trying to obtain the treasured positions of the presidency. However, these candidates are still in their teen years and have yet to graduate high school. That's because these presidential hopefuls are campaigning to become the head of Community High's Forum Council.
Forum has always been a quintessential part of Community High's environment and has helped many students bond with a specific group of the school. Forum Council meets every Monday in Steve Coron's studio room and gives student representatives from each forum a chance to talk about what needs to change and what needs to improve. And in just a few days, the votes will be counted and a new president will take his, her, or their position.
For candidate Maggie Mihaylova, it's all about communication. Mihaylova, a senior with three years of forum council experience under her belt, is running because she feels that the council is capable of accomplishing much more than it currently is. And she believes that in order to unlock all of its potential, communication is key. "One of the greatest things about Community is that we're small and we're able to talk and discuss about stuff together," Mihaylova said. "I think that Forum Council can be a good platform for people to talk and discuss their opinions." She also believes that communication will help smaller details such as the bathrooms being fixed more often and students being aware that new security cameras have been implemented around the school.
Mihaylova also prides herself on being a gregarious and assertive person. "I know a lot of people and I'm not afraid to talk to people," she said. "I think that being confident is a big part of being a leader, you need to be able to hold your ground while also advocating for others. You can't advocate for people if you don't know them. I know how Community works and the biggest thing that makes me qualified is that I'm passionate. I freaking love this school."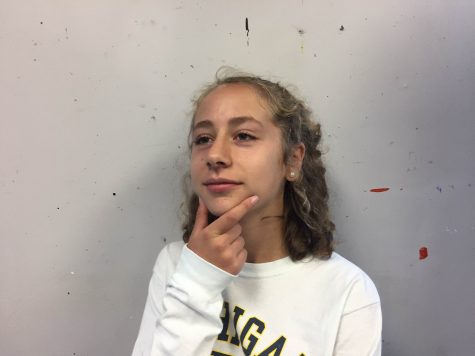 Seniors Hannah Rubenstein and Katy Stegemann, who are running as co-presidents, are also hoping to be the heads of Forum Council. They decided to run because they felt that Forum council had the potential to evolve in many ways. Rubenstein and Stegemann's focus on Forum Council is direct involvement, to extend its use beyond the meeting's doors and to work towards subjects such as public schools advocacy. "It could take its form in a lot of different ways," Rubenstein said. "A big role of the president is to find the voices of the other people, not just bring our own voice into it. We can envision a voice for public school taking shape in something like attending protests or letter writings or going to Ann Arbor Public Schools School Board meetings or possibly school board meetings in Lansing to be able to say, 'these are the amazing things our school does!'"
Rubenstein, who has been on council for two years, and Stegemann, who served as the secretary last year, are the only pair running as co-presidents this year. "It kind of evolved naturally," Rubenstein said. "We knew Avery and Erez were going to be leaving, and I think we knew both of us were interested in being president, and we're very good friends and I think we work really well together."
"We also have a lot of experience," added Stegemann. "I have a lot of experience in leadership positions with being secretary with the organizational side. Hannah has a lot of experience with making change, she does a lot of political stuff for "The Communicator" and can bring that experience alongside her years at Forum Council to be a great co-president with me."
Other subjects that the Rubenstein-Stegemann duo would want to address include increased attendance, idea sharing between forum representatives and making Community more eco-friendly.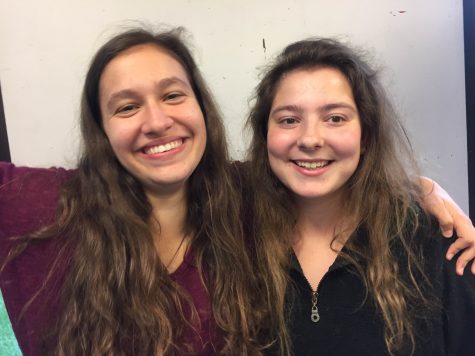 The final candidate is junior Danny Freiband. He decided to run when when he, like his fellow opponents, realized that the school wasn't being used to its full potential. The slogan on his posters is "Let's Actually Get Stuff Done."
"Community's crowning achievement is its atmosphere," Freiband said. "The whole beauty of this school is that no matter where you are in the school or in the school's campus, you feel very comfortable. We have this rare opportunity where we have this extremely progressive, brilliant, thoughtful, smart and unique bunch of people coming up with great ideas all the time and I felt like a lot of that was being wasted. The ideas people had for Community weren't fully coming to fruition."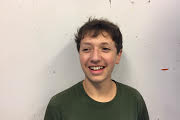 To make communication easier between the president and the rest of the student the student body, Freiband holds meetings in Brandon Jackson's classroom every Wednesday called "Ask Danny," where students can talk to him one-on-one about issues they would like to see change in Community. Mihaylova also wants to open up Forum Council to everybody, and plans to do so by inviting non-forum representatives to voice their concerns to the council every third Monday of the month.
However, Mihaylova thinks that Freiband is not ready for the position because of his grade level and lack of experience on forum council. "I think that the public knows that it's time for a female president and they understand that Danny is younger so he has another year to run and to see the school and to see what he's doing," Mihaylova said. "He also has never been a member of forum council, he's attended a couple sparse meetings, he was never forum representative so I think that he needs another year of experience before he runs."
But Freiband argued that these concerns were "silly" and pointed out that many presidents started when they were juniors. "I'm not going to pretend there's some outsider advantage from not having been in forum council, but I think it's only fair to point out that there isn't really much of an insider advantage either," Freiband said. "There's not an 'inside trick'  that you only have access to if you've been in Forum Council." Freiband said he tried to join the council his first two years, but was not elected as the representative from his forum. This is something he is looking to change if he gets elected, opening meetings to the public.
The student body will decide who they want as Forum Council president this Thursday, Sept. 29. The votes will be counted on Monday, Oct. 3.