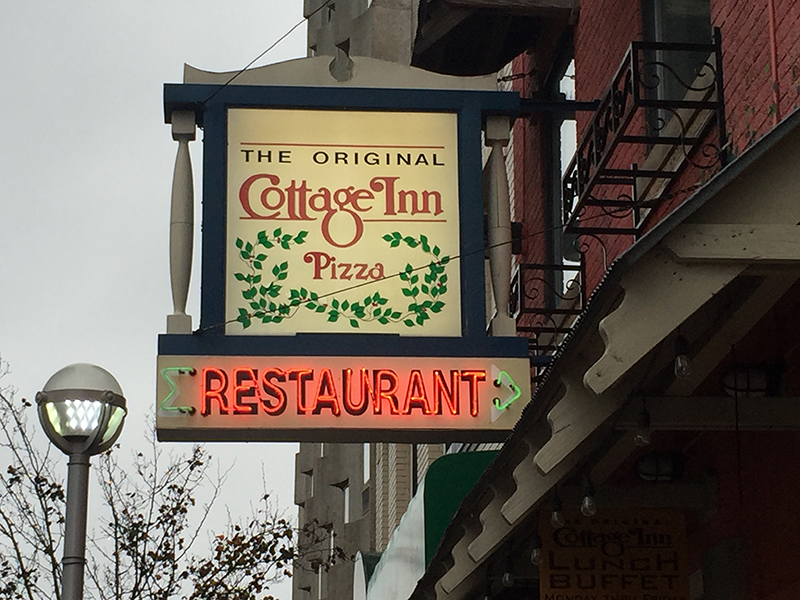 Jackie Mortell
At 11 a.m. on Thanksgiving morning there was a steady stream of bundled up people entering the Cottage Inn on East William Street. They came alone and in small groups, mostly middle aged men, but also some elders and families. They were coming for a free Thanksgiving dinner, some to eat and some to serve.
For 34 years the original Cottage Inn has been opening its doors to the community on Thanksgiving. This tradition was started by the man who purchased the restaurant in 1961, Nicholas T. Michos. "It was just something he wanted to do for the community and kind of his way of spending Thanksgiving," said his son, Jim Michos. Nicholas Michos passed away in June of 2014 and left his three sons carry on the tradition. "Now it is like my Thanksgiving," Michos said.
Nicholas Michos was born and raised in Greece, came to the US in his twenties and later went back to bring his wife here. He started in the foodservice industry at the University of Michigan, owned Omega Pizza in 1957, and then bought Cottage Inn Restaurant which he ran very successfully for many years. His tradition of giving back to the community embodies the true spirit of Thanksgiving.
Inside the restaurant the atmosphere was festive. Friends appeared to meet up and volunteers swarmed around them and led them to tables with cloth napkins. A strolling guitar player entertained the crowd as servers carrying turkey dinners with potatoes, gravy, stuffing and veggies flowed to the tables. "It's awesome," Michos said. "Chef makes it and it's good."
According to Michos, The Cottage Inn serves about 300 people each Thanksgiving from 10 a.m. until 1 or 2 p.m. "We buy all the food and we have a lot of volunteers who help out," Michos said. The guests are mostly 40-60 years old and there are "less homeless people than when we first started, which is a good sign," Michos said. "There are random people who seem to know each other…there are some students…a lot of people just want to have a meal and it's free."
On the bench by the bar at the entrance of the restaurant was a volunteer offering visitors toothbrushes and winter coats donated by the University of Michigan Dental School. "The dental school is great, they bring the pies, toothbrushes and coats," Michos said. "They kind of make it a yearly thing to help out. We don't really ask for help but it's nice that people do it."
The original Cottage Inn Restaurant at 512 East William Street opened in 1948 as a coffee shop. Nicholas Michos became an owner in 1960. They started serving pizza around that time, and became known as the first restaurant to serve pizza in Ann Arbor. Since then the menu has greatly expanded and they now serve Italian and Greek dishes as well as pizza.