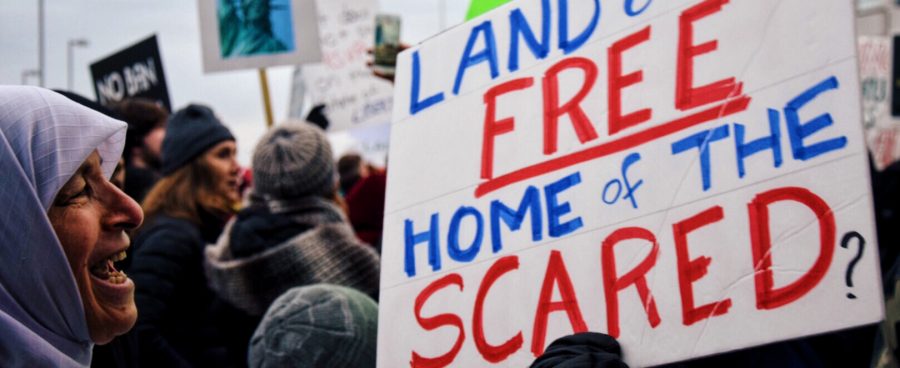 From the stairs in the short-term parking structure of the Detroit Metro airport, a hum of voices and rhythm can already be heard. Peering over the side, it is easy to see why. Thousands of people, bundled up for the cold and sporting homemade signs, are huddled in front of the doors to the terminal. Police cars blockade the crowds. This image may look increasingly familiar to many after the surge of marches and protests following President Donald Trump's inauguration on Jan. 20.
This particular protest is in response to an executive order signed by Trump only a week after becoming president, which banned citizens from seven Muslim-majority countries— Iran, Iraq, Libya, Somalia, Sudan, Syria and Yemen— from entering the United States for 90 days. The Obama administration had required a visa for entry from these countries, but now visitors or immigrants will be denied no matter if they have already completed the visa process. No refugees from any country will be admitted for 120 days, and refugees from Syria will be denied entry indefinitely. Although the order does not ever use the word Muslim, Trump has made clear in the past his desire to keep people out based on a fear of "radical Islamic terrorism." Trump has also stated he will prioritize Christian refugees.
The reaction to this order has been overwhelming. Detroit Metro was one of many airports across the country flooded with protesters on Jan. 29, the Sunday after the "Muslim Ban" was signed. Confusion surrounded the details of the order, only worsened by mixed messages from the White House, which has sometimes denied that the order constitutes a "ban." Regardless of the technicalities, many Americans are speaking out against this mandate, perceiving it as Islamophobic and xenophobic.
As snow fell from the gray Michigan sky, the protesters' chanting did not cease even for a moment. The crowd yelled, "No ban, no wall," "This is what democracy looks like," and "No hate, no fear, refugees are welcome here," all to the beat of a drum.
Liz Getty, a participant at the Detroit protest, summarized what a lot of the protesters were saying.
"I'm protesting the ban on having Muslim refugees enter the country, or people who have mixed citizenship," she said. "I think that it's a dangerous precedent to set and it represents something ugly about our country. We need to do something about it and show that we disagree and it's unacceptable."
Some, like Getty, actively participated, while others, such as a couple who gave their first names only, stood a little off to the side and held their signs for passersby.
"It's my first time protesting, this one put me over the edge," the man, who identified himself as David, said. "We don't think it's right to ban entire nationalities of people from entering this country."
The woman with him, Melis, nodded in agreement.
"I'm from Turkey, Istanbul, and I've protested our government before and I think this is important for them to see that it's not okay what they're doing," she said. "Because every once in awhile, they're trying to do something that they think is okay, but it's not okay, it's not legal, and they have to see that people follow them and see what they do and they're not okay with it. It's not right."
Holding a sign which read, "You are welcome here," Karla Mendoza chanted along with the crowd. "For me it's a little bit more personal," she said. "I'm an immigrant as well, and I know what it's like to leave behind everything just to have a better life, just literally to survive. We're not asking for anything, we just want to survive. And so for me, I just don't understand how anyone could say, 'Your life doesn't matter to me.'"