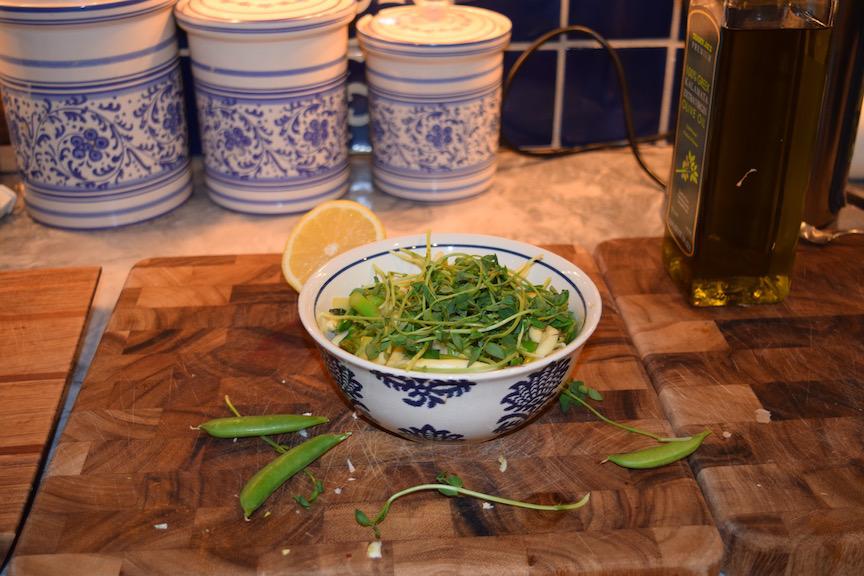 Green seems to be the emblematic color of Spring. After a grey, infertile winter, the grass starts growing, the flowers start blossoming and the trees have leaves! Subsequently, this pasta recipe contains many greens: leeks, snap peas, asparagus, basil, thyme, pea shoots and olive oil. This recipe does not take much time to assemble, around 15 to 20 minutes in total, and utilizes many vegetables that peak during the spring.
Ingredients
½ cup lemon juice
2 teaspoons Dijon mustard
1 tablespoon + 1 teaspoon extra virgin olive oil, divided
Water
Salt
4 cups pasta of choice
1 leek (white part only) halved lengthwise and thinly sliced
1 garlic clove, minced
2 ½ cups snap peas
½ bundle asparagus, cut into 1 inch segments
1 teaspoon fresh or dried basil
1 teaspoon fresh or dried thyme
Pea shoots
Preparation
In a small bowl, whisk together the lemon juice, mustard and 1 tablespoon of the oil. Set aside.
Bring a large pot of water to a boil. Add a pinch of salt and the pasta. Cook, according to package instructions, until al dente. Remove from heat and drain the water.
Meanwhile, heat the remaining 1 teaspoon of oil in a frying pan over medium heat. Add the leek and sauté for 2 to 3 minutes. Add the garlic and sauté for about 2 minutes. Add the snap peas, asparagus, basil and thyme and sauté until the snap peas become tender, about 5 minutes. When tender, remove from heat.
Add the vegetables to the pasta in the pot. Stir in the lemon sauce. Serve warm with pea shoots piled on top.