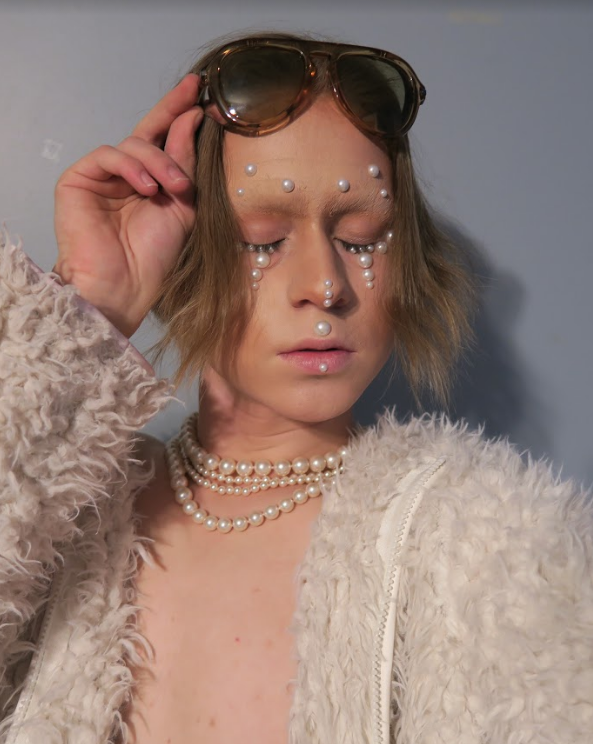 When Griffin Hall was in middle school, he used to make haunted houses in his backyard garage. He would stick spray painted toilet paper to the ceilings and paper cloths to the walls. He would make costumes in his room and sets in his backyard. He loved working with his hands. And that's how he began to grow confident as an artist.
Now a senior at Community High, Hall still considers himself an artist, and explores his artwork through mediums such as makeup, special effects, photography and clothing. As a visual person, Hall gets inspired by everyday things such as ordinary objects and palettes, and turns them around to convey something.
"I have to find meaning behind what I do, and most of that conveys either an emotion that I'm feeling or just a general aesthetic or visual that I see in my brain," Hall said. "I like to produce that, and that's what I call art."
He gets inspired from ordinary objects, but Hall tries not to draw inspiration from other artists in order to stay true to his vision. First, he sees something in his brain or wants to portray an emotion, and then tries to match that up with actual visuals.
Hall's current works are mostly self portraits and how he explores his gender spectrum. At first, he was nervous to convey this message in his artwork, but realized that if he denied that side of his character, he would be denying himself. And now, he plays with his feminine and masculine side in his artwork.
"It's fun to test those limits and see what you can do, and see what I can do to make that a little more fluid," Hall said. "I always felt as if though myself and my identity was malleable, and it can change, and it's fun to change, and it's exciting."
And Hall wants a world where little kids see themselves however they want to, free of outside influence. He believes that gender doesn't matter, and that kids shouldn't be put in a stereotype based on their gender. Apart from doing special effects and makeup, Hall occasionally does drag.
Hall became inspired for one of his makeup looks by pearl pins that stuck out of people's hair. His friend left her expensive Chanel pearls at his house, and he wanted to incorporate them into the shoot somehow. He ended up with the concept of "crying pearls," and made it a little more alien like by getting rid of his eyebrows and replacing them with pearls.
Hall thinks of his artwork aesthetic as a journey, and he's only in the middle of finding his muse.  "I think everybody is on the journey, everyone's involved," Hall said. "Especially right now through high school and middle school, that's the biggest change in someone's life."