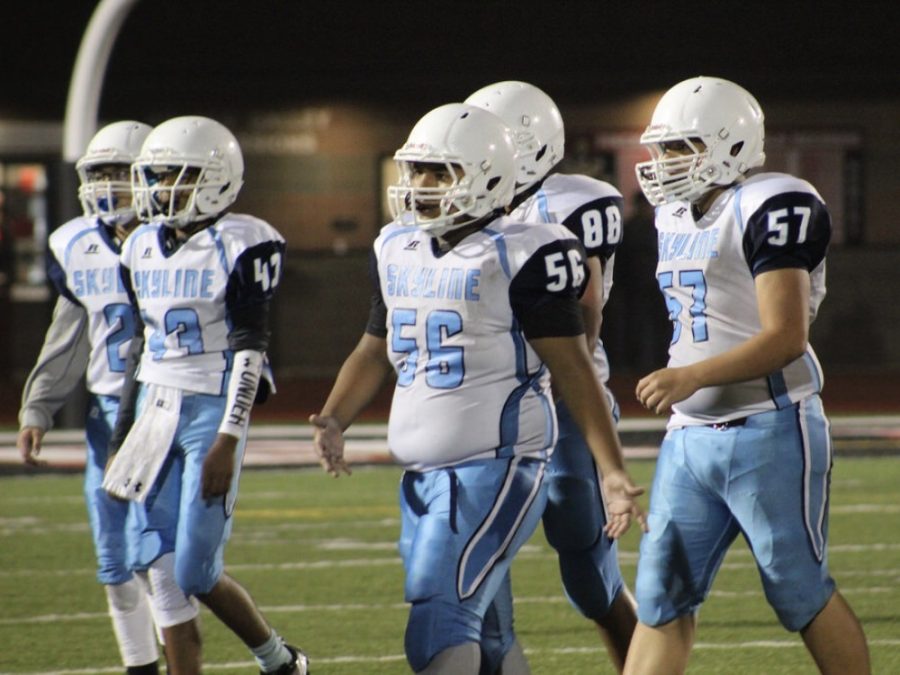 In the second week of August, every football team across the state of Michigan straps on the pads for the first time all year. Division 1 collegiate prospects to third graders in peewee league: they all take to the mid-summer heat to prepare for the upcoming season.
However, the Skyline Eagles had one face missing on the gridiron that first week, as sophomore offensive guard Edgar Osorio spent the beginning of the season in court fighting off deportation.
A Mexican born immigrant, Osorio was brought to the US illegally at the age of two by his parents.  "I got here old school," said Osorio. "we just hopped the border." After ten years living undetected in the state of Michigan and two brothers born into American citizenship, the Osorio family was discovered.
"2012, April 4th my dad, my brothers and I, we were stopped by a regular state cop in Ohio on the way to Cedar Point…" Osorio said. "They asked him for his license and all and he doesn't have it you know, he wasn't born here." After being taken by the police to ICE office and being questioned, the family was free to go, but Osorio's father, Edgar Osorio Sr. was taken to jail where he would stay for three months.
Though he was not born here, Edgar Osorio would be protected under DACA. The act states that as a student, present in the United States on June 15, 2012, and brought to the country before his 16th birthday, he is exempt from any deportation. However, Osorio carries more than just the burden of being an illegal immigrant.
Osorio's youngest brother, Yosmar Osorio, has the developmental learning disability autism. "[My brother] looks up to me, and it's a huge weight on my shoulders," Osorio said. "He's taught me a lot of patience and given me skills I wouldn't have if he didn't have his condition."
This burden weighed heaviest on Osorio on a night this past year when another high school student began making remarks about Osorio's brother and his disability. "I told him, 'Yo, you better watch your mouth' and then I fought him."
The fight ended with Osorio in handcuffs, police custody, and worst of all a misdemeanor on his record preventing Osorio from any chance of his application to be accepted into DACA.
It was these cases that cost Osorio the beginning of football season and thousands of dollars towards immigration lawyers. For now the Osorio family is safe, and deportation threats are no longer imminent, however, they continue to tread on thin ice.
"If any form of crime is committed, it's deportation automatically," Osorio said. "Just like that. My mom or I… one small thing, a misdemeanor, jaywalking, it's possible deportation."
Osorio's father is now out of jail, and lives here in Ann Arbor on a green card continuing on the path to citizenship. Osorio and his mother are also now attending regular court cases bringing them closer to a permanent stay, and his brothers both continue to live their lives as normal American kids.
Osorio just keeps going to school and playing football, continuing to try and perfect his craft and do what he loves as a starting lineman for the JV Skyline Eagles. "We all come from different places, have different struggles but if I keep working hard… doing the right thing, I'll end up alright."