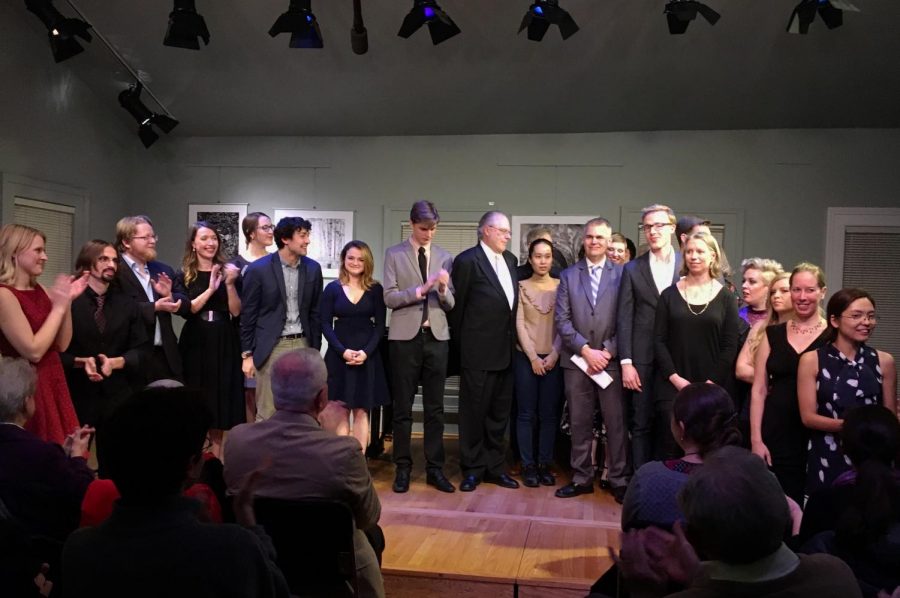 The word "slam," commonly associated with poetry, now has a new word to pair with: song. A songSLAM is an opportunity for composers to share up-and-coming works and compete for a cash prizes.
On Tuesday, Nov. 28, the Kerrytown Concert House hosted their first songSLAM—"a competition for new art song" to a sold-out audience. 12 different songwriting teams competed for cash prizes of $1000, $600, and $400 for 1st, 2nd, and 3rd place respectively. The event also served as a platform for composers to share their current work. Kathy Kelly, artistic director of the Concert House, emceed the slam.
Kelly and the Concert House team began planning the event  in April. They had just found out about the first songSLAM ever, which was held in New York City through an organization called Sparks and Wiry Cries. Sparks and Wiry Cries describes themselves as "a global platform for art song that explores the dynamic union of music and text through publication, performance, and commission of new works," according to their website. When Kelly heard this description from Martha Guth, the creator of the event and co-founder of Sparks and Wiry Cries, she knew that Ann Arbor needed to have one.
"[We had to do it here] because we have everything in Southeast Michigan," Kelly said. "We have great schools of composition, we have great performers, and I just wanted to get this whole energetic thing going."
Registration for the slam opened on Sept. 15 on a first-come, first-served basis. Any style of music in any language was accepted, and at 6pm that same night, the 10 spots for the event opened and filled up in less than an hour.
The rules for the compositions were as stated on the Concert House's website. All compositions had to:
be composed for voice and piano
feature texts that are in the public domain or have written and signed permission from the author/trust
receive their world premiere at our event.
be no more than 5 minutes in length.
Additionally, the composers of the songs had to be present at the event. For many teams, the composers performed the piano parts of their compositions.
Kelly began the night by introducing notable people in the audience. Guth, the creator of the first song SLAM, had made it to the slam after having driven all the way from New York that day. Also present were the evening's sponsors, Linda and Maurice Binkow. Finally, Kelly introduced songwriting duo Bolcom & Morris. William Bolcom and Joan Morris are known for their performances and albums of Broadway, cabaret, and ragtime tunes.
Each team was announced with a short introduction about how the composers' and vocalists' collaboration began. A large amount of the songs were of classical repertoire, and a few were musical theater pieces. English, Korean, and Chinese were all sung.
After the 12 teams finished their performances, audience members were to mark down their favorite 3 performances on their programs, which served as ballots. Ballots were collected and counted. Concert House staff then counted the votes and Kelly returned to the stage to announce the winners.
In third place was By Word of God by Wes Fishwick, with text by Mary Fishwick. The song was written for a family wedding. William Fishwick, tenor, a freshman Voice major at University of Michigan, performed the song, with composer Wes Fishwick on piano.
The team voted in second place was Moon Bird, with music and lyrics by Noah Kieserman. Kieserman and Grace Bydalek, who performed the song, are both senior musical theatre majors at the University of Michigan. Moon Bird is from a musical Kieserman wrote, entitled SHEL: A Historically Fictionalized Musical, which is about American poet Shel Silverstein.
The winning team, receiving $1000 was Invictus, with original poetry by William Ernest Henley and music by Evan Snyder. This piece was sung by Gillian Lynn Cotter, mezzo-soprano, and played by Neill Campbell. The team has been friends for over three years since they all met at the Shreveport Opera in Los Angeles, and Cotter and Snyder are now students at Michigan State University.
Once all three finalists were on stage, Kelly invited all of the evening's performers to join them onstage for one final round of applause. Shortly after, audience members, composers, and performers alike lingered around the venue to talk. Kelly beamed at the success of this event, and was especially pleased with the diversity in the winners.
"One was a straight-up classical composition, one's a music theater piece, and one is like a sweet religious song written for a family wedding. And I just love that," Kelly said. "You can't leave saying 'Well it's obviously what this crowd liked."
The next songSLAM will be held in Minneapolis, MN. The Concert House is hoping to host another slam in Ann Arbor in 2018.