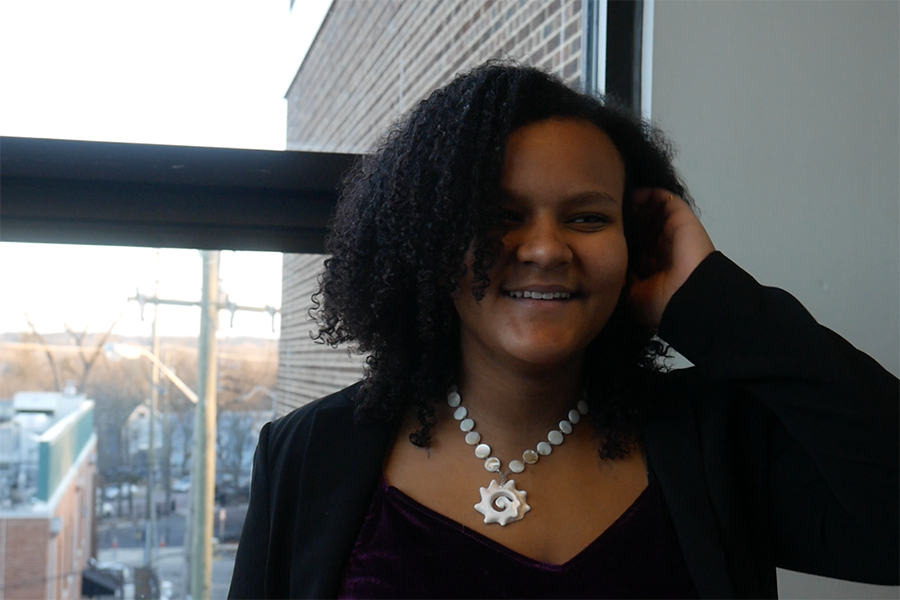 With her headphones on, Koro Kouyate strolls the halls of Community High School singing. Passing her in the hallways, she may seem introverted. But, Kouyate expresses herself through her music and poetry, being a crazy soccer fan, and having fun with her friends and family.
"I love everything about singing, to be honest," Kouyate said. "I've been singing my whole life so, I don't know why but I have a tendency to sing everywhere I go." Kayute's joy in singing allows her to enshroud her worries.
"I don't really care what people think of me," Kouyate said.  "I'm singing because I know it makes me happy and I know that I love it so I just do it." Kouyate is very confident in what she does: she carries herself with pride and sings out like nobody's watching.
Kouyate doesn't just sing, she also writes her own songs. "I am everywhere to be honest," Kouyate said.  "I write in my class, I write to them on the bus, I write to them at home, I write them everywhere."
"I'm an outsider and I'm never going to change. You can lock me up but I will always break those chains," Kouyate said. "Break and fall from my hands I will always find a way, I know I will never fit into society." Last November, she performed this poem at poetry night and everyone in the crowd felt her emotions. Throughout middle school she found herself feeling like a loner, and was fed up, so she wrote poems and songs just like this one to help her cope with all her emotions.
Where does she get all this talent from?
Kouyate comes from a long line of musicians, including aunts, uncles, cousins and grandparents that live all around the world. Kouyate is not just a rising musician, but she aspires to be the 151st musician in her family. Her hopes and dreams are to be successful in the singing industry, just like her uncle and father, and to eventually perform her music in Time Square.
Two people that Kouyate is inspired by are her parents.
Her father is a musician who can sing, plays the twenty-one string harp from Africa, and plays a bit of drums. She has learned lot from her father including the art of music, a small lesson on the drums, and helpful life lessons.
Her mom is someone she looks up to and is a musician as well. "She wanted to have it," Kouyate said. "That was her big time dream but now she's a massage therapist which isn't that bad either." She found herself smiling as she thought about what her mother does now, and believes that she is happy.
"My mom is awesome," Kouyate said. "She's very hippy-dippy and there's a lot to her she's a big part to my singing." Her mother is someone that she finds to be her best friend that she cares about most. She appreciates all the great things her mom says about her singing which motivates her to always keep writing and let her emotions out.