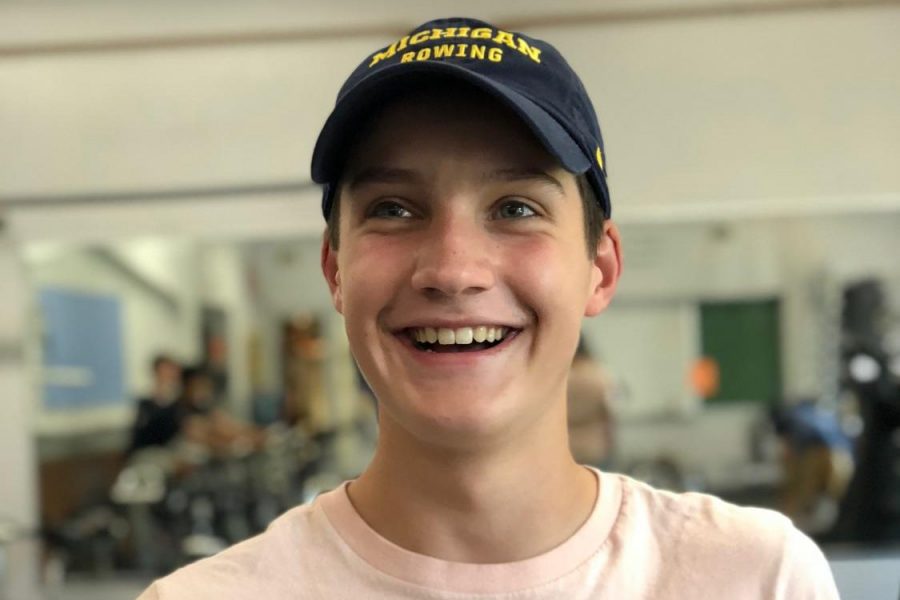 Name: Gordon Lewis
Sport: Crew
School: Huron

Why did you start rowing?
I started because I was kind of peer pressured into doing [crew], and I wanted to do it because it seemed fun.
What do you enjoy the most about crew?
It doesn't seem like a team sport but it really is, and you have to be coordinated with everyone. It also feels really cool when you're on the boat going really fast.
What is your least favorite part about crew?
Sometimes I'm not on a good boat and it's really frustrating because it's really hard to row well when not everyone's coordinated.
What is your favorite memory of crew or regattas?
This wasn't in a race, but we were at Midwest in the fall, and they had Midwest merch. I  bought a tank top, fanny pack and a bucket hat. We were just walking and being weird because we only had two races.
What is your job in the boat?
I've been in stroke seat a lot recently, which is closest to the person who steers the boat. They don't follow anyone else who's rowing, so they set the pace for the boat.
Do you want to continue crew in college?
Through high school but not college. I'm too short to do it in college. It's a leg sport so the longer your legs are makes it easier.
What are you looking forward to most this year?
This is my first fall season and my first season on varsity, so just the change of pace. Because fall is long distance and spring is sprints.
What is your weekly commitment?
We have practice from 5:30-7:15 p.m. every day, and then a regatta every Saturday, which means waking up at like 2:30 in the morning. Our regattas are all over Michigan and Ohio. The regatta we have this Saturday is on the Cuyahoga River in Ohio.