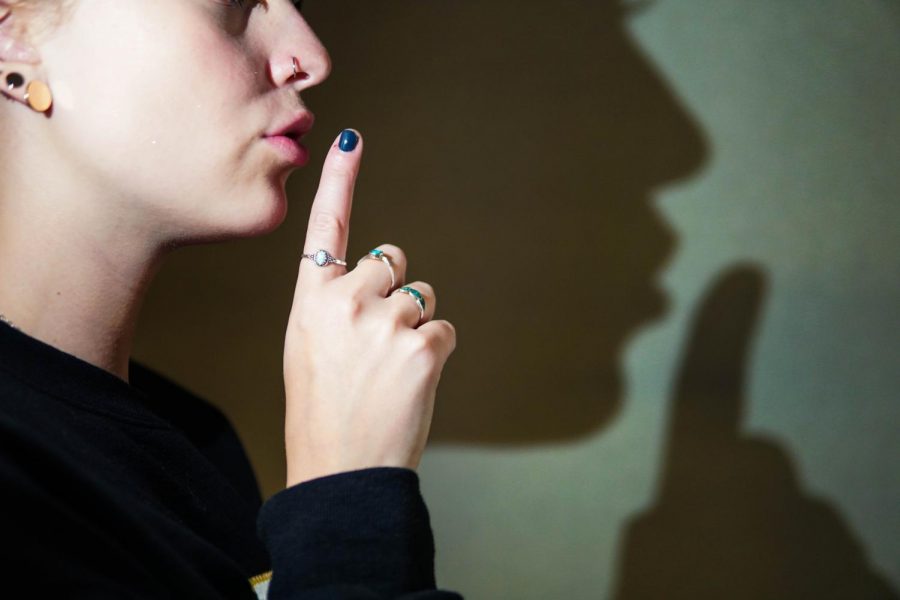 Ebba Gurney
Supreme Court member Brett Kavanaugh has been accused of sexual misconduct by three women and he has vehemently denied all allegations. at every turn Many of his Republican colleagues have jumped to his side, dismissing the allegations as a smear, and asking, If it really happened, then why didn't these women come forward immediately after the incidents occurred?
Thus emerged the viral #WhyIDidn'tReport, where thousands of sexual assault survivors nationwide posted about their stories throughout social media, explaining why they didn't report their experiences. In the days since Dr. Christine Blasey Ford's allegation against Kavanaugh, the first to be filed, Ford has been swarmed by the media, sent death threats, and belittled by public officials, including President Trump himself. Ford has had to hire security and temporarily move out of her home, according to her lawyer.
On Sept. 26 in a press conference, the President referred to the allegations as "a con game," and when asked if he thought all three women were lying, he refused to respond, immediately requesting the next question. Other high profile political figures have made similar comments. Sen. Dean Heller (R-Nev.) dismissed the allegations, referring to them as "a little hiccup" in the nomination process.
All three of the women making allegations against Kavanaugh were very young at the time the alleged assaults were committed; Ford being the youngest, at just 15 years old. To put all this in perspective, and give some insight as to why these women may not have come forward earlier, I've gathered a few stories about my peers' experiences with sexual assault, and the fears that they have had about reporting the incidents.
Note: The following stories are hard to read and contain graphic content. The reason I'm publishing this is in hopes that people will read it and work towards addressing this crime in our society. I hope this article sparks conversation about sexual assault in our community, our nation, and our world. If you find the content objectionable, I hope you realize that the actions of the perpetrators in these stories is what is truly objectionable. To not publish this — to let these stories go unheard — would make us complacent with silence that has lasted far too long.
***
"In 8th grade, I was sexually assaulted by a classmate. He just verbally assaulted me at first. He spread rumors around the school, and made my year a living nightmare. All of a sudden, he was nice to me again. I fell for it. One day in class, he forced my hand down his pants and made me touch him. He forced his free hand upon me. A fellow student saw this encounter and reacted towards it. The boy that assaulted me told the student that it was nothing, and to not say anything about what he saw. I always knew it felt wrong, but could never really put into words why it was so wrong.
Last year in health class, an old teacher from my school talked about how she [had been] sexually assaulted around the same time I did. It brought back all of the memories from my experience in 8th grade, and made me realize that I had been assaulted. I haven't posted with the #WhyIDidn'tReport campaign because I don't want people to know I've gone through a situation like what I did. I never reported him because I never had any evidence, especially because I would've reported 3 years [after it happened]. He was a white male whose dad works for the university [University of Michigan] and I'm a female minority. I didn't think [the odds] were in my favor."

***

"When I was 13 or 14, I was assaulted. I never reported it because I didn't even know it was wrong at the time. A family member was the one who did it, so I expected it was normal for every family. When I finally realized that what happened to me was wrong, I still felt like it was my fault. The guilt consumes me. I think about what happened, and my relationship with that family member almost everyday. To this day, the only people that know are my abuser and me. I have never spoken out because of the guilt I feel, the stigma around sexual assault, and because I don't want to be known as the girl who was assaulted by a family member."
***

"Sophomore year, when I was 15, I went with a few of my friends to a football game. I had been snapchatting this boy who went to a different school, and I thought he was interested in me. When I met up with him at the football game, I was really drunk, and it was one of the first times I had drank. He wanted to go on a walk. I guess I didn't really think anything of it, but I wasn't in the right state of mind, so I didn't really think it through. He took me into the woods behind the parking lot, and we started making out. Then he started aggressively groping me and I started to get a little uncomfortable, and so I pulled out my phone and texted friends to tell them I didn't feel safe. My friend told me not to worry because I was with [the boy assaulting me]. After that, he took my phone and put it in his pocket and was not letting me have it. He pulled his pants down and pushed me to the ground, and held my head with one hand and my arm with the other so I couldn't make a run for it. He started saying vulgar things like, "I know you want to do it," and stuff like that. I was begging him to stop, and after 3 minutes or so, he ripped off my pants, picked me up so my legs were wrapped around his waist, and he tried to rape me. I began hitting him and ended up getting away.
Later in the week, I was told he was telling everyone I gave him head in the woods. To this day, I still haven't told my parents. I didn't come forward because I felt powerless. I felt like the system would be against me, knowing that I willingly went into the woods with him, whether I was drunk or not. Even if I were to report the incident, I felt as if he would never face any real consequences so I didn't feel the need to bring back the pain. Knowing that he was a rich white boy, I felt like he could get away with a slap on the wrist."

***

"About a year ago, I first lost my virginity to [my ex-boyfriend]. It was new to both of us, but our relationship changed very quickly after having sex. We used to spend hours just talking, but our relationship became all about sex. It started out as fun and casual things every now and then, but then it began to get worse, and we'd have sex most days whether I was in the mood or not. I was so stupidly in love with him and thought that since that was what made him happy, it should make me happy too. He stopped listening when I said no — I had to physically push him off . He started to not use condoms, so then he would make me take so many Plan Bs that it made my periods irregular, and I would get sick. We would have sex and I would just lay there pretty much dead while he fucked me.
I truly realize how messed up it had been after he broke up with me. I never even considered that I hadn't wanted what was happening because we were dating. I didn't tell anyone because I still loved him. We talked about it, and he didn't want anyone knowing what he did to me because it would mess up his reputation. I feel like it was my fault, because I let him take advantage of me. I still haven't been the same since then. It fucks with my head [thinking about] how he's gone back to normal while now every time I'm hooking up with a guy, I have to think about not being taken control over."

***

"At the beginning of summer, I had just broken up with my boyfriend. I was really heartbroken and sad, so I decided to reach out to all these guys and see where I could get with that. I ended up going on a date with this boy, and it was going really well. We went out on his boat, and I was really comfortable. When we went back inside I went to go change, and as soon I came out of the bathroom he started kissing me, which wasn't that big of a deal for me. I had explicitly told my friends that I didn't want to have sex with him; I wasn't ready yet. We ended up going into this bedroom and one thing led to another, and he started forcing himself inside me. I said no, I said stop, I said no again. He didn't stop. At that point I gave up.
[After that] I wanted nothing to do with him. I didn't want to see him, I didn't want to hear his name, I didn't want to get involved legally. I did tell my parents, and I've been seeing a trauma therapist, but I wish his parents knew. Now, it's really hard for me to even hear the word rape. I think it's really important that people are aware that this could've happened to anyone, even the person sitting next to you."
***

"I was in an off-and-on relationship with this guy who was always kind of angry and violent. I stayed in this really toxic relationship because I really felt like he loved me. I was always stressed out, and I isolated myself from all of my friends. I only had him. After a while, when I didn't want to have sex, he would start guilting me into it or saying I was a bad girlfriend or that he had a rough day and needed me. He made me feel important, like someone wanted me.
Then it escalated.
He would push himself onto me or hold me down when I tried to resist. And when I would say no, he covered my mouth or choked me so hard I couldn't breathe. Many times I tried so hard to fight him, but he was bigger and stronger than me so there wasn't really much I could do. Even after we broke up, he would still sexually harass me, and touch me even in school when I would say no. I was vulnerable and scared of what would happen if I reported it to someone, because we were in a relationship, and I thought everyone would call me a slut that wanted it.
After a while he left me alone, so I opened up to a friend, who suggested that it had been rape. And up to that point I had never really thought of the word rape, because I never thought it would happen to me, and I thought because we were in a relationship what he was doing was okay. Later that day, that 'friend' told [my ex-boyfriend] that I was telling everyone that he raped me. [That friend] was the first person and only person I had ever told. [My ex-boyfriend] started harassing me again and texting and calling non-stop, calling me crazy and saying that I was making everything up. He even posted all over social media that I was a crazy bitch and not to trust me. From that point on, every time I saw him I would have a severe panic attack, cry and miss classes; it was affecting my grades and attendance a lot.
One day at school, I broke down and told a teacher. I was humiliated and I felt so vulnerable, like it was happening all over again. I felt so alone in the world, because at that point I felt like I had lost all of my friends. In school I was constantly looking over my shoulder, because I felt like he was there. Even now, I have terrible PTSD dreams about what had happened where I can feel him holding me down. Even now, I feel really alone because I don't have many friends and I'm so scared to see him. I can't eat lunch in the [cafeteria] at school for fear of seeing him. I knew if I reported it to the police, it would force me to relive these feelings all over again, and that I would have to see him in court. I also know that barely any rapists get convicted, so I thought it wasn't worth all the pain I would have to go through. Having something like this happen to you is humiliating and terrifying and it has changed me forever."
***

If you have been sexually assaulted, want to know more about the legal process of reporting sexual assault, and/or need help finding resources, visit rainn.org. RAINN (Rape, Abuse, and Incest National Network) offers free counseling both over the phone and through an online chat. It's accessible 24/7, and available to survivors no matter what point they are at in their recovery.
For information about what you can do to help prevent Kavanaugh's appointment to the Supreme Court head to cancelkavanaugh.com.