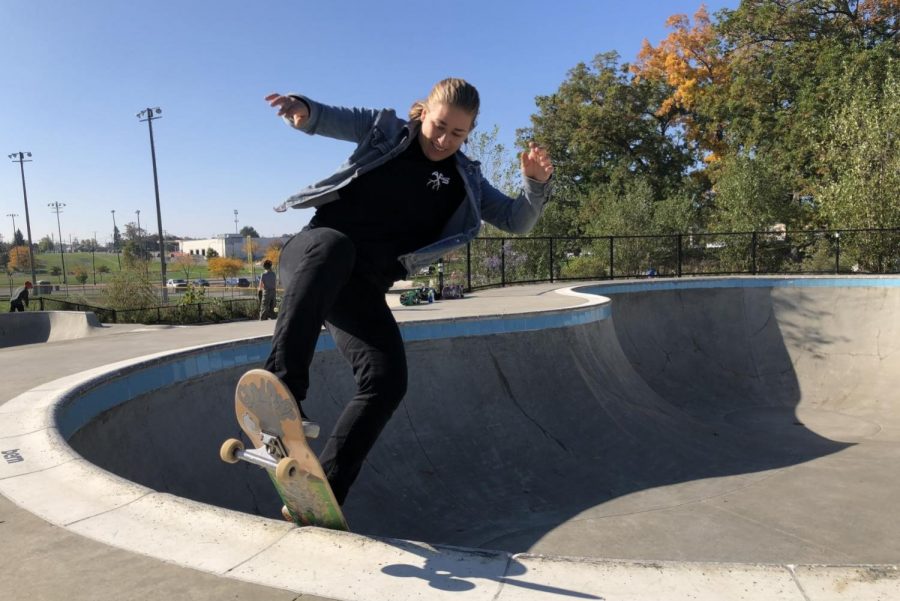 When Lindsay Falbo's friends invited her over to their house to try longboarding, Falbo was scared. It was the beginning of summer 2018, and she was afraid of getting hurt. When she first stood on the longboard, it wobbled underneath her feet. Eventually, she got the hang of it, and took her friend's longboard out into the street. What once was obscure to Falbo is now her main mode of transportation, and the CHS sophomore is now often seen walking the halls dragging her board behind her.
Longboarding is similar to skateboarding, but there are a few differences. Skateboarding has more tricks with the board, such as kickflips, nollies, and ollies. Three elements of skateboarding include vert, bowl, and street. Vert skating is skating in a large halfpipe, while bowl skating is skating in an empty pit in the ground. Street skating concentrates on tricks within urban environments, and using man-made structures, like rails and stairs to skate. Longboards, however, are physically longer boards, and the main tricks performed involve dances. Both skateboarding and longboarding are incredibly male dominated. According to the Public Skatepark Guide, "23.9% of all skaters are female, while 77.1% are male."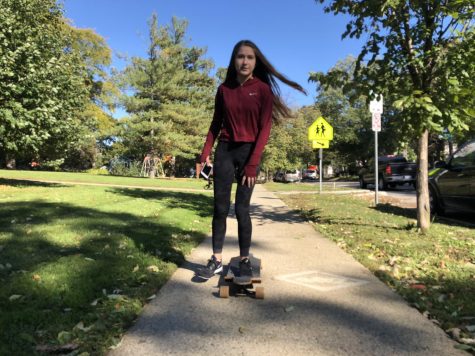 For Falbo, longboarding may be easy, but the catcalling, mockery, and other remarks she is bombarded with are not. Once — when longboarding by the Blake Transit Center — an older man approached Falbo. He held out his hand for her to shake, and introduced himself, all while looking her up and down.
She has also had people yell, "where did you learn to longboard?", "nice" or "looking good."
"I don't know how to describe it," Falbo said. "Just the way that people talk to you is different because they assume that you don't know as much, or you don't know all the technical terms [of longboarding]. Like when you say [technical terms] people act surprised. It's just like 'oh, she knows what she's talking about.'"
Much like Falbo, Kristen Theos, who runs the All Girls Skate at the Ann Arbor Skatepark, first learned how to skateboard when she was younger with her friends. She and her friends would often spend time at the local skatepark. Skateboard instructors and lessons are a new concept, and although her friends would show her a few tricks, Theos mainly taught herself.
Each year, the Ann Arbor Skatepark hosts a variety of events, including the All Girls Skate, which is held most Sundays. Theos teaches the two hour session with another skatepark staff member, Lucy Cassell.
Theos is the cofounder of Modern Skate and Surf in Royal Oak, Mich., and originally taught lessons there. When Ann Arbor opened their skatepark in 2014, the board approached Theos to instruct young girls in the All Girls Skate session.
All Girls Skate is open for girls of many different ages and skills. At the beginning of the session, Theos and her partner, Cassell, introduce themselves, and go over the names of all the girls who showed up. Then, for any beginning skaters, they go through an introductory lesson where the girls learn how to get on their boards, how to fall, and pushing back and forth. From there, the girls progress to skating on ramps, and are also taken into the bowl to get a look at what they can eventually advance to. At the end, they recap their session, and talk about what they did well, and things they would like to work on.
"[Skateboarding is] definitely male dominated," Theos said. "Once I started skateboarding, I really just fell in love with it — I just wanted to keep on progressing and get better. It was different though because there were not many girls at the skatepark, so I'd be a little more intimidated going… It would be all men… but that's kinda why I started this, because you have a community of girls that get together and there's a bunch of girls year-round that you can learn how to skateboard with."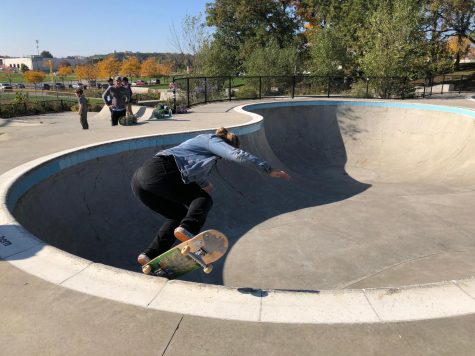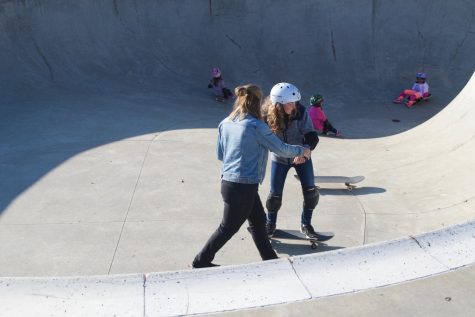 Since instructing the All Girls Skate, Theos has seen young girls' confidence flourish. Often times, girls will show up to the first week of the session timid, but by the end, they are able to go down ramps, as well as skate with the other girls.
All Girls Skate sessions occur in different parts of the country as well. Amelia Brodka is a professional skateboarder out of California. She created the Underexposed Documentary about women's skateboarding and the skateboarding industry. She also started Skate Rising, a youth skate program.
Brodka learned to skate when she was 12-years-old by watching Tony Hawk's Trick Tips on VHS. Similar to Falbo, others doubted her. Brodka got called a 'poser,' and once she started to excel, people started to say that she must secretly be a guy.
Brodka is the founder of Exposure, which is the world's largest women's skateboarding event. Each year, Exposure hosts around 160 girls from 15 different countries, who skate vert, bowl, and street. Unlike other skate competitions, the girls who come to skate during Exposure are raising money and awareness for survivors of domestic violence.
Skate Rising, which is an all girls youth skate program, is similar to the All Girls Skate in Ann Arbor. Young girls are invited to learn how to skate, however, Skate Rising also teaches young girls how to be members of their community. At Skate Rising, they participate in community service projects.
"I came up with the idea after I created the Underexposed Documentary," Brodka said. "At the time there seemed to be no opportunities for women and girls in skateboarding and Exposure Skate, the nonprofit, was my way to create an avenue for women and girls to pursue skateboarding."  
For young girls growing up, confidence and self esteem are qualities many do not have. Brodka sees skateboarding as an outlet to teach young girls how to overcome fears, perseverance and how to pick yourself up after you have fallen.
"I have [changed] a lot actually," Falbo said. "Longboarding has definitely made me more active, and I feel better. It kind of led me to start working out at a gym a few times a week. When I was little I was never really athletic, and I never felt good at sports. So now I have something that I can say I'm good at… It makes you feel confident."
Not only have opportunities for women expanded in recent years, but large skateboard brands are also endorsing skaters of the LGBTQ+ community. Lacey Baker, is one of the first openly queer Nike Skateboard Ambassadors. In the past, professional skateboarders have occasionally made headlines of abusing openly gay citizens. Now, the skateboarding community welcomes Baker, as well as many other queer skaters.
She is on the Meow Skateboard team, along with 14 other women who are professional skateboarders.
At Exposure and Skate Rising, Brodka is also paving the way for LGBTQ+ skaters, and believes skateboarding should be available for anyone, regardless of gender or sexual orientation. Additionally, skateboarding has been added to the 2020 olympics, and will feature both men's and women's events.
On a national level, Brodka and Baker are pioneers of gender equality in skateboarding; prize money for large skating competitions are now equal. Additionally, skateboarding has been added to the 2020 olympics, and will feature both men's and women's events. On the local level, instructors like Theos are able to teach young girls valuable lessons that will stick with them for life, such as confidence. Skaters such as Falbo break barriers by ignoring naysayers, and continuing with doing what they love.