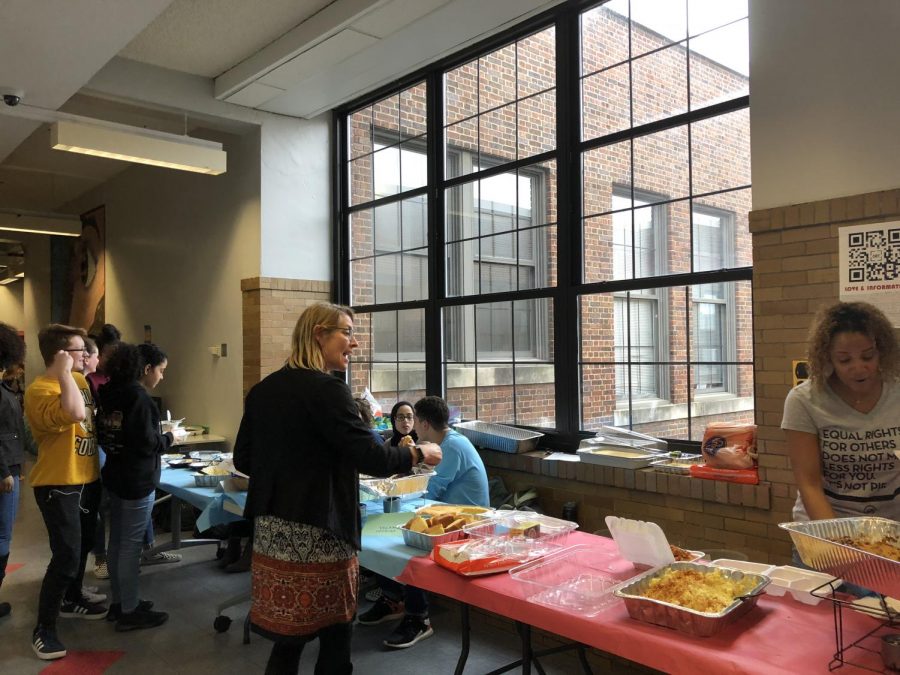 On Wednesday, Nov. 7, CHS's Black Student Union (BSU) hosted their first Soul Food Wednesday of the year during lunch on the third floor. Starting around 11 a.m., students formed a long line by the foldable tables, excitedly awaiting their food.
"We tend to get more and more people each year when we do Soul Food Wednesday, and I think it's just a good way to meet new people," senior Quincy Jenkins said. "It's nice to serve food to others."
For seven dollars, students could purchase fried chicken and select two sides. Cornbread, mac and cheese and green beans were among the favorites.
For the very first time in eight years, vegan options were cooked by CHS librarian, Jeri Schneider. She made the mac and cheese, sweet potatoes, barbeque tofu and cornbread. But Schneider is not the only one who contributed food for the event. BSU members, as well as people outside of the club made dishes for the highly anticipated event.
"My BSU students completely step up," BSU leader Janelle Johnson said. "My seniors and upperclassmen totally stepped up, and my freshman really showed up. We're really excited [for the rest of the year]."
New freshmen were able to jump right in and assist in organizing the food. Although preparing and selling food for an entire school may seem overwhelming, it turned out to be the opposite: running smoothly while everyone in the club is working together.
"[Soul Food Wednesday] has been smooth because the people you're working with are really cool," freshman and first-year BSU member, Labron Brown said.
BSU raises lots of money each year from Soul Food Wednesday. This year was one of the most successful years, and the money they raised will fund other club activities they plan on doing throughout the year outside of school.
BSU is eager to visit Detroit for the Museum of African American History and possibly the Motown Museum, along with going down to Cincinnati for the National Underground Railroad Freedom Center. All of these trips are made possible after their remarkable earnings from their successful fundraiser. The money raised is used to offset the cost for the students' hotel rooms, transportation and other things of that nature when traveling. All of the money solely assists in making BSU's field trips become a little more doable.