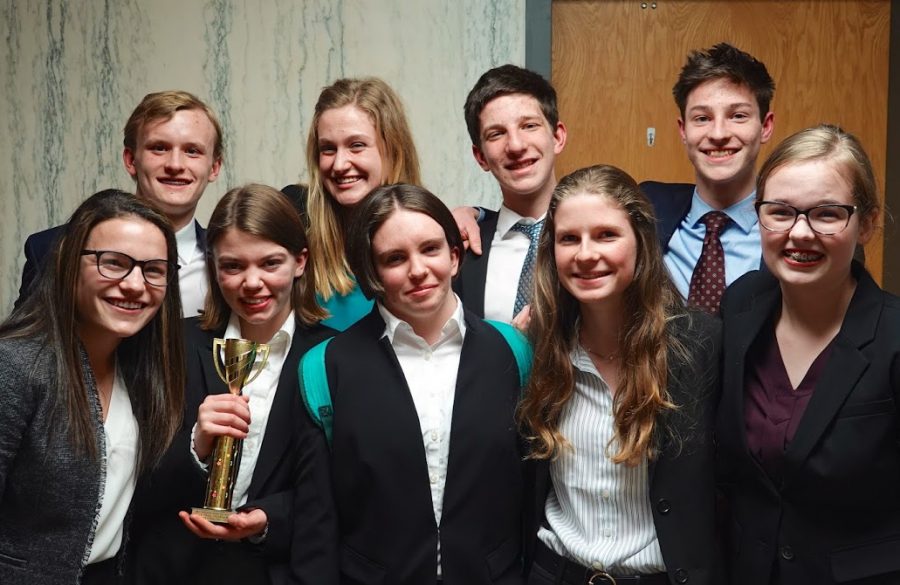 Image Courtesy of Jonathan Thomas-Palmer
On Saturday, Feb. 23, three Community High School Mock Trial teams competed in the Washtenaw Regional Competition at the Washtenaw County Courthouse. After three rounds and over six hours of intense competition, the tournament results were finally announced: Community's A Team would advance to the statewide competition along with Huron High School.
This was the first year that Community High School had a C team. While having another team allow for better preparation, it also creates a challenge for coaching.
"In previous years, I kind of had my finger on the pulse of what's going on with each team, and there were some things in [this] competition that I hadn't seen before," Chloe Root, the teacher coach, said. "It's like a loss of some control or some sense of what's going on. Luckily, we have a lot of good coaches who are volunteers and so they help a lot with that, but it is harder as the teacher coach to feel like I have a sense of everything that's happening."
Though Community's B and C teams did not advance, most team members came away from the competition content with how the trials played out.
"I think our whole team did a good job with it," Hollis Riggs, C Team member, said. "I was proud of what we did, and I think it all led up to that point and it was a full end for me,"
At the beginning of each season, each Mock Trial team is given a fictional case. These cases alternate between civil and criminal cases each season.
This season, the case is a civil case about the abuse of performance-enhancing drugs. A high school sprinter at Spartan Academy named Jordan Simon allegedly used the performance-enhancing drug EPO until a fatal heart attack that caused his death. The case focuses on whether Jordan Simon's coach, Terry Swift, and Spartan Academy are liable for negligence by failing to protect him from using performance-enhancing drugs.
Using the provided witness statements and exhibits, Mock Trial teams spend several months to craft what is essentially an elaborate play, with lawyers trying to build their side of the case with witnesses, while the opposing team seeks to promote their own side and undermine the other.
Mock Trial combines elements of writing and speaking with improvisation, as witnesses must respond to a series of unexpected questions from the opposing team, and lawyers have to work around surprise objections and answers. Teams are scored not necessarily on whether they won the case, but on how professional they appeared and acted.
At the beginning of the tournament, the teams randomly drew a number, which determined how the teams would be paired against each other. Because of this, C team was pitted against the A team in the second round.
"The fact that we got put against our own A Team, that was pretty jarring," Riggs said. "It was kind of an advantage because we knew what they were going to ask on cross [examination] but that was definitely very unexpected."
With a total of 15 teams competing, this year's regional was particularly competitive. The top four teams, those advancing to states and runner-ups, won all three of their trials. Community A Team's advancement to states was based solely on points: they won with a greater margin of points than the others.
While Community's B and C Teams have finished with competition for the season, A Team has merely passed the first hurdle. With the state competition in Lansing on Mar. 23 just around the corner, A Team is busy editing statements and adjusting characters based on how things went in competition. The stakes are higher at states than regionals: while two teams advance from regionals to states, only one team will advance from states to nationals.
Many A Team members are worried as competition looms in just over two weeks, but some are excited for it as well.
"Of course I'm worried," Steiger said. "You know, I want to do well, but I'm looking forward to it. I love competition: Even though it's the scariest part of Mock Trial it's the most fun part. It never goes the way you think it's going to go, and that's what is so exciting about it."