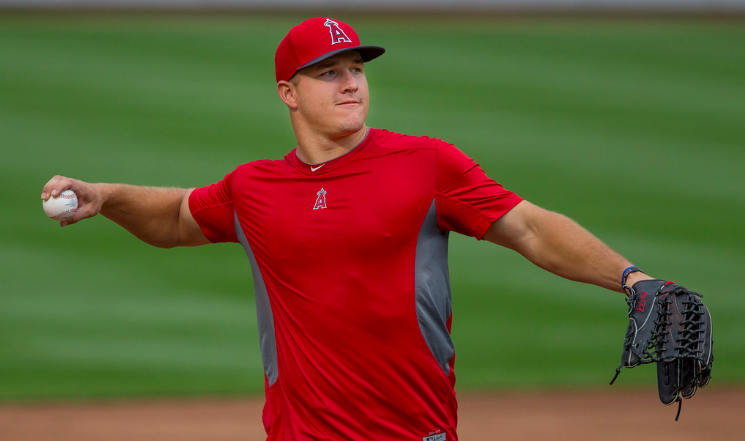 On March 19, Los Angeles Angels star center fielder Mike Trout not only became the highest-paid Major League Baseball (MLB) player, but he also became the highest-paid athlete by contract in the world.
The long and grueling MLB offseason made for many highly-anticipated moves for many MLB franchises, but Bryce Harper's deal in February to the Philadelphia Phillies was expected to be the peak of the major contracts for the upcoming season. However, the Angels unexpectedly signed Mike Trout to a $430 million extension over 12 years. After passing Diamondbacks pitcher, Zack Greinke, Trout now makes the largest annual MLB salary making around $36 million every year. Additionally, Trout topped both Giancarlo Stanton and Bryce Harper's $300 million-plus contracts and became the first MLB player with a contract over $400 million.
The 27-year-old was on track to be a free agent next season for the first time in his career after the final years of his six-year contract with the Angels, but the extension ensures Trout to stay with the club for a total of 12 years. The Angels drafted Trout 25th overall in the 2009 MLB draft and now it is probable that the seven-time All-Star will spend the entirety of his professional career in Los Angeles.
"This is where I wanted to be all along," Trout said. "I have enjoyed my time as an Angel and look forward to representing the organization, my teammates and our fans for years to come."
The bold and unpredicted move assures that will Angels will continue to build their franchise around the All-Star, as the contract could hold Trout until he is 39. Although the Angels have only had one playoff appearance in the Mike Trout era, Trout won Rookie of the Year (ROY) in 2012, is a six-time Silver Slugger winner and is also a two-time Most Valuable Player (MVP). Trout is essential for the Angles after being nominated for his third MVP award last season, and this recent contract displays the level of confidence that the organization has for him.
"This is an exciting day for Angels fans and every player who has ever worn an Angels uniform," Angels owner Arte Moreno said. "Mike Trout, an athlete whose accomplishments have placed him among the greatest baseball players in the history of the game, has agreed to wear an Angels uniform for his entire career."
The first games of the 2019 MLB season began on March 28, and Trout and the Angels hope to turn things around after their 1-3 start to reach the playoffs for the first time since 2014. They currently sit at the bottom of the American League (AL) West and look to get back on track against their upcoming series with the Texas Rangers and then the Milwaukee Brewers.