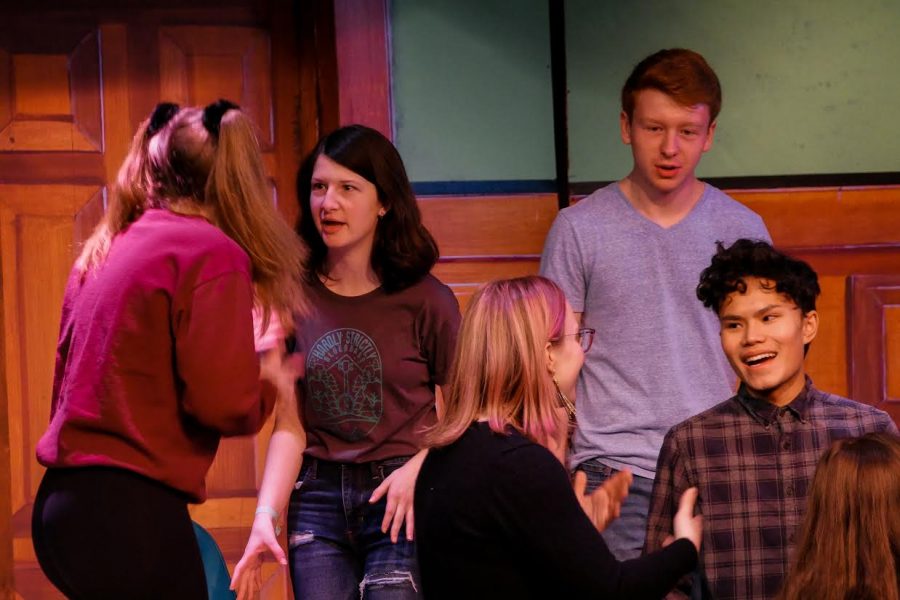 Atticus Dewey
There was a buzz of excitement in the air outside Craft Theater at 8 a.m. on Nov. 13. Despite the early hour, the members of Community Ensemble Theater (CET) were already hard at work. Cast members scrambled around the second floor, carrying ladders and pieces of the set. Due to the snow day on Tuesday, two days prior to opening night of School of Rock, all after-school activities had been cancelled, including the first dress rehearsal of the show. Tech week had not gone as planned, and a make-up time had been scheduled. All CHS students in the show were allowed to skip their first and third blocks in order to rehearse. 
"Our first two dress rehearsals were cancelled, and we couldn't do anything about it," Loey Jones-Perpich said. "We had a snow day on Tuesday and Quinn and Marci were fighting the district the whole time to let us do a rehearsal." 
Jones-Perpich, along with the rest of CET, rehearsed at the Neutral Zone on Nov. 12th from 4–8 p.m.. The space was given to them for free. The group's plan is to run the second act this morning from "cue to cue", which means practicing with all lighting and sound cues. Tonight, they will have their first dress rehearsal from 3–10 p.m.; their second will be tomorrow in the hours leading up to the rise of the curtains.  
"I'm stressed out, but I think we'll be able to pull this off," Noah Greenberg said. "This is the most insane tech week we've ever had."
This unconventional schedule is forcing CET to come together and work a little extra hard to ensure the show will meet their standards.
"You can't stop the School of Rock," Morgan Fitzgerald exclaimed.