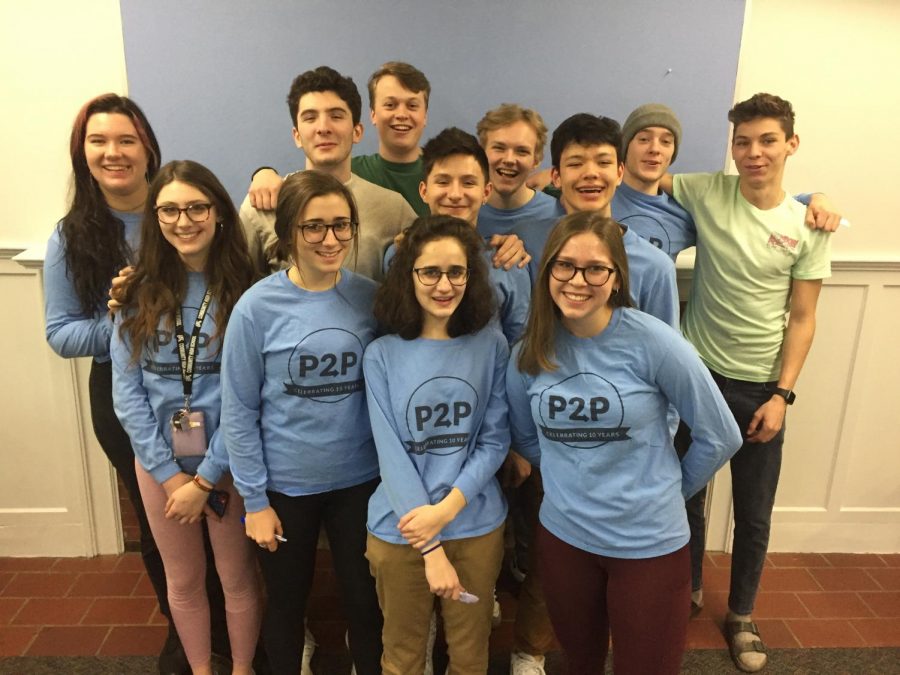 "You are not alone, it's okay to not be okay, we are here."
These are just a few of the messages that the Peer to Peer group at Community advocates for. Just this past year, the program reached its 10-year anniversary and Robbie Stapleton, who's been involved since 2009, was recognized as the longest serving facilitator.
The Peer to Peer group is a peer education program throughout schools in Washtenaw County with a common goal to reduce stigma and raise awareness about depression and other mood disorders with a campaign each year. In 2009, the University of Michigan put out the Peer to Peer program in schools, and it's only grown since. When Peer to Peer first started at Community, they did a small Lunch-and-Learn program and gave out bracelets. This year, they have 20 things planned including giveaways, yoga, and Dance Studio with Judith.
Peer to Peer educator Sunday Quillen has been putting up posters, posting forum bulletin messages, and planning wellness breaks every Tuesday at lunch for the past two years. When Quillen joined, she wanted to know what she could do to help with mental health issues in her community and how to give back. 
"Peer to Peer has taught me how to start conversations with people I care about and break that awkward silence," Quillen said. "Sometimes it's just coming up and saying, 'Hey, you've been acting differently lately, are you okay?' Or it's just offering them something small like food or water. A lot of time you have to do the little things to break down those walls and have those bigger conversations."
The Peer to Peer group was traditionally known as the Depression Awareness Group (DAG), but they are trying to shy away from the DAG acronym now. Peer to Peer has a mandate from the University to raise awareness, reduce stigma and encourage help seeking when necessary, but this isn't just a message for people with depression. Stapleton believes that this message applies to all mental illnesses.
The program not only leaves peer educators with insight on how to help someone with a mental illness, but with a deeper understanding of their own, personal mental health too.
"Peer to Peer has made me more conscious of how many people struggle with mental health issues and to not make light of something so serious," said Nikolai Tang, a Peer to Peer educator. "It's opened my eyes to seeing that mental illness is in our community. It's here. But we are here too, to help."
Stapleton also wants people to know that mental health is real, and that the Peer to Peer program is there to spread awareness about it.
"There isn't one big message that can account for all mental illness, but if there were a broad, sort of umbrella message in the high school, it's that mental health is really important, mental illness in this age group is really common, and that doesn't minimize it, it just means it's common," Stapleton said. "There are effective ways to deal with it, and there is always hope. Always."