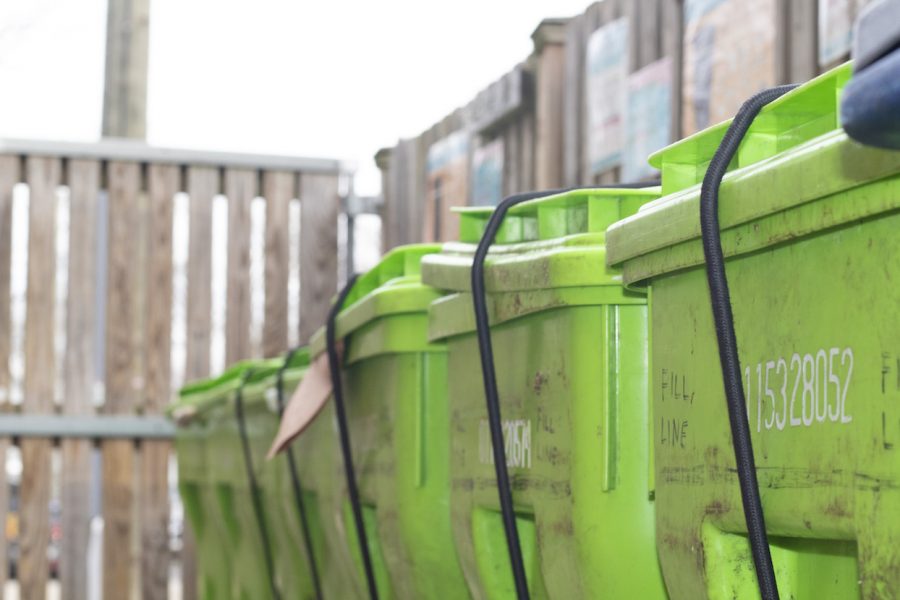 Zoe Buhalis
Overflowing dumpsters and the odor of trash in the allies of downtown Ann Arbor has sadly become the norm. Reducing waste is often an uphill battle for many restaurants. Zingerman's however, has been working for years to reduce their waste wherever they can and continue to make improvements.
Zingerman's is a community of businesses comprised of Zingerman's Delicatessen, Zingerman's Roadhouse, Zingerman's Bakehouse, ZingTrain and more. Zingerman's serves hundreds of customers every day. Like any restaurant, Zingerman's produces waste, however they are committed to eliminating it anywhere possible.
"Reducing food waste starts at the buying process," said Rodger Bowser, chair of Planet Zingerman's. "You have to train people how to not mess food up and to reduce waste." Not only does Zingerman's work to reduce waste, but the Delicatessen is a gold level LEED certified building. LEED (Leadership in Energy and Environmental Design) is a green building certification program used all over the world.
"We work on the ladder of our vendors to reduce the actual packaging waste," Bowser said. "Such as reusable totes instead of a bunch of boxes. It ends up working better for the grower in the long run, they don't have to buy a box." Single-use containers are one of the biggest battles for restaurants working to reduce waste. Single-use plastic accounts for half of all plastic thrown away. One of the most common substitutes is biodegradable containers however they are more expensive and less leak proof than plastic usually.
"We line them (single-use containers) up to find out how much they cost, which ones are compostable and we constantly test to see which containers work the best," Bowser said. Zingerman's is also working on a program to eliminate single-use to go containers for locals.
"We are going to be piloting a reusable to go container, we are working on that for the summer and hopefully it will hit the ground next fall," Bowser said. "We're just trying to find the right packaging for it." This reusable container will only be available for customers who live locally.
Zingerman's is also partnering with the city of Ann Arbor to help reach the carbon-neutral by 2030 goal. The carbon-neutral goal is an aggressive and necessary step the city of Ann Arbor took to combat climate change.
"We are probably one of two restaurants in the entire city to do commercial composting," Bowser said. The city of Ann Arbor doesn't provide a composting service year round, so Zingerman's has to pay to have their compost taken.
The People's Food Co-Op, another local business downtown, has also been working to reduce their waste. "As far as food waste goes, we donate to food gatherers, and we also let our employees go through anything that is outdated and bring it home," said Ken Davis, the marketing coordinator at the Co-Op. "Anything else we compost to give back to the environment of course." Like Zingerman's, the Co-Op uses commercial recycling. The Co-Op uses a company called My Green Michigan for all of their composting.
Being aware of where you are eating and their practices is important. Reducing waste and being environmentally sustainable is expensive, but the cost of not is far greater.