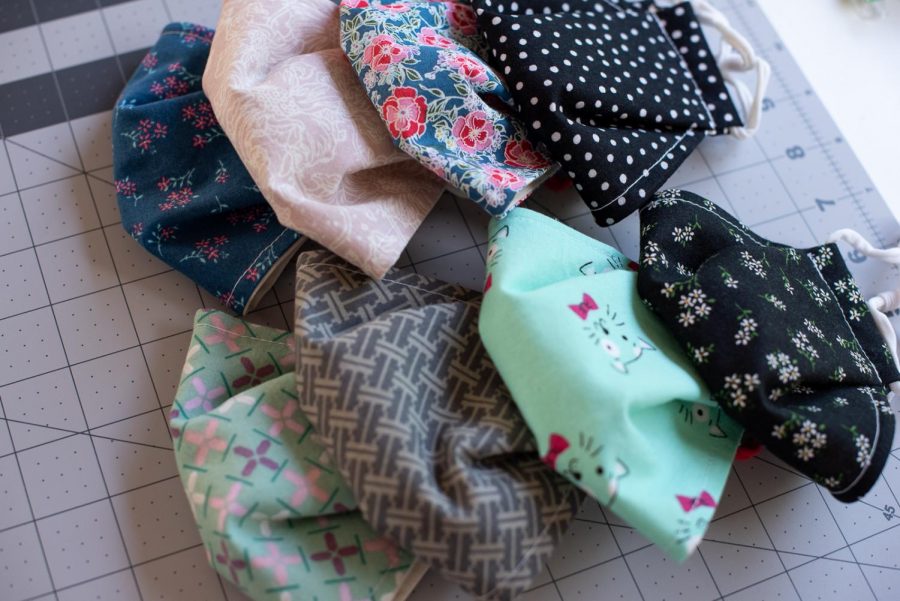 Liliana Knopp and Aly and Gabby Pacifico, two small businesses in Ann Arbor, have produced and sold hundreds of fabric masks. They have each contributed hundreds of dollars to charity. 
LILIANA KNOPP
Liliana Knopp had never touched a sewing machine before COVID-19 brought her senior year at Skyline to an abrupt end. After deciding she needed to fill up her free time, Knopp borrowed the machine from her older sister in early April, and she slowly began to learn how to make CDC-approved masks. 
Many of Knopp's masks have text decals on them, reading "Nasty Woman," "Vote Him Out," and "Black Lives Matter." After the national uproar caused by George Floyd's murder at the end of May, Knopp felt she needed to take action in any way she could and started to make Black Lives Matter masks.
"George Floyd being murdered sparked a lot in people," Knopp said. "People's priorities really aligned, and it caused a lot of anger, a lot of anger that hasn't been fully unpacked yet. When that happened, everyone was finding what they could do. This was my way."
All of the proceeds from Knopp's Black Lives Matter masks went to various charities that worked to help the movement. Additionally, Knopp donates 20 percent of all purchases to a charity of the buyer's choosing. She has a master list that they can choose from if they're unsure where they want their money to go.
As of Oct. 30, 2020, Knopp has donated over $1,300 to charity.
Orders for Knopp's masks have come from all over the U.S.; she's received orders from  California, Wyoming and Massachusetts. While Knopp receives phone calls and emails for orders, her biggest source of customers is through her Instagram: @a2maskss.
Social media helped bring Knopp one of her favorite projects: masks for a wedding. The couple chose a design to match the colors of the event, and Knopp made 24 custom masks for the party.
Knopp shows no signs of slowing down. Her masks have changed with the seasons and she now sells holiday designs. She wants to continue to provide well-made and protective masks for her community.
ALY and GABBY PACIFICO
Aly and Gabby Pacifico, twin sisters and seniors at Pioneer High School, began making masks in May of 2020. With help from their mom, they spent countless hours researching effective mask patterns and fabrics. 
The Pacificos make masks as a team: Aly cuts and serges the fabric; Gabby sews the body and runs their website (www.pacificodesignco.com) and social media (@pacificodesignco); and their mom helps with the technical sewing elements. 
Prior to their website, they used a Google form to take orders. Through the form, they made their first sale in early July to a family friend.
"We had local pickup, and she decided to pay in cash only," Aly said. "She wanted to give us our first one dollar bill so that we could frame it. It was really special."
The twins made the decision to donate 10 percent of each sale to Feeding America and 10 percent to Color for Change. Feeding America fights to end food insecurity in the U.S. by providing nourishing and consistent meals to individuals that need it. Color for Change is an online racial justice organization that fights for a safe and equitable country for Black Americans. 
As of Oct. 30, 2020, their business has donated over $300 to the two charities.
"We wanted to give something back to our community and donate some of our profits to charity," Gabby said. " We thought that the mask business would be a very helpful way to accomplish that."