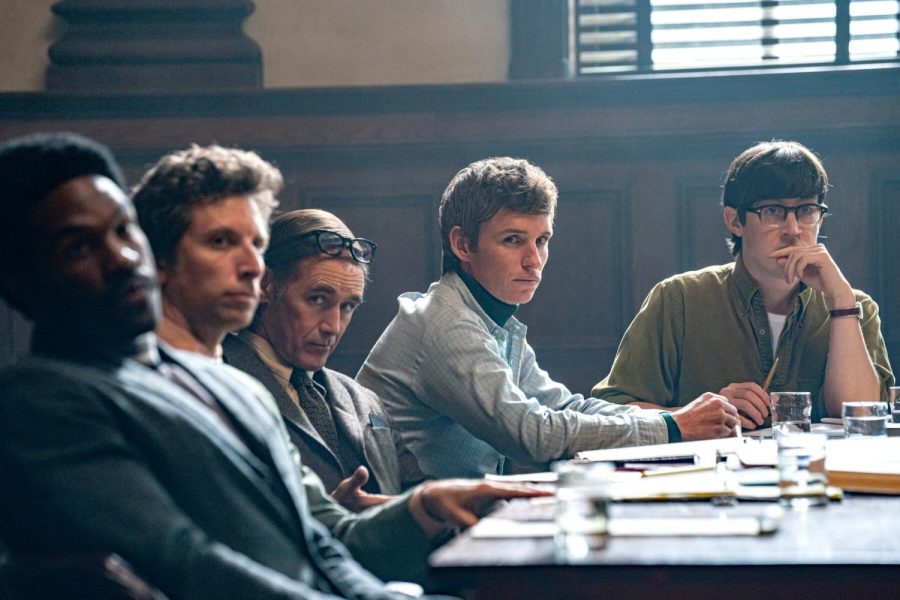 Released on Oct. 16, 2020, "The Trial of the Chicago 7" is a Netflix original courtroom drama written and directed by the legendary Aaron Sorkin. Sorkin has written for many well-known films in the past and has taken a recent swing into the directing world as well. His directorial debut was with "Molly's Game," released in 2017 which had one nominee at the Academy Awards for best-adapted screenplay. Since then "The Trial of the Chicago 7" has been his only other film to direct.
The plot revolves around a true story of a trial which consisted of seven defendants being charged by the federal government with concepts related to conspiracy. It started with many anti-Vietnam war protests held at the 1968 Democratic National Convention led by the seven defendants of the trial. The film brings up the question of whether the law favors the truth and the people or the money and the elite. We see examples of this many times in the film so it is clear that this is the main message that Sorkin is trying to get across. 
Sorkin's skills as a director allow the audience to always stay engaged. He knew from the start that making a courtroom drama interesting throughout the film was going to be a hard task. His solution was to have storylines in both the courtroom and the protests. The scenes flipping from the trial to the protests and even to Abbie Hoffman's comedy shows worked very well in keeping the audience engaged. The viewer stays focused and never feels bored because right when you start to lose interest he brings the viewer back in by changing the scenery. 
Sorkin uses the trial as a piece of history that should not be forgotten, and be talked about so that change can be made. The film wants to question the audience on whether or not anything really has flipped since the late 1960s and whether or not it seems fair. It is important to bring up the timing of this film because right now it is socially relevant. We are seeing not only in our country but around the world protests that are being made and a change that is being desired. 
Anyone who still needs a wake-up call to the flaws of our system should watch this film. We are seeing day-by-day examples of racism in our country and the law favoring the wealthy. Hopefully, this film can help open the eyes of people around the world and can spark determination in those who are inspired by the work and the story itself.