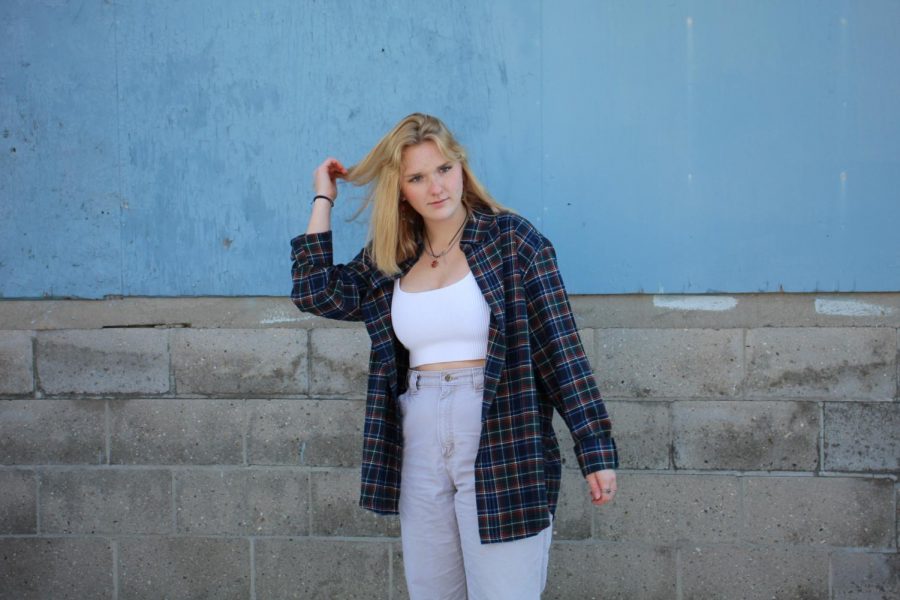 Sophie Nunez
Hope Hesseltine, CHS senior, is usually wearing a pair of baggy pants, a tight shirt with a flannel or sweatshirt on top. Her outfits are often paired with her go-to white vans or staple black converse. Hesseltine found a love for fashion towards the end of middle school and started putting more thought into the clothes she purchased and wore. 
 "In sixth and seventh grade I dressed really sporty," Hesseltine said. "I think I started caring and experimenting with fashion in eighth and ninth grade." 
Hessltine's outfits are rarely perfect the first time; she often goes through a few outfit changes before settling on one.
"I know when I have found the perfect outfit when I just feel really comfortable and confident," Hesseltine said.  Once Hesseltine has found the winning fit she is most likely going out with her friends or to Starbucks. She never leaves the house without her phone, small green coach wallet and a cover-up.
 Hesseltine loves to experiment. She finds most of her clothing inspiration on Pinterest or Tik Tok. Throughout the past few years, she has started to find more unique and sustainable clothes. When Hesseltine does buy new clothes, her go to's are Urban Outfitters and Target.   
Along with clothes, Hesseltine also likes to spice up her outfits with accessories.
"I don't really wear a ton [of jewelry], but I always have on these three necklaces and a pair of earrings," Hesseltine said. "I think they add a little something to my outfits." She has found most of her pieces from thrifting, crystal shops and Target.