A Kenyan Education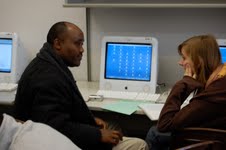 Hang on for a minute...we're trying to find some more stories you might like.
The dim glow of the makeshift coffee-can lantern provides just enough light for a young student in Kenya to complete her homework. It's dark outside and her obligations have kept her busy from dawn till dusk. After walking several kilometers home from school, she must fetch water from a nearby stream carrying the full weight of the twenty liters on her back with a scarf-like cloth. She then gathers firewood to cook the evening meal, washes her school uniform, and is finally able to begin her schoolwork. This is not an uncommon routine for a student who attends Bishop Lawi Imathu Secondary School.
"Sometimes you cannot know your problem unless you go and see someone doing something in a different way," said Moses Marete, principal of Bishop Lawi. Marete visited Community High school in late November and talked with Tracy Rosewarne's journalism class about his experiences. He explained how he had never heard of a dishwasher before arriving in the United States but now that he has learned what it is, he has plans to go to the capital of Kenya and see if he may get one himself. "Most work is done by hand, I have never seen a machine to do the dishes," said Gilbert.

Marete has previous ties with Ann Arbor because every year a local church traveles to Kenya to volunteer at the Bishop Lawri School. "We are coming here to say thank you so we can work out a future partnership plan." said Gilbert, A current history teacher at Bishop Lawi. "We are trying to compare the education systems so that we can uplift the education [in Kenya]" During their visit, Moses and Gilbert stayed with Joey Houghten, a junior at CHS. In turn Joey plans to travel to Kenya himself sometime this coming February.
Bishop Lawi Imathu Secondary School is fairly new. It opened in 2004 and is already ranked as the best school in the district. Even so, for a student to make it to the university is quite a feat. In 2007 well over 200 students took the national exam and still only 19 were able to attend a University. "For you to go to University you must be of the best." says Gilbert. Some kids that don't make University are devastated; some take the test again. There are cases that the only way to escape labor is to rise up through the school system.
Going to school in Kenya is not something students take for granted. Gilbert describes the school system as "cost sharing between parents and government." Parents are responsible for the construction of the school, uniforms, transportation, and tuition. School is not free in Kenya, "The government only provides text books and teachers." said Gilbert. Most students attend public schools where classes are crowded with up to 80 students and tuition is $90 per year. Those families who can afford it send their students to private schools where the tuition is about $180. This is extremely expensive considering the average salary in Kenya is $400. "If you go to Kenya and come back here [to the United States] you can tell people you are blessed."
Although Kenya is facing difficulties in it's current education system, the country is rich in other aspects. Their culture is centered around having a strong family, and music and dance are a part of everyone's life. It is common that three generations from the same family may live on the same street or even in the same house. Respect is valued there, and students grow up with a strong belief that you must respect your elders. "They are not forced to, It comes from within." said Gilbert. Especially in classrooms, respect is instilled. "When a teacher comes to class the students have to be attentive," said Gilbert, "I've discovered in Ann Arbor there are so many students talking while the teacher is talking."
Twice a year, Bishop Lawri Imathu Secondary School is able to set aside some of it's academics and focus on their dance team competitions. The teams are made up of all women and they perform by making music with their bodies and drums. They wear sisal skirts, paint themselves and wear jingles on their legs. By shaking, jumping, and dancing they can create beats and music that makes for a complete show.
As Gilbert and Marete return to Kenya, they hope to make changes on their school and inform the students about the realities of America. "There's a lot of misconceptions; they think there are no problems, that everybody is rich." said Gilbert of his students in Kenya, "When I came here, I found out that most items are three times as expensive than in our country." Although Bishop Lawri Imathu is the best public school in the region, Gilbert and Marete feel as though they have learned something valuable to bring back to their country.