Band Review: The Macpodz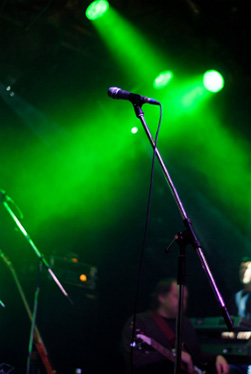 Hang on for a minute...we're trying to find some more stories you might like.
A snowy Friday night in Ann Arbor makes going to a concert at The Ark a comfortable, exciting experience for most grownups. At a typical show here, you would expect to see a variety of Ann Arbor's hip young adults (and when I say young, I mean 20-30 years old) mixed with a plethora of middle-aged, music-loving couples. When The Macpodz played, however, it was different: the relatively small venue was packed with high school students, music teachers young and old, parents, kids, elderly citizens, etc. The crowd displayed a great range of social diversity, with slightly withered ex-rockers, young, ambitious musicians, fun, lively, show-going 'modern hippies', a range of excited high school students, and even several elementary and high school teachers, all spread about the venue. Overall, the crowd sufficiently reflected the happy, beautiful, liberal mood of this town—and, with soul-driven, passionate musical fusion, that is exactly what The Macpodz did.
Prior to this show, I had never seen The Macpodz. I did not know what to expect. I thought they were merely a funky soul jam band, which would place them (inevitably) below Ann Arbor's steadily rising funk phenomenon, Sole Transit. Humiliatingly out of the loop as to what this band actually sounded like, I prepared myself for a Top Of The Park-esque concert with decent, cliché music and several middle-aged couples releasing the stresses of the week by dancing wildly next to the stage. Unbeknownst to me, however, my ears were about to experience an inspirational, musically intimidating, and mind-boggling set of songs.
The band walked on stage, all of them grinning: bassist Brennan Andes took center stage, in front of drummer Griffin Bastian; percussionist, vocalist, and flautist Nick Ayers stepped behind a large set of percussion-based instruments on the right side of the stage; keyboardist Jesse Clayton placed himself on the left side of the stage, surrounded by two electric keyboards, a grand piano, and what appeared to be a sound effects machine, and trumpet player Ross Huff picked up his horn on right-center.
The first song started off slow, with a sporadic light display—a sort of avant-garde piece with gradual, crescendo lines, culminating in bursts of improvisational, experimental breakdowns. The band then moved on to more traditional funk with hints of jazz—complex time signatures and multiple driving beats (Bastian's infallibly powerful rhythms, mixed with Ayers's grooving percussion complements). The band's overall talent is beyond local entertainment; not only is each member a master at his instrument, but they were all obviously consumed by a powerful passion for music. Their persona was laid back and happy, mixed with random and ridiculous. Vocalist Ayers's performance tactics were marked by dramatic, somewhat sexual movements while singing, such as licking the microphone and thrashing about the stage. Andes would occasionally exchange glances with Bastian or Clayton, and both of them would simply nod their heads and laugh, as if they were having a telekinetic conversation through audible artistry—when really, each musician was on a distinct mental level, separate from everyone else in the room except for themselves and their music.
The Macpodz's performance at The Ark was indescribably put together, perfected, and audibly beautiful, making them one of the most innovative, personality-defining bands in this town. With music, they represent Ann Arbor—soulful, relaxed, and free.
Learn more at the Macpodz website