John DeLorean: A Story of the American Dream.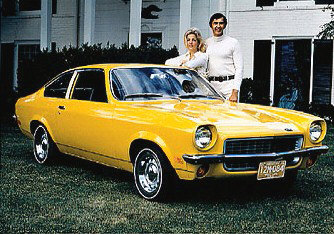 Hang on for a minute...we're trying to find some more stories you might like.
John Zachary DeLorean was born on Jan. 6, 1925. The son of Romanian and Austrian factory workers who grew up in a two bedroom house at 17199 Marx in Detroit, he became a General Motors executive responsible for the Pontiac GTO and Chevrolet Vega, and the DMC-12, better known as simply the "DeLorean."
His personal life was revolutionary in the conservative world of business. He was featured in entertainment magazines, dressed in fashionable clothes, married multiple times, and drag raced prototypes on Woodward Avenue, all breaking social norms for executives who were expected to maintain a low profile. He even invited Ford's president, Lee Iacocca, to be best man at his first wedding.
DeLorean's story is also one of the American dream: From a middle class background, DeLorean left a GM salary worth millions today to found his own car company, the DeLorean Motor Company. DeLorean produced the DMC-12, a car that was the stuff of dreams, but became a reality.
His story is also one of a successful and sleazy conman, who cheated governments, inventors, businesses, celebrities, and lawyers out of money they invested into his ventures, or into getting him out of trouble. That includes over $200 million to start the Dunmurry, Ireland factory that produced the DMC-12. And yet, only 9,000 were produced.
And lastly, his story is one of tragedy. When his company was millions of dollars in debt, he fell victim to the worst predator: The federal government, acting on a tip from a career criminal and drug dealer, James Timothy Hoffman.
FBI and DEA agents videotaped a sting operation where they gave DeLorean millions of dollars worth of cocaine to sell, all because Hoffman identified him as a target because of DMC's financial trouble. DeLorean, although acquitted of the charges, was considered guilty by public opinion, and his career — and company — were ruined, all because Hoffman saw in DeLorean a victim to be taken advantage of in his attempt to reduce a drug smuggling sentence.
DeLorean left the automotive world disgraced and in debt, and turned to God for consolation. He converted to Christianity in 1982, and renamed one of his companies, Logan Manufacturing, to Ecclesiastes 9:10-11-12. Ecclesiastes 9:10 in the New International Version of the Bible reads:
"Whatever your hand finds to do, do it with all your might, for in the realm of the dead, where you are going, there is neither working nor planning nor knowledge nor wisdom."
John Zachary DeLorean took a chance with the DMC-12. He thought there was a market for a radically new, stainless steel fastback coupe. He intended for it to compete with Chevrolet, Ford, and Chrysler's performance cars, but delays and cost overruns turned the car into a 130 horsepower, Renault V6 powered vehicle with handling comparable to cheap imports.
The DeLorean DMC-12 still looked so different from everything else on the road, though. Despite costing $25,000 dollars, compared to $10,000 for a Corvette and $6,600 dollars for the compact Citation, it was arguably one of the coolest looking cars on the road in America, even if its performance was very underwhelming.
Still, DeLorean turned one dream into 9,000 cars, and taught all of us to aim for the stars, because even if you miss your mark, you'll still make an impact.
He also taught us to organize your business ventures as corporations, not limited liability corporations, if you want to call the shots but not give up your New York apartment and New Jersey estate if it goes bankrupt.
Also, an interesting note about DeLorean's New Jersey estate: Before DeLorean's death on Mar. 19, 2005, he declared personal bankruptcy in 1999 and sold his New Jersey estate, Bedminster. The 434 acre property was bought by a New York businessman named Donald Trump. He turned it into a golf course.