DeLorean's Oft-Overlooked Contribution — The Pontiac Grand Prix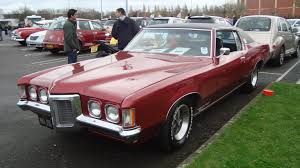 Hang on for a minute...we're trying to find some more stories you might like.
Okay, first of all, yes, you read that correctly. John DeLorean, the creator of the Pontiac GTO, was also responsible for the Grand Prix. Back when it was cool, of course. And when Pontiac still existed.
Before Pontiac turned the Grand Prix into a midsize, front wheel drive, bland rental car, you had people like DeLorean to thank for it being cool. In fact, the second generation, from 1969 to 1972, was actually a very nice car.
Built on a stretched G platform, the second generation Grand Prix featured very distinctive and dramatic styling, including an aggressive front with a prominent grille, separate headlights (until 1971), and of course, lots of chrome. The rear was more subtle, featuring smoother lines and wide lights.
The second generation was developed in just 18 months — only half the time required for most cars. The Pontiac designers created a new body, using the mechanicals of other Pontiac cars. They also backed up the aggressive look with performance. The Grand Prix was offered with V8 engines ranging from 6.6 to 7.5 liters, and with three and four speed manuals. In addition, a three speed automatic was offered.
The two door hardtop was offered in J and SJ trim lines — and featured the longest hood ever seen on a Pontiac. The interior got lots of attention, too. Pontiac debuted the "Command Seat," which featured wraparound controls for the driver, puting everything easily within the driver's reach. Both the driver and passenger sat in "Strato" bucket seats, which could be ordered in fabric or leather.
Introduced as an attempt to place Pontiac in the personal luxury market, the Grand Prix was a resounding success, selling 112,000 cars, starting at $3,698. However, with the advent of competition from Ford and Chrysler, in addition to new offerings from Pontiac and other GM divisions, the Grand Prix experienced a sales slump.
Additionally, for the 1972 model year, the manual transmissions were dropped and automakers had to convert to reporting net, rather than gross, horsepower. (Gross horsepower is the output of the engine as measured on a dynamometer, net horsepower is the output with all additional options and equipment installed.) Furthermore, a new federal rollover regulation was looming, all factors contributing to the end of the second generation Grand Prix.
However, the second generation DeLorean-designed Pontiac Grand Prix goes down in history as one of the most popular personal luxury cars of the era, and an example of a high quality, performance-oriented large car made by Pontiac. So whenever you see a modern Grand Prix on the road, remember the second generation, back when the Grand Prix was a prized possession of any car enthusiast.