The State Theatre Celebrates Spooky Season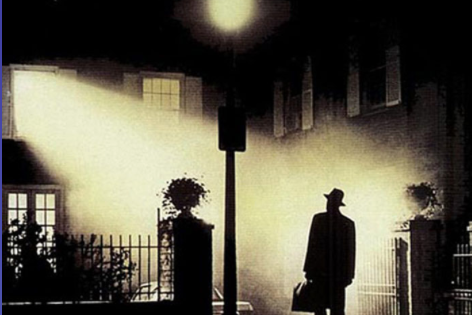 Hang on for a minute...we're trying to find some more stories you might like.
Like clockwork, it's fall again: pomegranates come into season, bright as blood, and the temperature cools. Night falls quicker, and the leaves lose their green. Like clockwork, people hang skeletons outside on their porches and buy candy in bulk. And the State Theatre shows classic horror movies again.
The tradition of showing midnight movies at the State Theatre goes back to the 1960s and '70s, and the custom of playing spooky movies during Halloween season is one that dates far back as well. Some films, like the 1922 vampire film "Nosferatu" or the 1975 musical "Rocky Horror Picture Show," are shown ritually, every October. But others — like the four horror movies this fall — change every year. Last October, the State Theatre had a theme of monsters and showed the classic films like The Mummy and Frankenstein. This October, the State Theatre is doing it a little differently.
Nick Alderink — who is the programming and media coordinator at the State and Michigan theatres and who arranged the Halloween series for the first time this year — knew from the beginning that he wanted to show the cult classics "Evil Dead" and "The Exorcist." Featuring "The Exorcist" was particularly exciting for Alderink because it was, as he described it, "one of the quintessential horror movies— not only horrifying but extremely well made."
Since the movies came out originally in 1981 and 1973, respectively, most audience members would either have memories of seeing them decades earlier in theatres or have never seen them on a big screen.
After choosing to show those two films, Alderink decided that, for each, he wanted to also show a corresponding modern horror movie at midnight. To him, it seemed natural to pair "The Babadook" with "The Exorcist," and "Cabin in the Woods" with "Evil Dead" (two fandoms he loves).
The experience of re-watching beloved horror movies like these on the big screen is unlike the regular theatre experience, one that welcomes audience members to laugh loudly at the dark or gory scenes, or shout at the screen.
"The theatre etiquette really just goes out the window for some of these classic movies," Alderink said. "It becomes really enjoyable to sit in a crowd for those."
So far, each horror film has sold out, and the last one of the series, "The Babadook," will be showing tonight, Saturday October 27, at 11:59 pm.
Showing these movies in theatres is re-creating the perfect environment for a horror film.
"Horror movies are so great to see with a crowd," Alderink said. "That's really the only way that I think horror movies should be seen. When there's a movie like that on the screen, there's an anxiety, there's a nervousness, there's an excitement that just become contagious among a crowd. And horror movies need to be seen that way."