Red Sox win World Series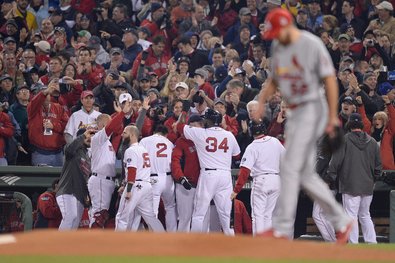 Casey MacDonald
October 31, 2013
Hang on for a minute...we're trying to find some more stories you might like.
Last night, millions of spectators around the world witnessed history at Fenway Park. The Boston Red Sox have not won a world series at home in 95 years. However, after almost a century of waiting, the Red Sox have given the fans what they have been waiting to see. A series clincher in the historic ballpark.
Led by David Ortiz and their spectacular bullpen, the Boston Red Sox defeated the Saint Louis Cardinals in game six of the World series 6-1.
The ultimate difference in this World Series was David Ortiz. As designated hitter for the Red Sox, his only job was to crush the ball everytime he stepped up to the plate. Ortiz redefined the meaning of clutch hitter. Big Papi holds the highest career batting average in World Series history (.465). In game six of the World Series, the Saint Louis Cardinals had to rethink how to handle the hottest player in baseball. Their conclusion was to intentionally walk Ortiz every time he came to the plate. They hoped to take him out of the game completely. However, the Saint Louis Cardinals did not expect such an outstanding performance from the rest of the Red Sox.
In the third inning, Shane Victorino tripled off the green monster in left field to bring in three runs. Backed by their home crowd, the Sox gained momentum in the fourth inning when Steven Drew homered to deep right center field. But the Sox were not done yet. In that same inning, Boston increased their lead to 6-0 with two RBI singles.
With a 6-1 lead in the seventh, the Red Sox brought out their ace, Koji Uehara to finish the Cardinals off. In the bottom of the ninth inning, with two outs, Matt Carpenter stepped up to the plate to face Uehara. Three strikes later, and The Boston Red Sox had won a world series. As Champagne fell like rain on the Red Sox, David Ortiz lifted the World Series trophy in the air. After 95 years of waiting, the fans at Fenway  finally received what they had been yearning for.