Kate Burns: From Scholastic Medalist to International Finalist
November 11, 2016
The First Strokes
Overlooking the Huron River, a wooden dock forks out over the water. Young rowers scurry back and forth along both sides while blades twice their size rest across their shoulders. In the moist August heat, the water lays flat and even— a perfect day for the middle schoolers participating in Washtenaw Rowing Centers (WRC) Middle School Learn to Row program. Among the many students gathered that day sits Kate Burns, an incoming freshman at the time and beginning rower herself. Introduced to rowing in middle school, Burns was more than reluctant to row at first. Burns admitted that she hated it that first week during WRC and even through the beginning of her novice year. Burns' father, a previous University of Michigan soccer coach, was good friends with the U of M rowing coach and encouraged Burns to row after concluding that she would make a "good rower." "He [at the time U of M Crew Coach Mark Rothstein] said 'Someone's who's tall, someone who's strong, and someone who has a high tolerance for pain' and my dad was like— 'oh that's Kate. She should row!'" said Burns with a laugh.
After swimming the fall of her freshman year, Burns went into Skyline's Winter Crew season as a novice. More than six months after her first experience on the water at WRC, the Skyline crew team returned to their site at Concordia College along the Huron river near Gallup Park, and Burns got her real first taste of rowing on the Huron River. Though the rowing was hard she slowly began to love the sport  in her first couple months. "When the boat starts to feel better, that's when I start liking it," said Burns, these words hold true years later as a senior and varsity member on the Skyline Crew team.
Influential
"[Kit Bennett has] been there since the beginning," said Burns, accrediting her head coach as the biggest influence in her rowing career. Having taught her how to row nearly four years ago, Bennett was one of the first to encourage Burns to row when she was in middle school. So this summer, when Burns was offered a spot on the USA Junior rowing team, Bennett was one of the first to urge her on. Burn's parents have encouraged her over the years as well, helping at the many Skyline regattas and urging her to row in college. "They just like seeing me happy, and I'm happy when I'm rowing— most of the time," said Burns.
A Turn in Events
Weeks before the end of school, just as her fellow classmates had begun to study for the semester finals, Burns packed her bags for New London, Connecticut. Having taken her finals early, Burns was off to participate in the 2016 High Performance rowing camp run through the Coast Guard Academy boathouse in New London. For two weeks Burns practiced with High Performance camp. She rowed on the Thames in New London—the same river that both Harvard and Yale crew teams practice on—and slept in the dorms of Connecticut College, enjoying the work of drills and technique. After rowing for two weeks with the High Performance camp, Burns was bumped into the next level training camp called "Selection". Once there, Burns was being considered for CanAmMex, an international competition between the USA, Canada and Mexico.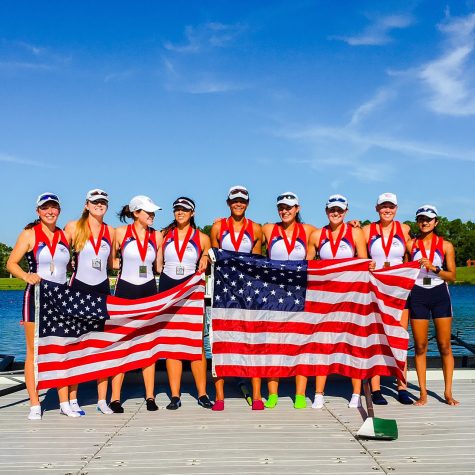 After completing a 2000 meter erg (rowing machine) sprint, coaches at the camp were surprised at Burns' speed, as she finished with third fastest time at the camp, and slated her to seat race for the Junior Worlds eight. Burns sadly did not make the cut after seat racing, Burns and good friend Jenna Van De Grift being the last two to not make the Junior team. Instead of joining the Junior team in racing, the girls went on to race at CanAmMex with their fellow Selection camp rowers. This event is regarded as less prestigious than Worlds, but still impressive. This year CanAmMex was held at Nathan Benderson park in Sarasota, Florida. There, the team won gold in both the eight and four3 event. "It was groundbreaking," said Burns. "It was the first time that I  really got [a] challenge, international competition."
With two gold medals in hand, Burns returned home, content on starting training for Henley (a training camp hosted by WRC for the Canadian Henley competition). But after receiving a call not more than two weeks after returning to Ann Arbor, Burns returned to Princeton. There Burns and Van De Grift trained alongside the USA Junior team as spares.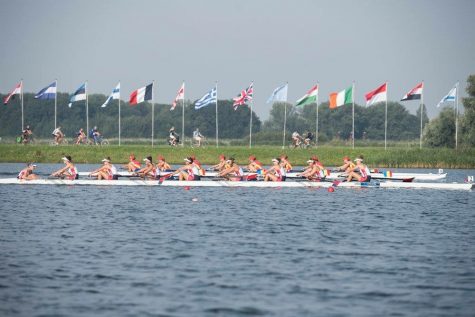 Dropped into boats unexpectedly, Burns and the other girls learned to get to know each other quickly. "I feel like my growth as a person, not only as a rower, has tripled," said Burns, saying that her social skills definitely improved by long strides this summer, just because of the amount of people she met. She was able to make a close knit group of friends during her time at Princeton who stuck together throughout the move from Princeton to Rotterdam, Amsterdam.
After weeks of workouts three times a day, seven days a week, the junior team set out for Rotterdam, their weeks of hard work all leading up to just over a week of racing. Losing her primary race against Germany, Burns finished racing earlier than many of her fellow rowers. Preparing to return to the hotel, Burns was unexpectedly asked to stay on at the course by coach Sandy Armstrong. Not racing in the eight the following day, Burns had thought she was finished racing. But Armstrong that evening sent Burns out in a scratch line up in the eight and in a "whatever looks better" decision subbed Burns in for the race the following day. Not making it straight to finals, Burns and her team were determined when they got on the water next to make it to the A- finals. In their last race, after long pep-talks and through months of training, the USA Junior Worlds women's team took fifth in the women's eight, four seconds ahead of the Romanian women's team after competing closely with them throughout the preceding events. Burns began the summer with an already impressive rap of two Scholastic Nationals medals, but ended it with an even more impressive rap that boats international success as the fifth fastest junior women's eight in the world.
A Maize and Blue Bow
Deciding between Duke, Michigan State University, Yale and University of Michigan, Burns went into the college search looking for a strong academic college, one that would support her rowing as well as her interest in engineering. Through her rowing, Burns was able to get into to a college that otherwise may have turned her down. "I definitely wouldn't get into Yale or Duke without rowing, but rowing gave me the ability to do that," said Burns, though in the end choosing to go to U of M.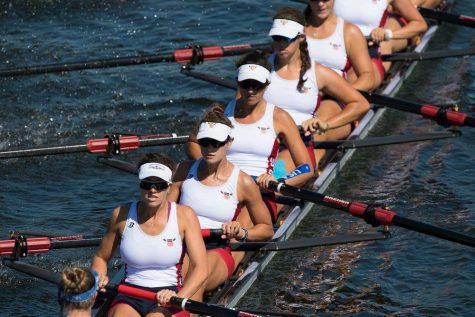 Looking to get away a little, Burns applied to out of state colleges as well as in state, but in the end decided to stay in Michigan. "Going on my visit[s],I really couldn't see myself going anywhere else," said Burns "I've been cheering for Michigan my whole life, [and] it just feels so right." A months after her visit to Duke, Burns orally committed to U of M establishing her place on the U of M women's crew team for hopefully the next four years.With a hefty scholarship in hand, Burns has set her goals high and is still anticipating a reply from the U of M School of Engineering. U of M's strong engineering program playing a role in her final decision to attend U of M in the Fall of 2017. Though she hopes to row for the next four years of her college career, a professional career is still up in the air. But no matter what Burns decides to do, rowing has influenced her life in more ways than she could count— shaped her to be the person she is today.