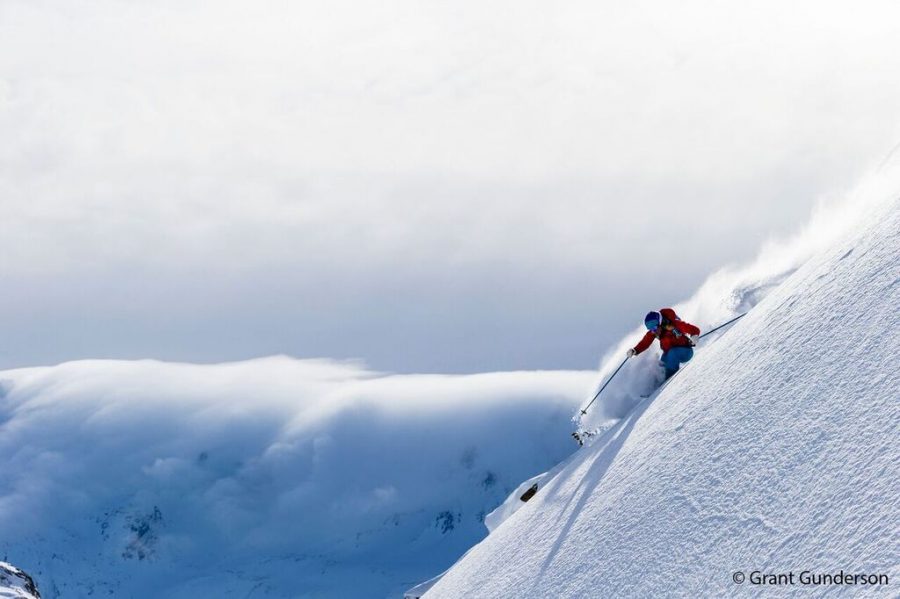 Warren Miller's "Here, There & Everywhere"
December 10, 2016
People lined up in the cold outside of the box office at the Michigan Theater on Fri., Dec. 9 to purchase tickets for the Ann Arbor showing of Warren Miller's latest film, "Here, There & Everywhere." Inside the lobby, local sponsors including Boyne Mountain, Mt. Brighton, Shaggy's, Shanty Creek and Sun & Snow had set up tables and were handing out free stickers as well as raffling off season passes, tickets and skis, the winners of which would be announced at the end of the show.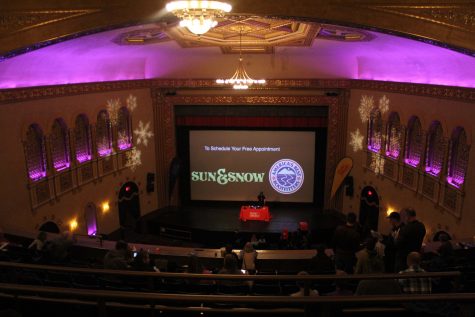 The lights inside the theater dimmed and the movie began with the seated, 92-year-old Warren Miller. He'd directed his first ski movie 66 years ago and as of 2004, has no longer been involved in the production of the Warren Miller movies. He recalled when he filmed surf movies and explained how once he began filming ski movies, he never went back.
  The song "Mountain at My Gates," by Foals began playing as the movie cut to shots of skiers gliding down untouched mountains. Others shots were of people snowboarding down railings in their neighborhoods, some landing on their feet, some not. In less than five minutes, the movie had already accounted for its title.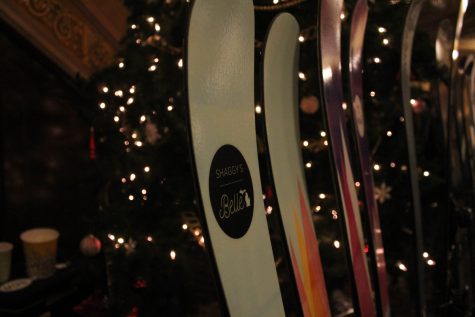 After showing footage from Miller's older movies, the film featured professional skiers, Tyler Ceccanti and Collin Collins. The two journeyed to the Rockies of western Montana to retrace some of Miller's footsteps, doing so in the same fashion that he once had. They slept out of a trailer which they were towed behind their car, ate oyster crackers and ketchup for lunch and skied at hidden gems: Turner Mountain, Lost Trail Pass and Seeley Lake. While living out of a teardrop trailer and yurts (complex tents), they maintained a ski-in, ski-out routine and continued Miller's traditions and appeal to ski bums who aren't all about the modern resort lifestyle of today.
Words can't do the scene justice, so you'll just have to watch Ceccanti and Collins gain air whilst backcountry skiing one night of their trip in the movie. The remoteness of the ski mountain is incredible. They are the only two people there, they jump through the air with style. Snowflakes glisten in the light of a lamp illuminating the unseen top of the mountain, as their skis brush the snow off branches of pine trees before they land in the powder of the otherwise unlit run.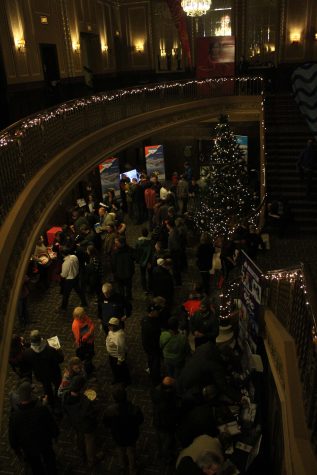 The next location featured in the film was Alaska, "the last truly wild place on Earth," as Jonny Moseley, narrator of recent Warren Miller movies and former U.S. Ski Team olympic gold medalist, acclaimed it. Following heli skiing in Alaska, the film featured Stein Eriksen, who passed away last December at 88. Eriksen was a Norwegian olympic gold medalist skier who was responsible for establishing ski schools across the U.S. including Boyne Mountain in northern Michigan as well as Deer Valley Resort, in Park City, Utah, where the next part of "Here, There & Everywhere" was filmed.
"Before Stein, there were people who loved skiing as a sport," said Kaylin Richardson, former U.S. Ski Team member and one of the featured athletes at Deer Valley. "After Stein, there were people who loved skiing as a lifestyle."
The film ventured to Fenway Park in Boston, Mass., Crested Butte, Colo.: "the last great ski town in America," Squaw Valley/Alpine Meadows, Calif.: the shooting location of Miller's first film, Switzerland: "a skier's paradise," Kicking Horse, B.C., Steamboat Springs, Colo. and Greenland.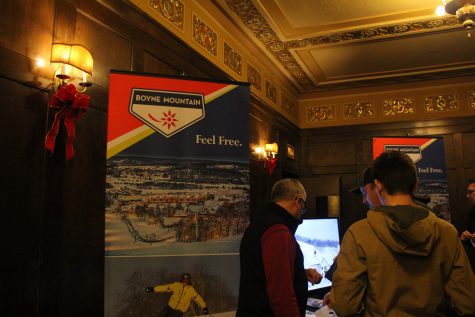 "Here, There & Everywhere," takes viewers across the globe, and proves that skiing really can really be done here, there and everywhere. Despite advances in technology, the film was still able to give off the same vibes as Miller's films of the 20th century. "Here, There & Everywhere" introduces the viewer to an eclectic group of individuals who all share a passion for skiing.
Tour dates can be found at www.skinet.com/warrenmiller/warren-millers-here-there-everywhere.