José Luis Sanchez-Ronquillo vs. The United States Of America: Another Chance To Delay Deportation
May 17, 2017
On Monday, May 9, Christie Linton, a Pioneer teacher, and members of By Any Means Necessary (BAMN), an affirmative action and immigrant rights group, gathered in Pioneer High School's Little Theater. They were preparing to give a presentation on Jose Luis Sanchez-Ronquillo, a Pioneer father in danger of deportation on Wednesday, May 17, and pass out double-sided flyers to students. One side of the flyer explained Sanchez-Ronquillo's situation; the other side was a permission slip to go to Detroit and protest his deportation. Jessica Prozinsky, a key organizer in helping bring Sanchez-Ronquillo home, had crowdsourced enough to charter a bus leaving from Pioneer High School. Since both the field trip and the assembly weren't sponsored—or even supported—by Pioneer administration, they had to rely on guerilla tactics to get the information to students. At a high school level, this meant standing in front of the parking lot doors and passing out flyers as students left for off-campus lunch, and trying to direct them to the assembly instead of their cars.
The flyering and assembly was to start at lunch, and five minutes before the lunch bell rang, the fire drill went off.
"They were supposed to reschedule that," Linton said. She was concerned they would lose the attention of the Pioneer students who would take the opportunity to sneak off campus before they got a flyer and a permission slip.
"We could lose a lot of students because of this," she worried.
Minutes later, however, students flooded into the Little Theater, eager to learn more about Sanchez-Ronquillo's situation and what they could do to help. The National Executive Director of BAMN and Sanchez-Ronquillo's lawyer, Shanta Driver, spoke on Trump's immigration policy and how it was directly affecting immigrant families. Yara Ajin, whose father was detained and released this February, spoke to the importance of community support in her father's case. Griselda Sanchez-Ronquillo, Jose Luis's partner, gave an emotional speech to her son's classmates. Griselda, an undocumented immigrant herself, had stayed out of the public eye until recently.
"She is in greater danger doing nothing than she is making this fight and winning this for her husband," Driver said. "This is a lot like Nazi Germany. Everybody kept hoping it wouldn't happen to them, it wouldn't happen to them, and so they chose to stay at home. When Hitler started, he wanted to deport the Jews. When that didn't work, he moved on. I think Trump is completely capable of the same thing. She feels like she has to fight now, because they'll come for her next. If she can win now, she can save herself and her family," Driver said.
When they assembly was over, every student had a permission slip. Linton emphasized that it was not a Pioneer sponsored event and that they wouldn't be excused from class. She stressed about how they wouldn't be allowed to bring their cellphones into the courtroom and how they'd have to act mature.
"They will kick you out for laughing," she said to the crowd.
On Tuesday morning, the charter bus was full. Despite the fire drill and the no cell phone policy, 54 eager students filed onto the bus. Outside, students who couldn't fit found space in cars with drivers who volunteered to carpool. The high schoolers ran on and off the bus to print out Powerschool ID's to be able to go into the courtroom, and called out open spots that were previously occupied by a book bag to fit more people on. By 10:30, the bus and its accompanied carpools were off to Detroit.
Outside the courthouse, a crowd of around one hundred people marched in support of Sanchez-Ronquillo while ICE officials stood on the street corners. They were a mix of Ann Arbor adults, a few Pioneer students who came before the bus, and Bach Elementary students.
"No ban, no wall, full citizenship and rights for all," protesters chanted, and they cheered when the bus full of Pioneer students—and Charlie Sanchez-Ronquillo, Jose Luis's youngest son who snuck on at the last minute—arrived on the scene.
At 11:30 a.m., Jose Luis's sons, pastor, and around 40 Ann Arbor high school students fit into the courtroom. Sanchez-Ronquillo's sons, Charlie, an 11-year-old at Bach Elementary and Juse Luis Jr., a freshman at Pioneer, sat as close to the lawyers as possible. Both boys have started therapy in the aftermath of their father's arrest.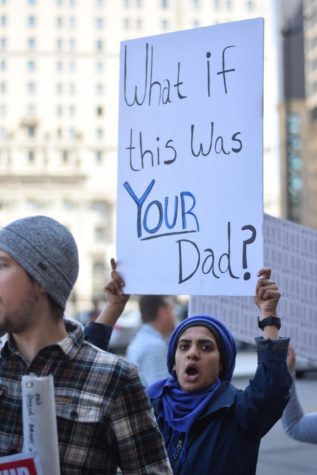 Judge David Lauson sat at the head of the room, while Shanta Driver, Sanchez-Ronquillo's lawyer argued, not for a stay of removal, but to convince Lauson that he had jurisdiction to protect Sanchez-Ronquillo's due process after the Bureau of Immigration Appeals already denied a motion to let him stay in the country. Due process, while not an official stay of removal, would mean Sanchez-Ronquillo would allow him to stay in the country for longer. His deportation had already been set for Wednesday, May 17, and if he were to be deported, it would be impossible for his case to be heard by the Bureau of Immigration Appeals (BIA), consequentially denying him due process.
Driver brought up the unwritten contract Sanchez-Ronquillo had with the BIA: that he was low-priority immigrant, unlikely to be deported, and that if Sanchez-Ronquillo checked in yearly he would be allowed to stay in the country. Driver also talked about Sanchez-Ronquillo's status as a father and an Ann Arbor community member.
The prosecutor James Carter, on account of Rebecca Adducci, the Field Office Director for ICE in Michigan and Ohio, and the United States Of America, argued that the appeal to pathos by the defense was irrelevant to a black and white case, and that if they were granted jurisdiction they would have to grant everyone jurisdiction.
"Give them an inch," Carter started. The Judge dismissed the hypotheticals Carter brought forward.
When Driver asked to bring the handwritten letters community members in favor of Sanchez-Ronquillo's stay of removal up to the judge, he denied them, telling Driver to do the paperwork associated with offering evidence.
"Do I have jurisdiction or not?" Judge Lauson asked.
He dismissed the court, saying he would make a written decision later in the day.
After the 40-some supporters exited the courtroom, Driver was not optimistic about what Judge Lauson would say. When asked if she thought Judge Lauson was going to rule in her favor and the favor of the Sanchez-Ronquillo family, she said, "I am quite convinced that he's not."
Minutes later, the supporters learned that Judge Lauson decided that he was not going to issue a ruling.
"Jose Luis Ronquillo-Sanchez is safe," Driver said, "for now… Now, we're in the position to go back to the next higher court, the Sixth Circuit, to see if we can get a stay from them. We've tried one time already, but on the basis of this, I think that we might be able to get a stay."
Filing an emergency motion with the Sixth Circuit, the Court of Appeals based in Cincinnati, Ohio is the immediate next step. After, Driver will file a motion for Jose Luis Sanchez-Ronquillo's children.
"They're American citizens. They have the 14th Amendment right to enjoy the company of their family," Driver said.
If Sanchez-Ronquillo's emergency motion in the Sixth Circuit doesn't pass, his deportation will be imminent. Driver thinks that ICE will arrest and try to deport his wife next, who is also undocumented.
"We might need you again," Driver said to the protestors. "We might need you when we head down to Cincinnati."
The crowd cheered in response, already ready to support the next steps to keep Jose Luis in the country.
You can donate to José Luis Sanchez-Ronquillo's family here, and sign a petition to keep him in the United States here.
Photos by Grace Jensen