It's Always Sunny In Philidelphia Starts It's Sixth Season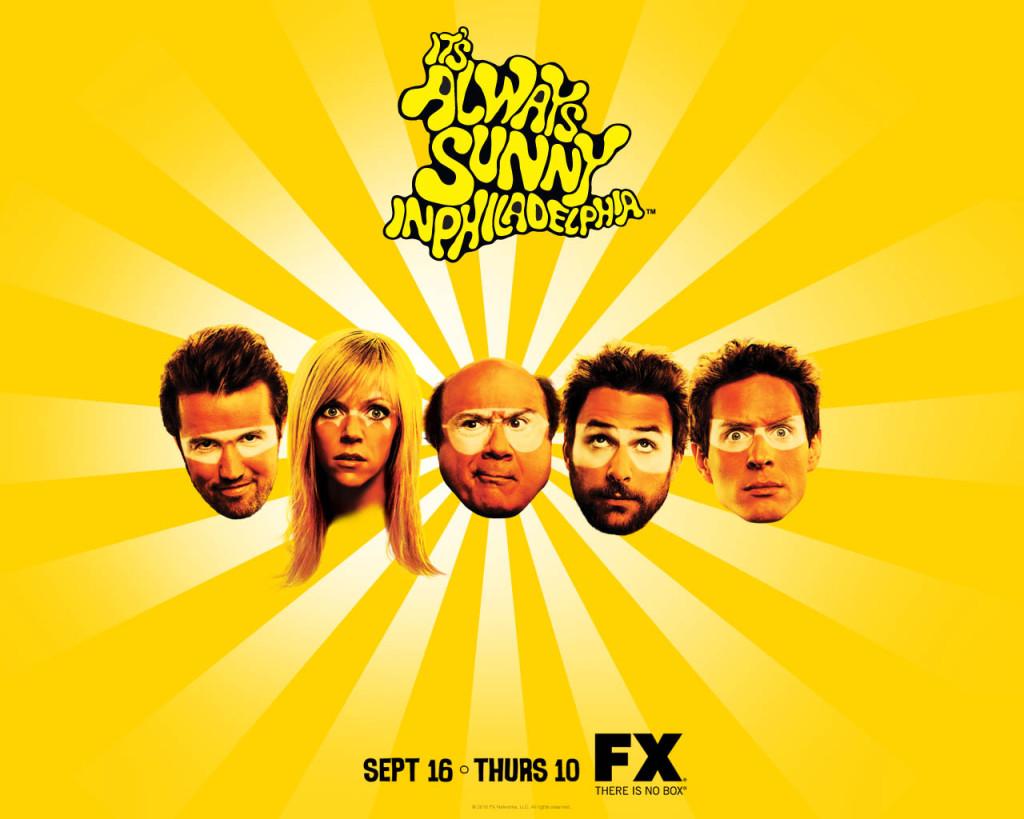 Leif Gearhart-Hall
November 11, 2010
"Good, Clean, fun," It's always sunny in Philadelphia started its sixth season on September 16th.
The show was created by Rob McElhenney along with his long time friend Glenn Howerton. The pilot was filmed using a small digital camcorder with their friend Charlie Day. The three main characters of the show, Mac, Dennis, and Charlie, are based loosely on the writers themselves. The three fall into adventures that McElhenney has created based on his life experiences. After showing the pilot to various studios, FX network agreed to air a first season. The rest is history.
In an interview with FlashFloodMedia.net during Comic-Con, McElhenney attributes a lot of the shows early success to the website Hulu.com "I think Hulu was really what blasted us out because what we found was… our audience is difficult to track through Neilson because they're not watching it at home on FX at 10 'o clock, they're just not. And Hulu was a good barometer because it showed that we were always in the top five most viewed shows up with The Office, 30 Rock, Saturday Night Live and Family Guy."
Sunny – as the show is known by its cult following – does not disappoint its fans. Since the first episode the fan base for the show has sky rocketed. Instantly a cult classic, Sunny combines original material with spectacular acting for a comedy unlike anything else. Self described as "Seinfeld on crack," Sunny takes on subjects other shows won't touch.
Episodes are rated M for good reason, Sunny is not for the sensitive. Dealing with things like abortion, sleazy drug dealers, underage drinking, and gay rights, Sunny's subject matter sounds like a Fox news special. Sunny tackles all of these subjects with taste in a way that will make you feel slightly uncomfortable, but in a good way. There is always a purpose to the jokes and though the humor is sometimes dry there are always moments of laugh out loud joy.
The hilarity starts with the episode names. With titles like "The Aluminum Monster vs. Fatty McGoo," "Mac & Dennis: Manhunters," and "Paddy's Pub: Home of the Original Kitten Mittens". The creativity pours out of McElhenny, Howerton and Day in both subtle and direct ways. Reoccurring themes like Mac's karate moves, and Charlie's illiteracy instantly gives fans moments of "Classic Sunny".
Joe Kufta, a Senior at Pioneer High School, says this is what he loves about the show. "When you are watching an episode of Sunny and Mac says 'I've been working too much on a back flip. What we need here is a front flip', I just sit back and think, classic Sunny. If it is the first time you watch [Sunny] then you'll sit there with a blank face but to fans, it's just classic."
Ike Wade, also a Senior at Pioneer High, has followed Sunny since its beginnings "A friend turned me onto the show in the first season. I was always a fan of Seinfeld and [Sunny] has a similar feel. If I had to describe it in one sentence it would be 'A gang of friends owns a bar and makes [Fools] out of themselves.'"
It's Always Sunny in Philadelphia is truly a show that defines what television today should be. If you are looking for a show to get through the upcoming Winter, Sunny will keep you warm.