U of M Gymnastics Team Wins First Home Meet of the Season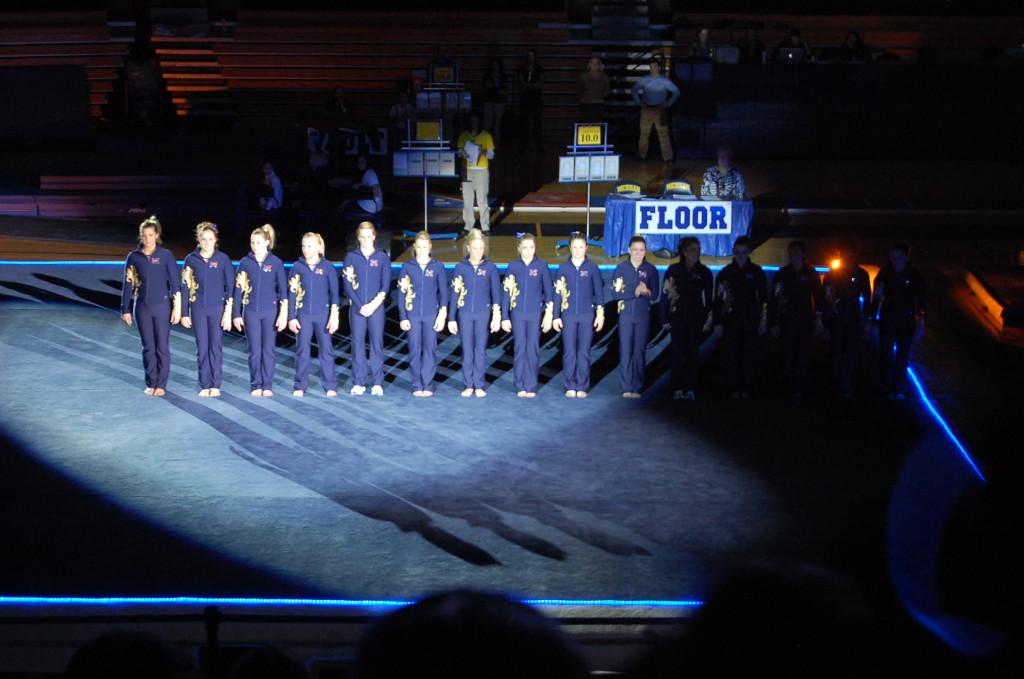 Michelle Wander
January 20, 2011
On January 14, University of Michigan gymnastics hosted their first home meet against University of Illinois and Penn State University. Although the team had a few falls on the beam and a couple of mistakes on floor, senior Kylee Botterman, who won four out of five individual titles, led the team to a win.
The meet was incredibly close with Penn State and Illinois who finished second and third, respectively, with scores of 194.475 and 194.450 Michigan won with 194.900.
"We pulled out a victory which is a great thing," said head coach Bev Plocki. "We're just disappointed, obviously, because we started off with really good first two events and then we kind of imploded on beam and floor."
Plocki believes that it was nerves that lead to the mistakes on beam and floor; performing in front of a home crowd added pressure for the team. This is especially true for the freshmen who had never competed in front of a home audience before.
"Sometimes you're more nervous competing in from of your own crowd than away because you want to do better and you try too hard and it ends up not having a positive result," Plocki said. "I think that's what we saw with Shelby on balance beam. She was more nervous this week than she was last week, same with Stephanie on floor."
Freshman Shelby Geis struggled on beam with only a 9.000, but performed well on bars with a 9.725. Stephanie Colbert, also a freshman, was shaky on floor with a 9.125 but placed second on vault with a very impressive score of 9.900.
Not all of the freshmen struggled, however. Reema Zakharia performed a solid 9.775 on beam, which was the second highest score posted by the Wolverines.
"I had to do beam and I stayed on the beam, and my score counted when it had to, so I'm satisfied," said Zakharia, whose routine on beam was the third best of the night.
The way the collegiate competitions are set up, the team puts forward their top six athletes on each event and then count the top five scores to contribute to the final team score. Because the teams don't want to count a lower score, they are allowed one major mistake on each event and not have to count it.
On the beam lineup, three out of the six girls fell on beam, leaving the Wolverines with two low scores. Surprisingly, two out of the three falls came from two fifth-year seniors: Sarah Curtis and Jordan Sexton. They may have struggled with beam, but Curtis came in second on bars and Sexton took second on floor, both with scores of 9.850.
Kylee Botterman won the all-around along with three event titles on vault, beam, and floor. She started her competition on vault, where she scored a nearly perfect 9.975. On bars, Botterman placed third with a 9.825. She placed first on beam and floor with scores of 9.875 on both.
Kari Pearce, a senior from Ann Arbor and a graduate of Huron High School, competed on bars and vault, posting 9.700 and 9.775 respectively. Pearce also performed an exhibition on floor.
"I think my performances went all right, I mean obviously there is always room for improvement," Pearce said. "We just need to work on those little details and we just can't let beam affect us."
Pearce is excited for her last season, and says she's going to "[go] big or go home."
The audience was lucky enough to have 1996 Olympic gold medalist Jaycie Phelps with them. Phelps made the four hour trip to Michigan to watch Brittnee Martinez from Michigan and Sharaya Musser from Penn State. Both Martinez and Musser were coached by Phelps in club gymnatics. Martinez didn't compete this meet due to injury, but Sharaya Musser placed second in the all-around with a 39.275 and second on beam with a 9.825.
"College gymnastics is always fun to watch because the teams get so into it and there is so much enthusiasm going on and the crowd gets into it, so it was fun," Phelps said about the meet.
Phelps says that in college, the gymnastics is so much more team-oriented than in club gymnastics, where it's more of an individual sport. "It's just so refreshing to see the kids having fun and everybody getting into it," she said.
Zakharia loves college gymnastics "89 times" more than club gymnastics. "The team is just behind you and the coaches are amazing," Zakharia said about collegiate gymnastics. "I can't ask for more."
Although the team has started off the season with a couple of victories, they know they can do better. Zakharia said, "We have people injured right now and once they are back, our team is going to be unstoppable."
[quicktime]http://the-communicator.org/wp-content/uploads/2011/01/Shelby.mov[/quicktime]
Watch Shelby Geis" bar routine.
[quicktime]http://the-communicator.org/wp-content/uploads/2011/01/Sarah.mov[/quicktime]
Watch Sarah Curtis' bar routine.
[quicktime]http://the-communicator.org/wp-content/uploads/2011/01/Jordan-bars.mov[/quicktime]
Watch Jordan Sexton's bar routine.